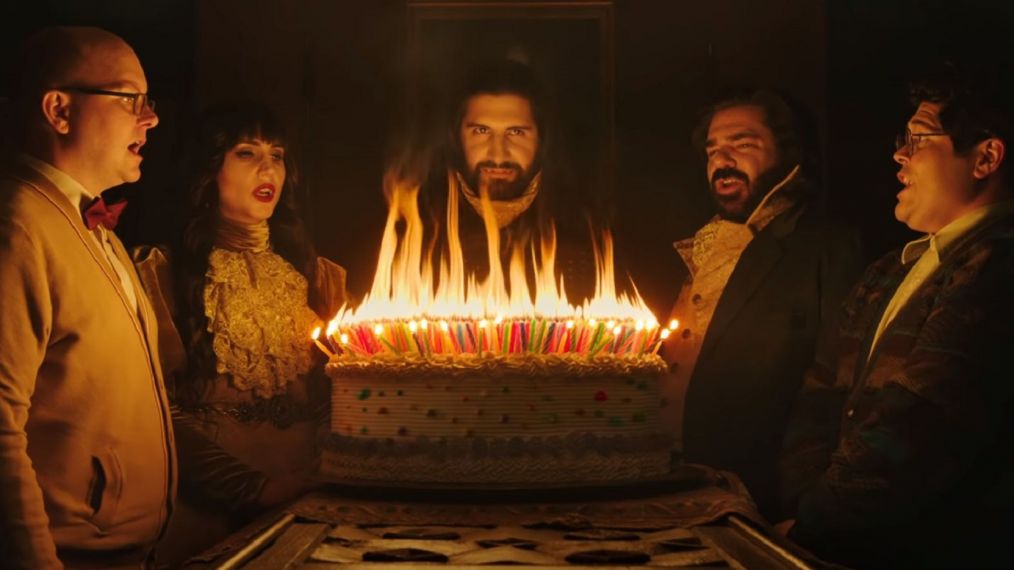 Pop culture's neverending fascination with vampire lore spans all media, from literature, ballet, and theater, to film and television.
While the idea of the vampire has been romanticized, to say the least, there has never been too much in the way of vampire comedy. Vampires aren't supposed to be funny. They're supposed to be sexy. Well, that all changes now, with Jemaine Clement's new series What We Do in the Shadows premiering this month on FX. This horror comedy follows three vampires living in New York City as roommates, and with Clement and his partner Taika Waititi at the helm, the show is sure to be a hit.
To tide you over until its end of the month premier, here are a few more of our favorite TV vampire shows:
A Discovery of Witches
Type:  Fantasy, Drama
Release Date: 2018
Starring: Teresa Palmer, Matthew Goode, Alex Kingston
Rating: 8.2/10 IMDb
Based on the acclaimed novel of the same name from author Deborah Harkness, this series is a Brit import coming from Sky One's lineup and available in America on Sundance Now. The story follows a historian who discovers an ancient manuscript which thrusts her into the world of vampires, witches and daemons.
The Vampire Diaries
Type: Fantasy, Drama
Release Date: 2009
Starring: Paul Wesley, Ian Somerhalder, Nina Dobrev
Rating: 7.7/10 IMDb
When two vampire brothers discover the literal doppelgänger of their sire living as a teenager named Elena in the sleepy town of Mystic Falls, Virginia, they find themselves involved with the captivating teen along with her friends and family.
True Blood
Type: Fantasy, Drama
Release Date: 2008
Starring: Anna Paquin, Stephen Moyer, Alexander Skarsgard
Rating: 7.9/10 IMDb
There's just something about small southern towns and vampires. The two go hand-in-hand like peas and carrots. Another series set in a small southern town is True Blood, based on the book series by Charlaine Harris, and set in Bon Temps, Louisiana. Local Sookie Stackhouse struggles with her telepathy. When she happens upon a vampire who is new in town, she's surprised to learn that she can't read his mind, a welcome quiet to the noise she's used to waitressing at the local diner. Naturally the two strike up a romance, and that's just the beginning of this sordid, yet addicting tale.
Being Human (UK)
Type: Fantasy, Drama
Release Date: 2009
Starring: Lenora Crichlow, Russell Tovey, Aidan Turner
Rating: 7.8/10 IMDb
The story of three friends, a ghost, a werewolf, and a vampire, who have found that their only shelter is each other, share a home in Bristol. Together, the three struggle to come to terms with what has happened to them, and what it means about their very nature.
Preacher
Type: Mystery,  Fantasy
Release Date: 2016
Starring: Dominic Cooper, Ruth Negga, Joseph Gilgun
Rating: 8.4/10 IMDb
When Jesse Custer takes over his father's church, he has nothing but good intentions in mind. But when a demon possesses him, giving him the ability to force the townspeople to bend to his will, he struggles with his newfound power. It's at this exact moment when a waylaid vampire by the name of Cassidy and his ex-girlfriend/business partner, Tulip, turn up in his life, further complicating matters.
Penny Dreadful
Type: Horror, Fantasy, Thriller
Release Date: 2014
Starring: Eva Green, Josh Hartnett, Timothy Dalton
Rating: 8.2/10 IMDb
This gothic tale from Showtime ran for three seasons and brought a slew of characters from supernatural lore to life. Certainly the grimmest of these shows, Penny Dreadful doesn't stray away from the horror of it all. When Sir Malcolm's daughter, Mina, goes missing, believed to be taken by Dracula, he recruits American gunslinger Ethan Chandler to help track her down. Together with Mina's childhood friend Vanessa Ives, the three find themselves falling deeper and deeper into this magical world. (And some may have lived there all along.)
Buffy the Vampire Slayer
Type: Fantasy, Mystery, Drama
Release Date: 1997
Starring: Sarah Michelle Gellar, Alyson Hannigan, Anthony Stewart Head
Rating: 8.2/10 IMDb
One girl in all the world, with the strength and skill to fight the vampires, blah, blah blah. There's definitely a reason why Buffy, just a tiny little thing with a big responsibility, resonates with so many, and this is definitely a show worth revisiting time and time again. If this is your first time watching the series, please ignore the SFX in the first season, you'll get used to it and it will be so, so worth it.