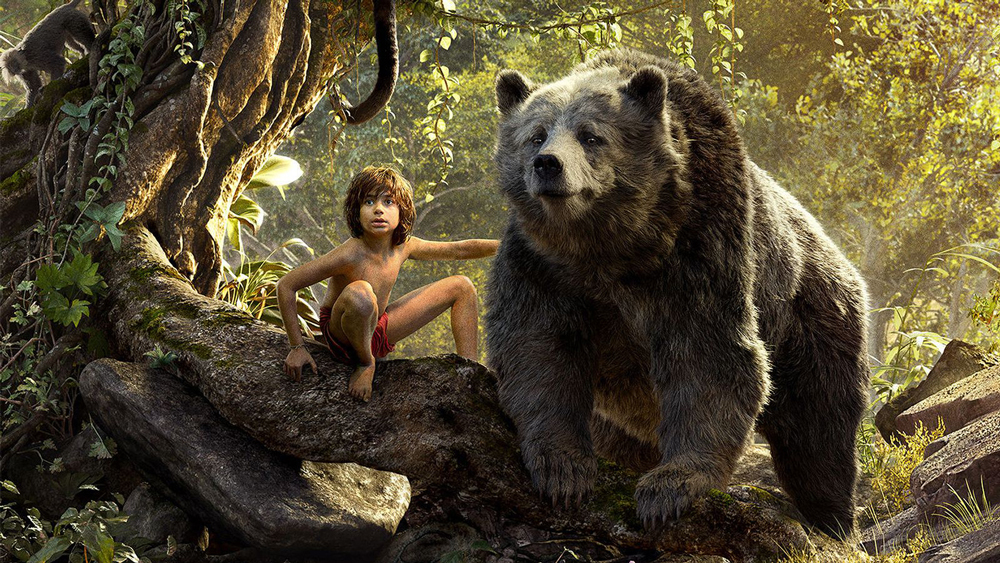 It may seem like Disney is doling out their live-action remakes at a snail's pace, but this year and next to the franchise will be growing by leaps and bounds. With Dumbo being released this March, Aladdin and The Lion King quickly following in May and July, and Mulan slated for a 2020 release, we are about to get very, very Disney with it, so to speak.
In case you're curious, here are all of Disney's live-action remakes so far.
The Jungle Book
Type: Action & Adventure, Drama
Release Date: 2016
Director: Jon Favreau
Starring: Neel Sethi, Bill Murray, Ben Kingsley
Rating: 95% RT, 7.4/10 IMDb
The story of the young boy Mowgli, who was raised by wolves and must return to human civilization under the watchful eye of a singing bear is in some ways lighthearted. At least it was in all its animated glory. But the 2016 remake of the film was far more intense than many viewers were expecting, and we couldn't get enough of it.
101 Dalmatians
Type: Action & Adventure, Comedy
Release Date: 1996
Director: Stephen Herek
Starring: Glenn Close, Jeff Daniels, Joely Richardson
Rating: 5.7/10 IMDb
Speaking of animals that can talk (well let's be real, this is Disney, it's what they do), this story of the evil socialite Cruella de Vil and her dastardly plan to take a litter of 101 Dalmatians and turn them into a fashion statement was one of Disney's first live-action remakes.
Alice in Wonderland
Type: Action & Adventure, Biography
Release Date: 2010
Director: Tim Burton
Starring: Mia Wasikowska, Johnny Depp, Anne Hathaway
Rating: 78% RT, 7.5/10 IMDb
Back in 2010, Disney offered its first of the modern remakes with this retelling of the Alice in Wonderland story — this time, Alice is all grown up and returns to Wonderland just when they need her. With Johnny Depp perfectly cast as the Mad Hatter, and Mia Wasikowska stepping into the role of Alice, this colorful escape into Wonderland was well-received, and undoubtedly paved the way for the newest crop.
Maleficent
Type: Action & Adventure, Family
Release Date: 2014
Director: Robert Stromberg
Starring: Angelina Jolie, Elle Fanning, Sharlto Copley
Rating: 7/10 IMDb
In a bit of an unexpected twist, Disney decided to posit the live-action version of Sleeping Beauty in a completely new way: from the perspective of the original film's antagonist, Maleficent.
Cinderella
Type: Fantasy, Children
Release Date: 2015
Director: Kenneth Branagh
Starring: Lily James, Cate Blanchett, Richard Madden
Rating: 6.9/10 IMDb
With some fans expecting a big shake-up, there's little change of note here in this retelling of the classic Cinderella tale. With the luminous Lily James in the lead role and younger audiences in mind, the film was bound to be a success.
Beauty and the Beast
Type: Fantasy, Family
Release Date: 2017
Director: Bill Condon
Starring: Emma Watson, Dan Stevens, Luke Evans
Rating: 7.2/10 IMDb
In 2017 Disney took a chance and brought one of its most beloved tales to screen in a live-action remake. Fans were not disappointed.
Christopher Robin
Type: Fantasy, Family
Release Date: 2018
Director: Marc Forster
Starring: Ewan McGregor, Hayley Atwell, Bronte Carmichael
Rating: 7.4/10 IMDb
This sweet film is really more of a live-action update on an old story, much in the way Maleficent brought something new to the table, so does Christopher Robin. Here we discover the title character as an adult with a family who finds himself surprised when Pooh appears, asking for help in finding his lost friends.