With new streaming services launching left and right, we know firsthand just how easy it can be for consumers to get confused and overwhelmed. As evidenced by the steady growth of users flocking to streaming aggregators like Reelgood, people are subscribing to multiple services for their entertainment needs. But are you really getting your money's worth out of all these platforms?
To help you make a better-informed decision, Reelgood ran the numbers on the six major streaming services — Netflix, HBO Max, Prime Video, Hulu, Disney+, and Apple TV+ — to find out which one is the best bang for your buck.
First, we compared the monthly cost of all six streaming services. We opted to include Netflix's standard pricing of $12.99, and Hulu's no-ads price of $11.99 since all the others are commercial-free.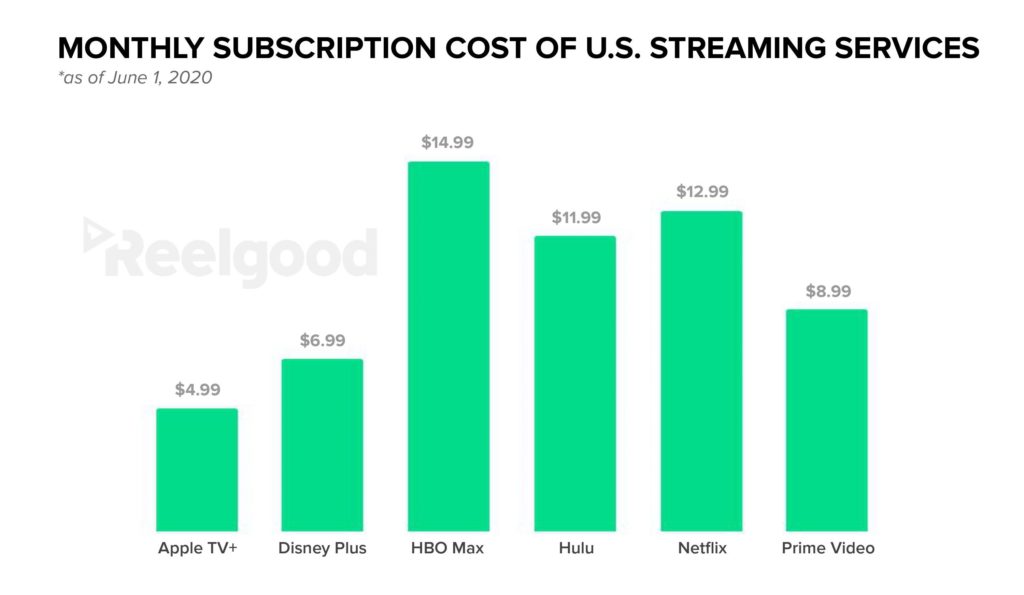 Before we proceed, it's also important to note that for this analysis our team only took into account all the titles that automatically come free with a Prime Video subscription which means no rent/buy content was included.
Next, we analyzed three things:
How many movies and TV shows overall do you get from each streaming service?

How many of those movies and TV shows are considered 'quality' content?

How many of those movies and TV shows can be deemed 'high quality' content?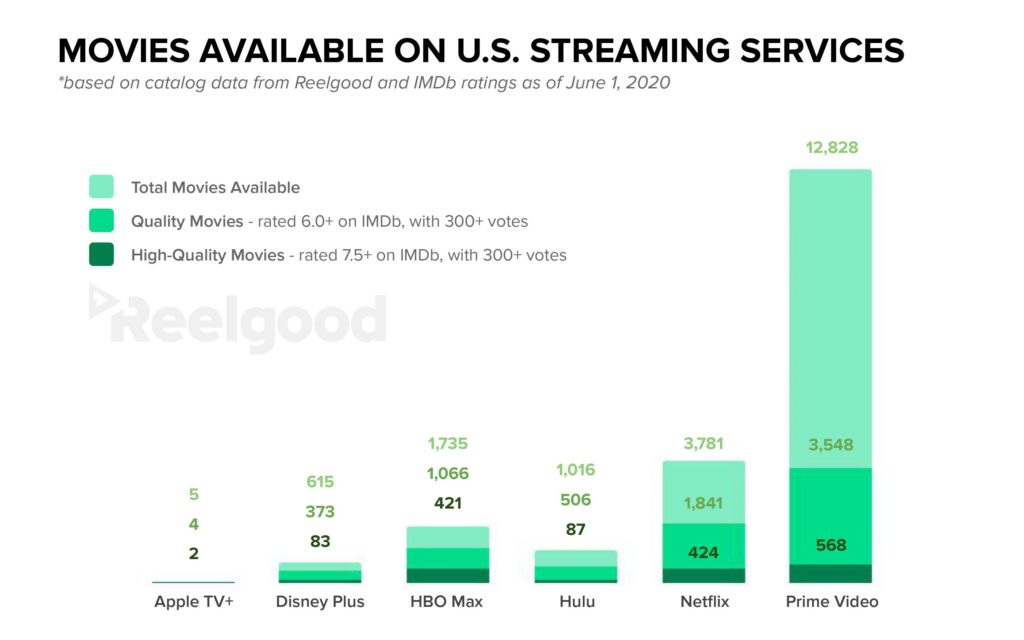 Looking at the sheer number of movies currently available through each of these platforms, it's pretty obvious Prime Video wins by a lot. Their movie library is 2.39x larger than that of Netflix's, which comes in second with 3,781 films as of June 1st.
When it comes to high-quality movies, Prime is still the winner. For second place, it's a close call between Netflix and HBO Max, with each one having 424 and 421 high-quality movies respectively. Considering HBO Max just launched two weeks ago, the service seems off to a good start!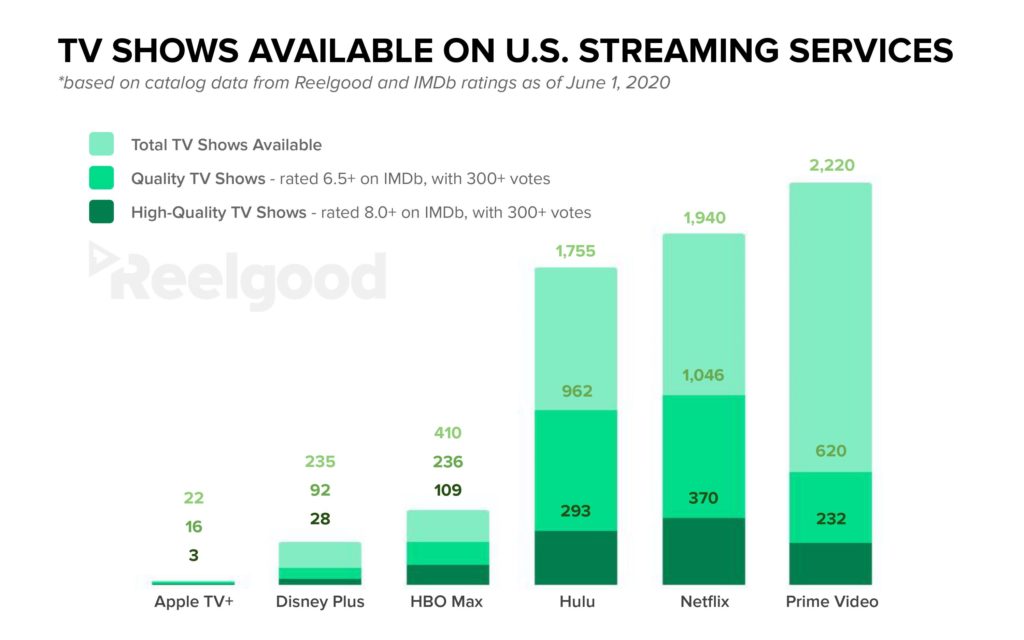 For high-quality TV shows, however, Netflix takes the #1 spot with 370 which is no surprise given their reputation for producing remarkable original series. Hulu slides into second place with 293, and Prime Video takes third with 232.
Finally, we dove further into the data to determine just how many movies and TV shows you actually get for every dollar you spend on these streaming services. Which one offers the most (quantity) and best (quality) selection of titles in 2020?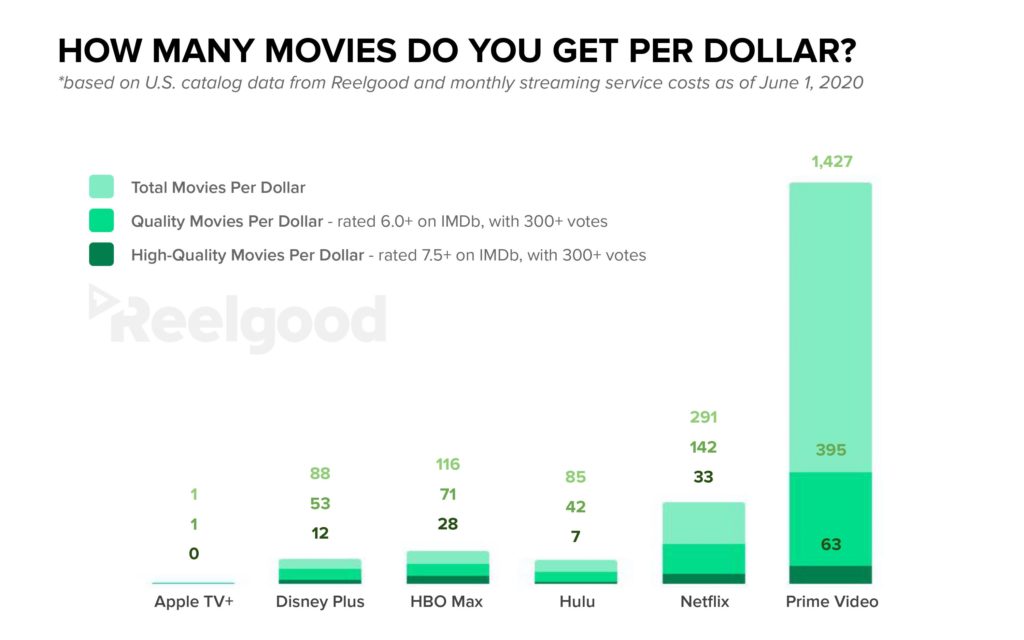 Prime Video still takes the cake for the overall number of movies and TV shows you get per dollar. Looking at the amount of quality and high-quality movies, Prime Video is in the lead, with Netflix and HBO Max coming in second and third respectively.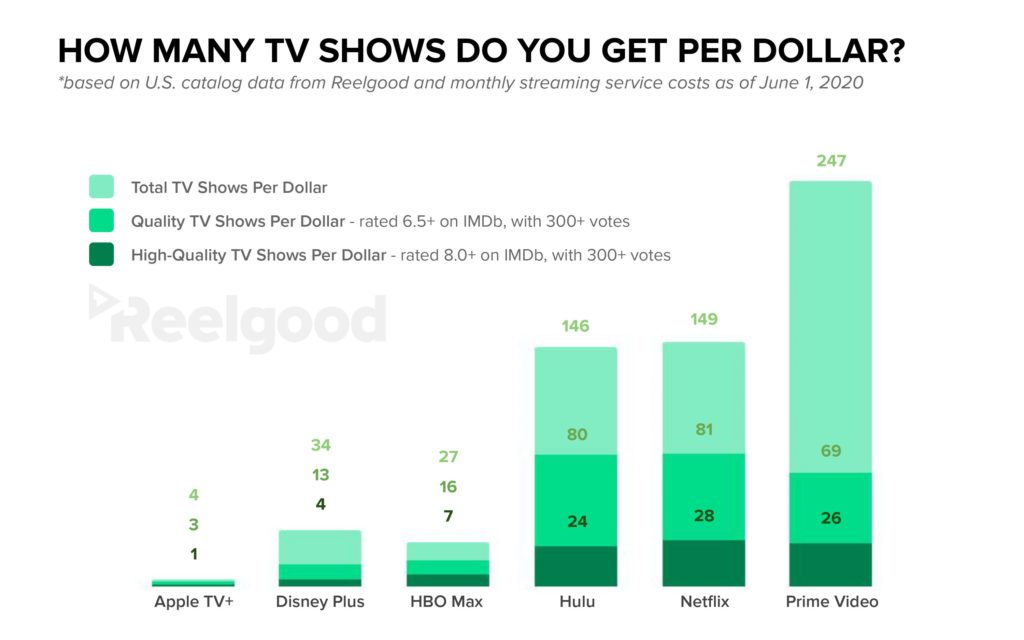 It's a whole different story once again when it comes to quality and high-quality TV shows though. While Netflix remains at the top spot, it's actually a tight contest between them and Hulu as well as Prime Video.
Conclusion: If you're in it for critically acclaimed films, get yourself a Prime Video subscription. And if you're a sucker for highly-rated TV series (most of which are originals), Netflix is your best bet.
For more information about Reelgood Data and Insights, please contact Nicolas@reelgood.com