If you find yourself getting drawn to more reality TV and true crime documentaries these days, you are not alone. Everyone has a different way of coping with the so-called 'new normal', and for many, that means finding some sort of escape in binge-watching shows like Tiger King or Love is Blind.
To help feed your latest obsession – Reelgood looked at the data to see which streaming service is the best option for reality TV fans.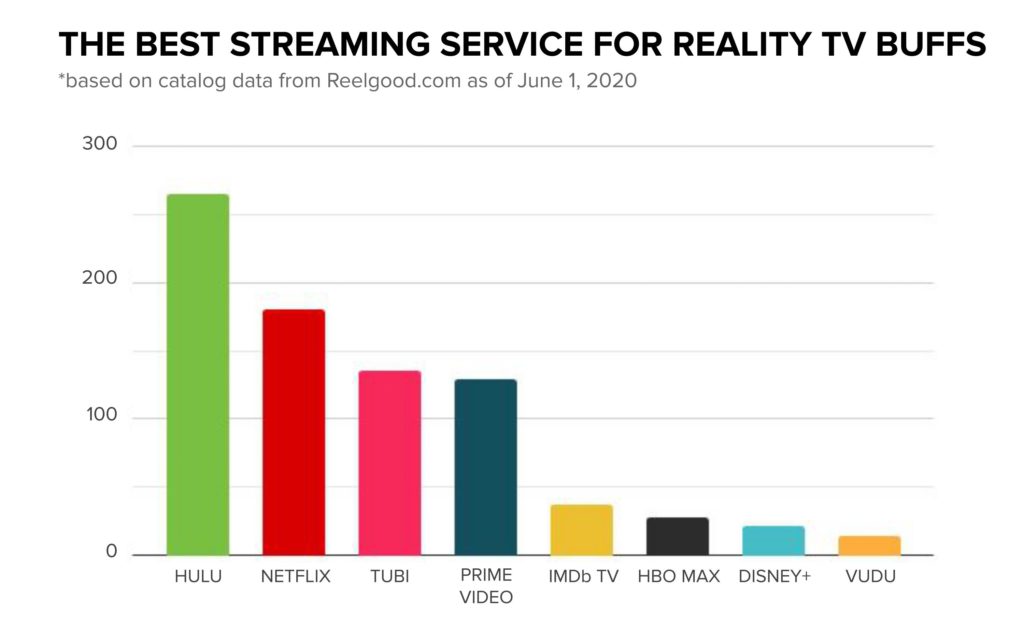 Surprisingly, Hulu actually has more shows in the reality TV genre than Netflix as of June 1st. It takes the top spot with 265 shows, followed by Netflix with 180, and Tubi (which is a free ad-supported service) comes in third with 135.
THE NUMBERS:
Hulu – 265
Netflix – 180
Tubi – 135
Prime Video – 129
IMDb TV – 37
HBO Max – 28
Disney Plus – 21
Vudu – 14
If you're wondering what the most-watched reality TV shows were during quarantine (from March 15 to May 31) here's what Reelgood's viewership data, collected from over 2 million U.S. monthly active users, revealed: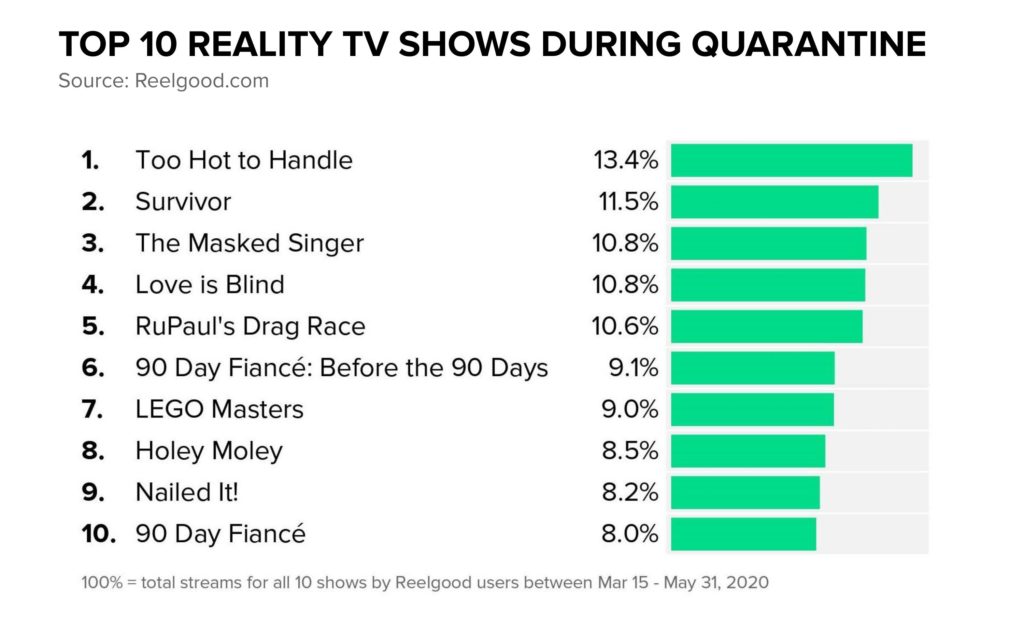 Next, they looked at which streaming service has the most to offer when it comes to documentary series.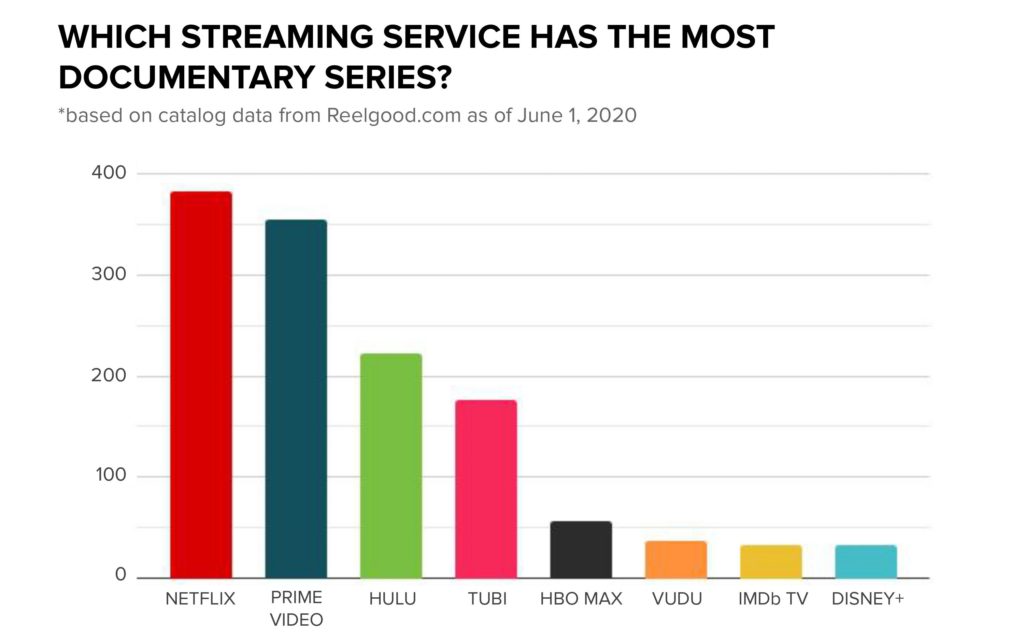 This time, Netflix leads the pack with 383 docuseries, with Prime Video close behind at 355. Hulu is in third with 222, Tubi follows with 176 titles, and HBO Max lands on the fifth spot with 56.
THE NUMBERS:
Netflix – 383
Prime Video – 355
Hulu – 222
Tubi – 176
HBO Max – 56
Vudu – 37
IMDb TV – 33
Disney Plus – 33
Then, of course, a peek at what the most-watched documentary series were during the quarantine.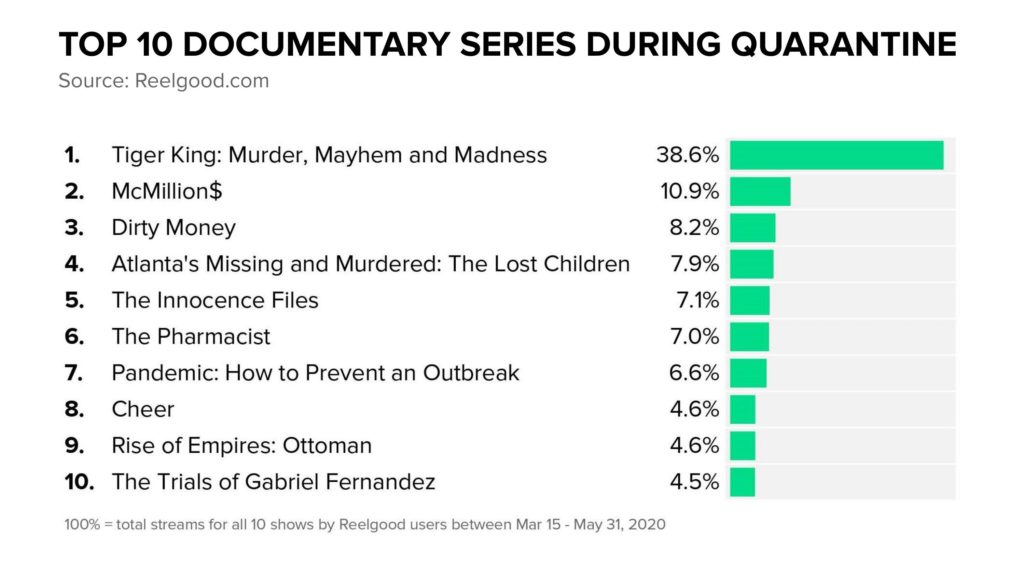 Unsurprisingly, Tiger King took the #1 spot, with McMillion$ and Dirty Money coming in second and third respectively.
Finally, looking at viewership data for both genres, here are the 10 most-watched reality TV and documentary series during the quarantine.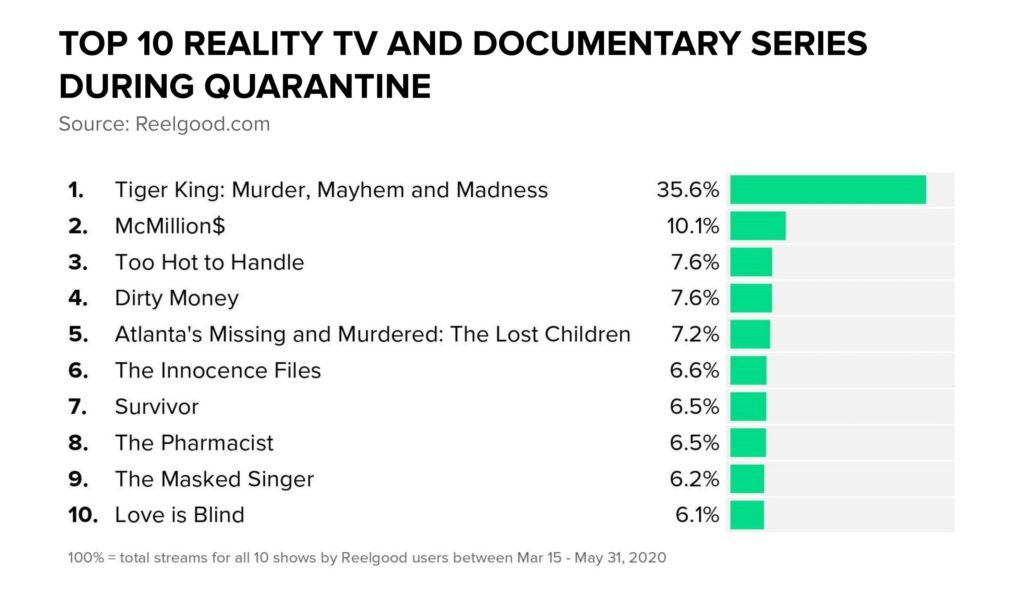 For more information about Reelgood Data and Insights, please contact Nicolas@reelgood.com