Since 1776 Americans across the country have come together to celebrate Independence Day. A few of the more popular festivities that occur on the 4th of July include BBQ, baseball, fireworks and watching a great movie or two. Fortunately, there's no shortage of movies out there that make for a perfect Independence Day watch. We went ahead and ironed out where to watch the best 4th of July movies to enjoy over the holiday weekend.
Check 'em out:
Lin Manuel Miranda's Hamilton was one of Disney's first major hits on its flagship streaming service, Disney+. The musical film is based on a popular broadway production by the same name and follows the life of American Founding Father Alexander Hamilton. Fortunately for those who where unable to catch Hamilton during its historic stage run, Disney+ rolled out a recorded version to much fanfare. The musical went on to become one of the most popular films of the year. Check out Hamilton on Disney+, where it's streaming right now.
You didn't think we'd be talking about the best 4th of July movies without mentioning Captain America himself, right? Marvel introduced Chris Evans to the Marvel Cinematic Universe as Steve Rogers, a heroic string bean turned super-soldier, with 2011's Captain America: The First Avenger. Rogers ultimately grew into the titular Captain America, a beacon of American patriotism and staple of the MCU for years to come. Captain America: The First Avenger is currently streaming on Disney + and FuboTV.
Despite how unpatriotic it sounds to steal the Declaration of Independence, we'd be remiss to not mention Nicolas Cage's National Treasure. The 2004 heist film features Cage as Ben Gates, a renown archaeologist who finds himself in a race against Sean Bean's Ian Howe to discover a secret cache of treasure left behind by America's Founding Fathers. The twist? All the clues leading to the cache are embedded in now-famous national monuments (and documents). This one has it all for those wanting a patriotic romp through some of America's most historical landmarks. National Treasure is currently streaming on Disney +.
Is there a better movie to watch on Independence Day than Roland Emmerich's Independence Day? Not only is the cast stacked, but this 1996 sci-fi flick is a quintessential movie of the '90s. Independence Day picks up as a number of alien ships annihilate several American cities. The US follows up with a failed counter attack that leaves the rest of the country in the questionably capable hands of Jeff Goldblum's David Levinson and Will Smith's Capt. Steven Hiller. In short, it rocks. Independence Day is currently streaming on HBO Max, in addition to HBO via Hulu and Prime Video.
Ben Affleck made a major splash as an actor-turned-director working on both sides of the camera for 2012's Argo. The Oscar-winning political thriller follows the exciting true story behind the CIA extraction of six Americans from Tehran during the Iranian Revolution. Argo features an impressive cast, including Bryan Cranston, John Goodman and Tate Donovan and is currently streaming on HBO Max in addition to HBO via Hulu and Prime Video.
Arguably the only cult film on this list, David Mickey Evans' The Sandlot feels like it was made to be watched over Independence Day weekend. The movie centers around a group of kids and their baseball related escapades during the summer of 1962. I don't want to spoil anything, but there's a pretty awesome Fourth of July scene that would surely complement any weekend celebrations. The Sandlot is currently streaming on Hulu right now.
The summer blockbuster as we know it is built upon the success of Steven Spielberg's Jaws. The iconic 1975 hit takes place in Amity Island, a beach town that sees a large influx of visiting beach-goers each summer. The only issue is there's a great white shark this summer, and he's hungry. I'm sure a number of you have already seen Jaws, as it's one of the most popular movies of all time, but that doesn't change the fact that even after all these years it's still the perfect summer blockbuster to revisit over the 4th of July weekend. Right now, Jaws is available for rent or purchase on Prime Video, Vudu and iTunes.
Raiders of the Lost Ark is another entry from director Steven Spielberg. It turns out the guy knows how to make movies for an American audience. The 1981 adventure flick was based on a story from George Lucas, of Star Wars fame, and Phillip Kaufman. Raiders introduced audiences to one of Harrison Ford's most iconic characters, Indiana Jones. The first entry to the growing Indiana Jones series features 'Indy' going toe-to-toe with Nazis in search of the Ark of the Covenant. Check out the movie that started it all for Indiana Jones on Paramount +, where it's streaming right now.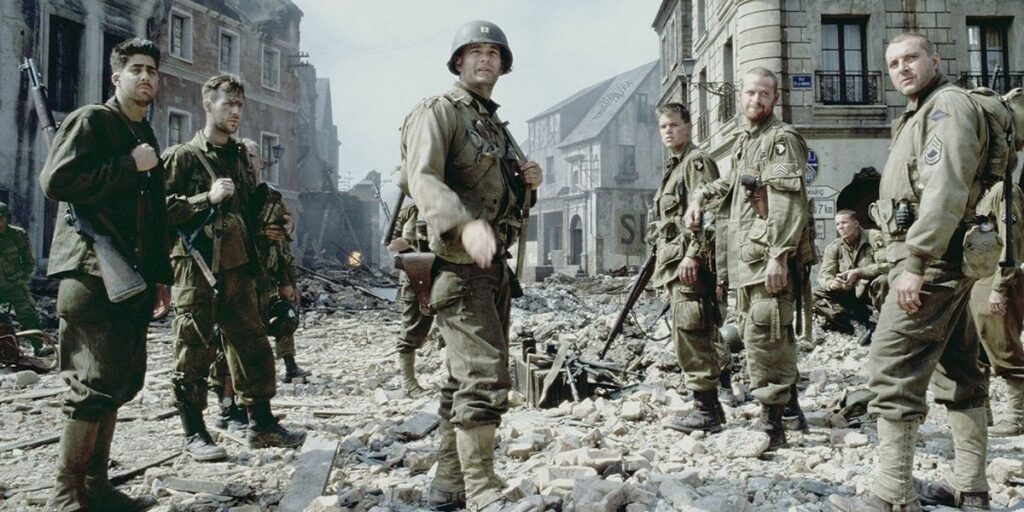 Oh look, it's Spielberg again! Saving Private Ryan is one of the most acclaimed war movies of all time. Helmed by Tom Hanks as Captain John H. Miller, the 1998 epic earned a whopping 11 nominations at the 71st Academy Awards. While Saving Private Ryan is certainly one of the more somber entries in this list, it's a superb film that features an incredibly stacked cast. Feel free to skip this one though, because it's certainly not a family friendly affair. Saving Private Ryan is currently streaming on Philo, FuboTV and AMC Premier.
Last but certainly not least is one of the most American films of all time. Robert Zemeckis' Forrest Gump is basically an American history lesson through the eyes of one of Tom Hanks' most lovable characters. The 1994 Best Picture winner follows Hanks as Forrest Gump while he lives through major historical events of the 20th century. It's the perfect feel good movie to watch while celebrating America and it's long history. Forrest Gump is currently available for rent or purchase on iTunes, Google Play, Vudu and Prime Video.
These are just a few of our Fourth of July favorites at Reelgood. If there are any movies that you think should be added to our growing curated list, drop a comment and let us know what you'd like to see. If you are looking for something a little more recent to watch over the weekend, be sure to check out our weekly feature covering This Week's Top 10 Most-Watched Movies and TV Shows In Streaming for the latest on the most popular streaming titles.