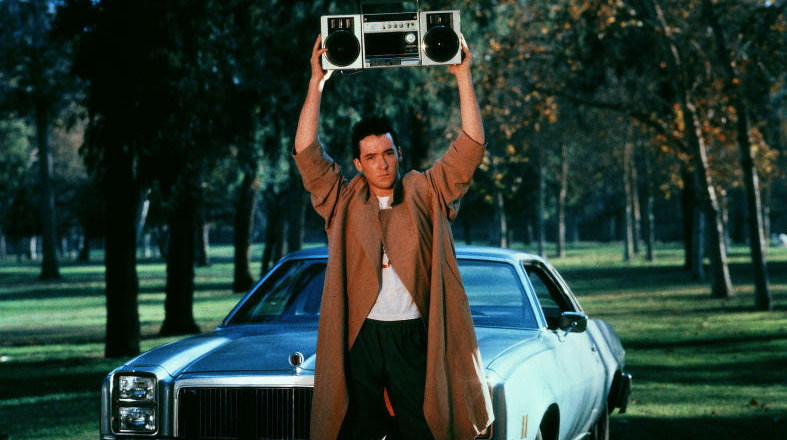 Does it feel like love is in the air? It should, because Hulu is celebrating February and Valentine's Day with a fresh crop of new movies that offer plenty of romance. Don't worry, if you absolutely refuse to watch anything that remotely deals with romance there are plenty of other additions in the mix ranging from horror and comedy to action and drama.
Grab yourself a box of chocolates or some of those little heart candies with the cute phrases on them and settle in for a month of solid streaming. Need a few ideas of what titles might be worthy of your Hulu queue? Here are a few to consider adding…
Say Anything (1989)
Director: Cameron Crowe
Starring: John Cusack, Ione Skye, John Mahoney |
IMDb: 7.3 Rotten Tomatoes: 98%
If you're in need of a rom-com that delivers equal parts laughs as it does first love romance, look no further than this Cameron Crowe classic. Underachiever Lloyd Dobler practically spoke for an entire generation of teenage boys who were clueless when it came to romance, yet couldn't help but fall hopelessly in love.
Its iconic boombox scene has been lampooned countless times since and in 2002, Entertainment Weekly named it the "greatest modern movie romance." Whether you've never seen it, or it's been 30 years, this is one love story worth revisiting.
Hitch (2005)
Director: Andrew Tennant
Starring: Will Smith, Eva Mendes, Kevin James, Amber Valetta
IMDb: 6.6 Rotten Tomatoes: 68%
Solid rom-coms are harder to come by these days and this Will Smith flick from the mid-2000s still holds up just as well today as it did 15 years ago. Smith is at the top of his game as Hitch, a dating expert who's all about helping hopeless guys win over the women of their dreams.
The love guru finds himself potentially in over his head, however, when he's tasked with helping a loveable but awkward accountant (Kevin James) win the affection of a high-profile billionare (Amber Valetta). To make matters worse, Hitch soon finds himself falling in love as well.
The Last Stand (2013)
Director: Jee Woon-Kim
Starring: Arnold Schwarzenegger, Johnny Knoxville, Forest Whitaker
IMDb: 6.3 Rotten Tomatoes: 61%
Perhaps you're not really feeling the love vibes in February and need a different sort of action. How about Arnold Schwarzenegger blowing up a bunch of bad guys like only he can? While there are certainly plenty of better-known Schwarzenegger movies to highlight from his earlier career, the Austrian actor still delivered a few solid action flicks in the latter half of his career as well.
It's up to Schwarzenegger and some small-town misfits to stop a drug cartel boss who has escaped from jail and is making a run for the Mexican border. Expect the bullets to fly — lots of bullets.
What's Coming to Hulu in February 2020
Available February 1
28 Days Later (2003)
Adam (2019)
All About E (2005)
Bridget Jones Diary (2001)
Bridget Jones: The Edge of Reason (2004)
Bridget Jone's Baby (2016)
Buffalo 66 (1998)
Captain Kronos: Vampire Hunter (1974)
Cheech & Chong's Still Smokin' (1983)
Cherry Pop (2017)
Earth Girls are Easy (1988)
For Colored Girls (2010)
The Fugitive (1993)
Getting Go: The Doc Project (2013)
Ghost (1990)
The Girl King (2015)
Hitch (2005)
Henry Gamble's Birthday Party (2015)
Hot Guys with Guns (2013)
John Q (2002)
Judgement Day (1999)
The Last Stand (2013)
The Last Warrior (2000)
Liz in September (2014)
Lord of War (2005)
The Man Who Could Cheat Death (1959)
Margarita with a Straw (2014)
Ms. Purple (2019)
Menace II Society (1993)
Mimic (1997)
National Lampoon's Christmas Vacation (1989)
National Lampoon's Dirty Movie (2011)
National Lampoon's Dorm Daze 2: College @ Sea (2006)
National Lampoon's European Vacation (1985)
National Lampoon's Vacation (1983)
Naz and Maalik (2015)
The Phantom of the Opera (2004)
Precious (2009)
Robin Hood (1991)
Say Anything (1989)
Southie (1999)
The Spy Next Door (2010)
Those People (2015)
Touched with Fire (2016)
Vegas Vacation (1997)
When Harry Met Sally (1989)
Where We Go From Here (2019)
Available February 2
A Madea Family Funeral (2019)
Available February 3
The Masked Singer: Season 3 Premiere (FOX)
The Cabin in the Woods (2012)
Available February 5
Warrior (2011)
Available February 6
Lego Masters: Series Premiere (FOX)
Angel of Mine (2019)
David Crosby: Remember My Name (2019)
Disaster Movie (2008)
Wrinkles the Clown (2019)
Available February 7
Into The Dark: My Valentine: Episode Premiere (Hulu Original)
Brooklyn Nine-Nine: Season 7 Mid-Season Premiere (NBC)
Indebted: Season 1 Mid-Season Premiere (NBC)
Available February 9
Alive (2019)
Available February 10
The Oscars: Special (ABC)
Available February 12
The Real Housewives of Beverly Hills: Complete Season 9 (Bravo)
For Life: Series Premiere (ABC)
Where'd You Go, Bernadette (2019)
Available February 13
Mister America (2019)
Available February 14
High Fidelity: Complete Season 1 Premiere (Hulu Original)
The Other Guy: Complete Season 2 (eOne)
Utopia Falls: Complete Season 1 (Hulu Original)
Beverly Hills Ninja (1997)
From Hell (2001)
Racetime (2019)
Radioflash (2019)
Villains (2019)
Available February 15
28 Hotel Rooms (2012)
American Ultra (2015)
Anchor and Hope (2017)
Monogamy (2010)
Princess Cyd (2017)
Available February 17
American Idol: Season 3 Premiere (ABC)
Duncanville: Series Premiere (FOX)
Good Girls: Season 3 Mid-Season Premiere (NBC)
Available February 18
Super 8 (2011)
Available February 19
Getaway (2013)
Available February 22
The Prince (2014)
Available February 25
The Voice: Season 18 Mid-Season Premiere (NBC)
Run the Race (2019)
Available February 28
After the Wedding (2019)
*The following are available with the STARZ premium add-on:
Wrong Man: Season 2 Premiere (2/9)
America's Sweethearts (2001) (2/1)
American Psycho (2000) (2/1)
American Psycho 2 (2002) (2/1)
Are We There Yet? (2005) (2/1)
Being John Malkovich (1999) (2/1)
Cesar Chavez (2014) (2/1)
Chinatown (1974) (2/1)
Damien: Omen II (1978) (2/1)
Double Jeopardy (1999) (2/1)
Fallen (1998) (2/1)
Hotel Rwanda (2004) (2/1)
Muppets Most Wanted (2014) (2/1)
Shane (1953) (2/1)
Showgirls (1995) (2/1)
Sideways (2004) (2/1)
Unthinkable (2010) (2/1)
X-Men Origins: Wolverine (2009) (2/1)
About a Boy (2002) (2/14)
Garfield: The Movie (2004) (2/14)
Identity (2003) (2/14)
In the Line of Fire (1993) (2/14)
Joe (2013) (2/14)
The Final Conflict (1981) (2/14)
The Game (1997) (2/14)
The Haunting in Connecticut (2009) (2/14)
The Haunting in Connecticut 2: Ghosts of Georgia (2013) (2/14)
The Omen (1976) (2/14)
The Whole Nine Yards (2000) (2/14)
Vertical Limit (2000) (2/14)
American Gangster (2007) (2/16)
Milk (2008) (2/16)
Repo Men (2010) (2/16)
Ghost Rider Spirit of Vengeance (2011) (2/27)
The Texas Chainsaw Massacre (2003) (2/29)
*The following are available with the HBO premium add-on:
McMillions: Series Premiere (2/3)
High Maintenance: Season 4 Premiere (2/7)
*The following are available with the SHOWTIME premium add-on:
Homeland: Season 8 Premiere (2/9)
Kidding: Season 2 Premiere (2/9)
*The following are available with the CINEMAX premium add-on:
Strike Back: Season 7 Premiere (2/14)