With so many streaming options to choose from, it's truly an amazing era for movie fans. We've had Netflix, Hulu, and Prime Video for several years now, but with Disney+ launching in November and NBC/Universal launching its streaming service in 2020, the options are getting even better.
Of course, the big question is which streaming service offers subscribers the best library of movies and TV shows?
After all, nobody wants to get a bunch of lame TV shows and bad movies with their streaming subscription. While each service does have its fair share of entertainment muck, some offer more bang for your buck than others.
Reelgood looked at the number of movies and shows on each streaming service and the quality of those shows, and then compared those insights with the monthly subscription rates.
As for how we defined the quality of a piece of content, we used official Reelgood Scores which take into account both audience and critics scores from both IMDb and Rotten Tomatoes, as well as recent streaming popularity. Streaming content that scored 75 or higher was labeled as High-Quality Content, while all content that scored at least 60 was labeled as Quality Content.
Spoiler Alert!
In terms of price, quantity, and quality; Prime Video is a clear standout and comes out on top in numerous categories.
Prime Video has the most movies
In terms of sheer quantity, nobody can touch Prime Video and as of October 2019, the streaming service has 14,325 movie titles to choose from. That's nearly four times the amount of their closest competitor, Netflix, who has 3,772 movies available.
As far as television shows, it's a much more level playing field with Prime Video, Netflix, and Hulu all having between 1,900 and 2,300 TV shows. HBO, Showtime, and Disney+ are offering far fewer shows, but they're also limiting their shows to content that they own or produced.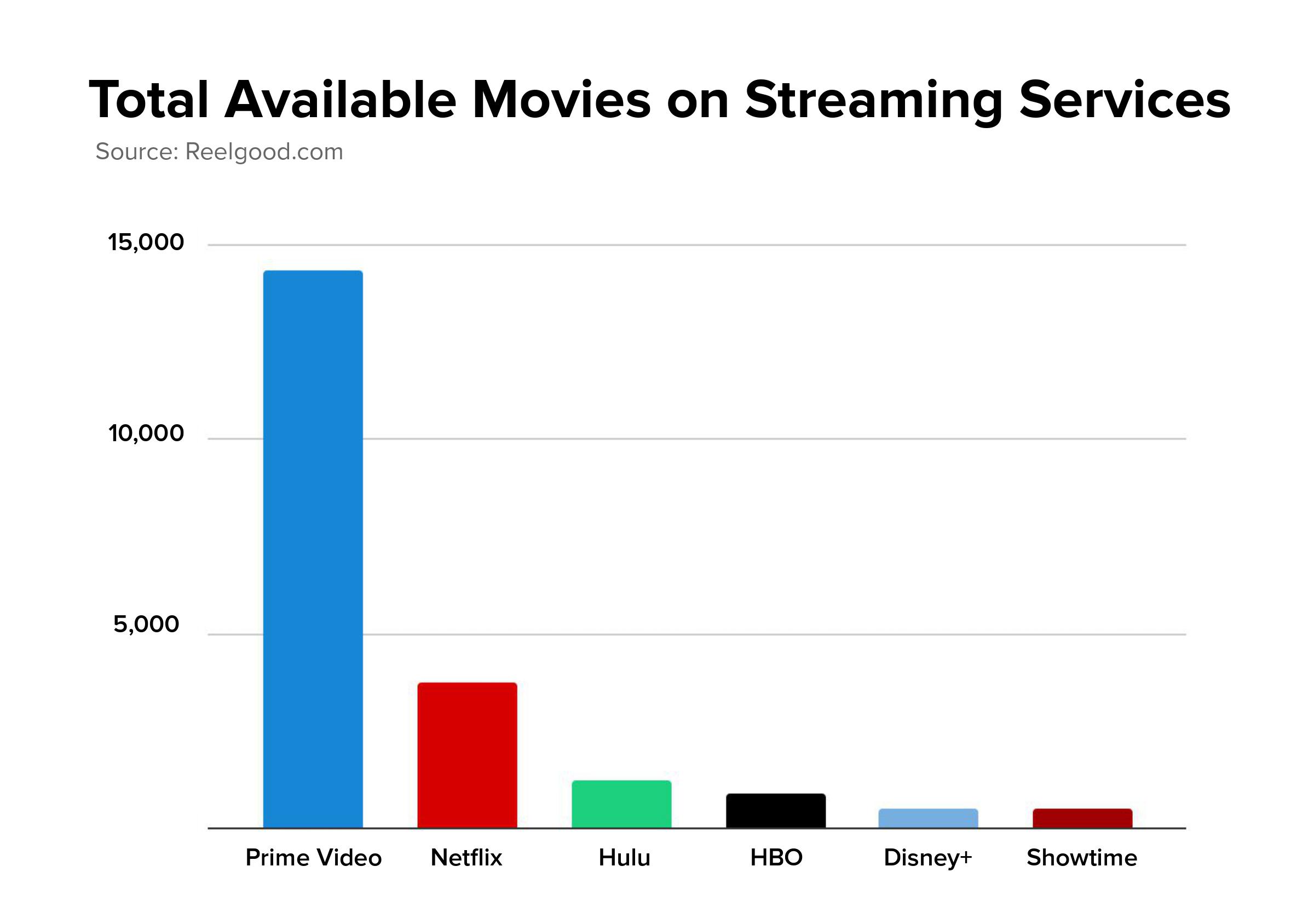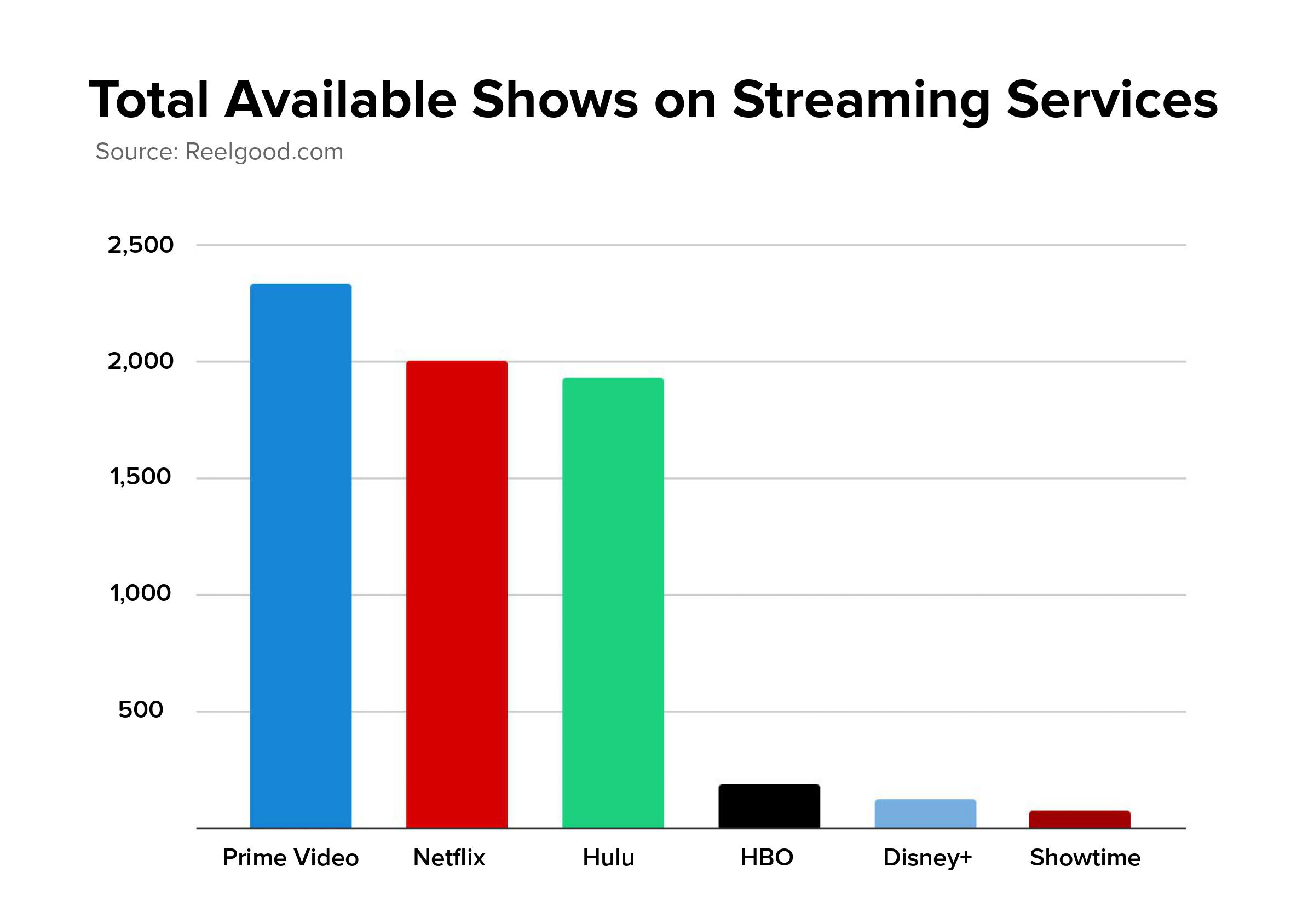 One dollar gets you nearly 1,600 movies
When you consider that just the basic streaming plan with Prime Video is $8.99 a month, customers are getting nearly 1,600 movies per dollar. That's a pretty incredible bargain and in this category, Prime has the advantage over their competition again. Netflix comes in at a distant second, offering 290 movies per dollar. Hulu offers 102, while Disney+, HBO, and Showtime all offer fewer than 100.
It's a similar scenario for the number of TV shows per dollar, though significantly less for Prime Video which offers far fewer shows than movies.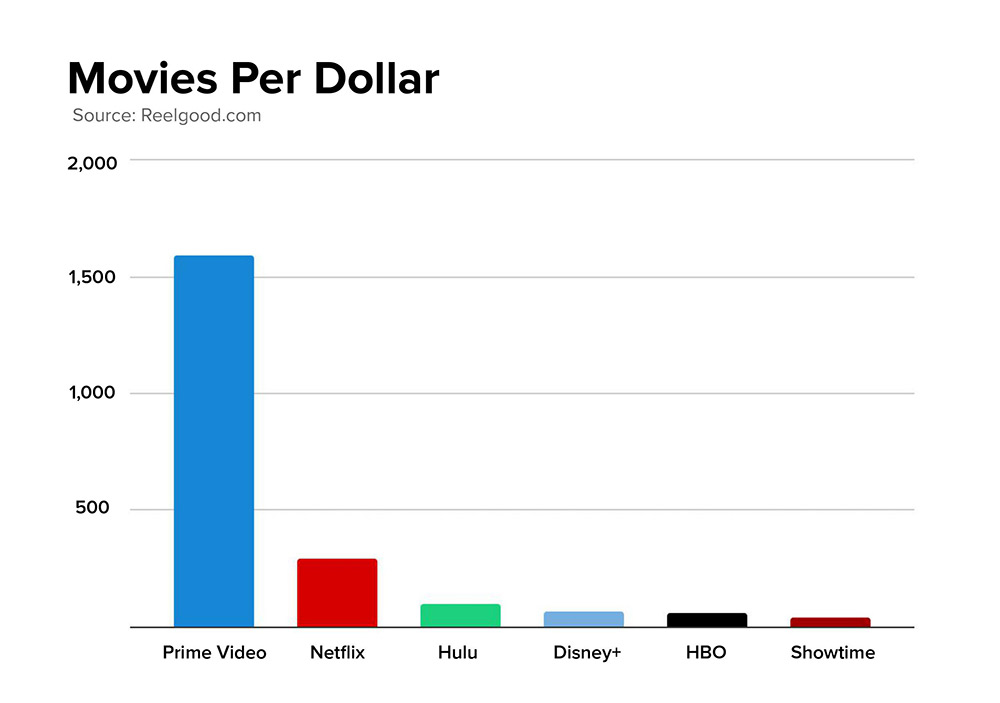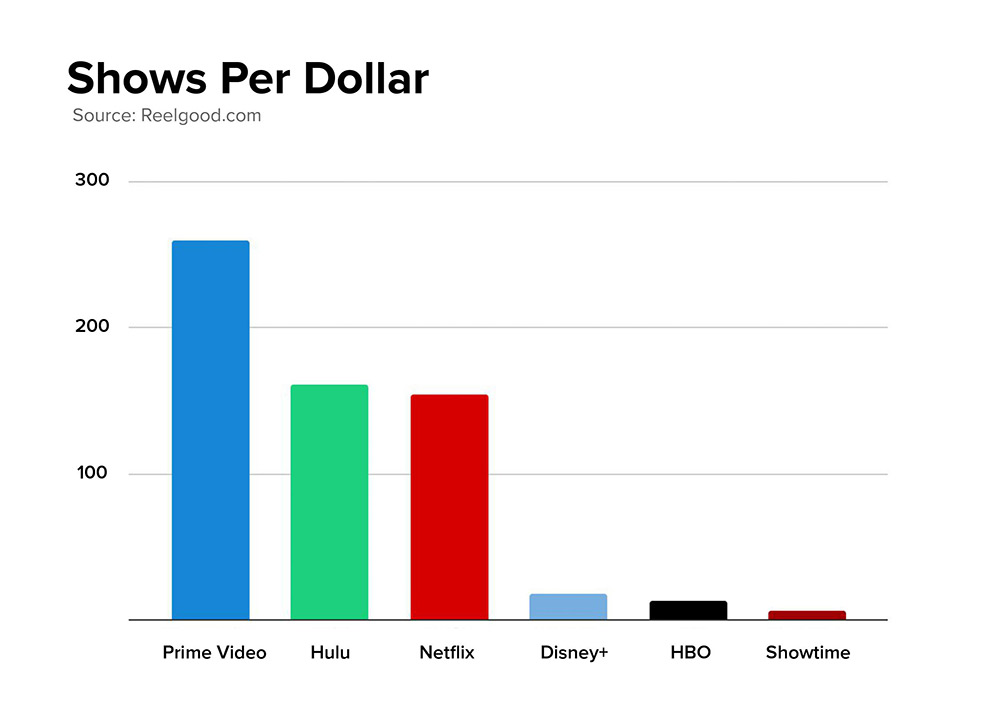 Which streaming service has the highest-quality shows and movies?
What good is quantity if you have to scroll through an endless row of garbage to find something worth watching? When it comes to which streaming service offers the best in terms of quality content, there's no streaming service that emerges as a clear-cut winner.
A pretty large chunk of the content on all of six of the streaming services we looked at was mediocre in terms of quality. While this might sound a little discouraging, it's not all that different than cable. How many of those 400+ channels were you really watching before you cut the cord for streaming?
In terms of High-Quality movies and TV shows that scored 75 or above, Prime and Netflix were just about even — with Prime offering 336 titles and Netflix offering 320.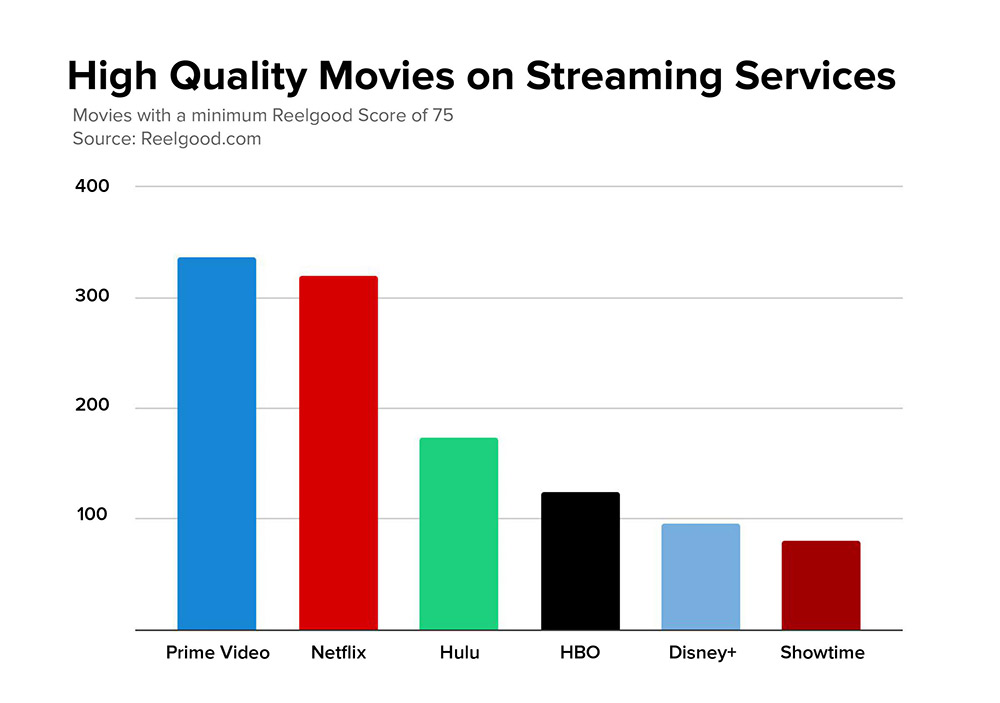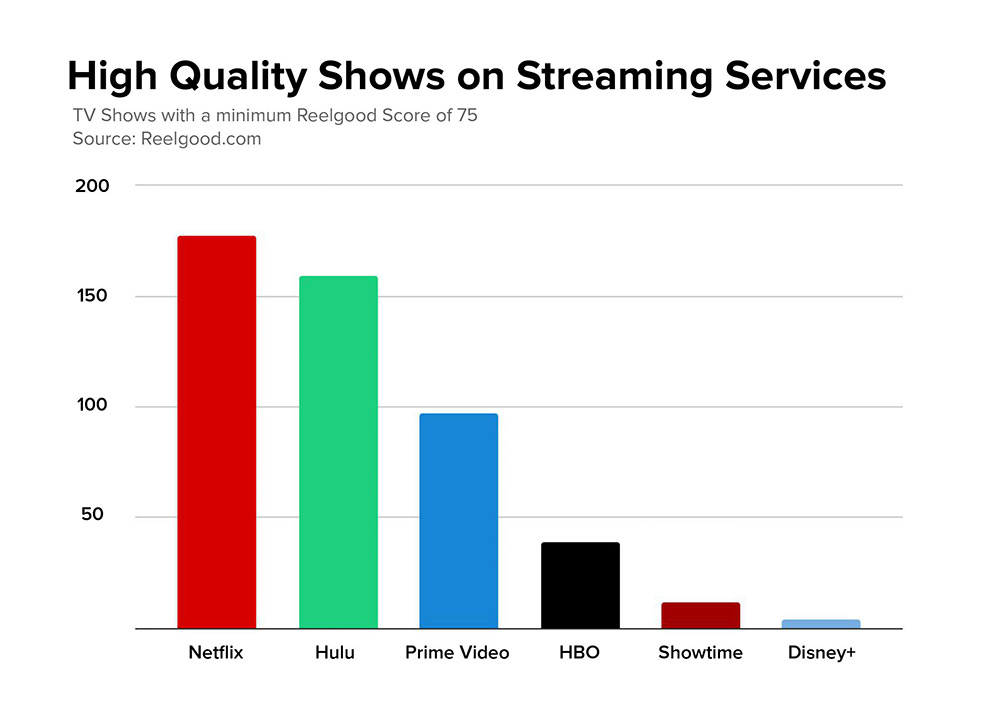 Those numbers may not be a lot when you consider that the sum total of movies offered by just Netflix and Prime Video is 18,097.
The number of movies categorized as Quality Content does jump significantly though, with Prime Video offering 1,635 and Netflix offering 1,050. It should also be noted that while HBO, Showtime, and Disney+ do have far fewer movies per dollar, they have a better track record for High-Quality or Quality content.
For example, while HBO may only offer 915 movie titles, roughly 40 percent of them have Reelgood Scores of 60 or above. Fewer but better choices per every dollar is certainly worth considering when choosing a streaming subscription service.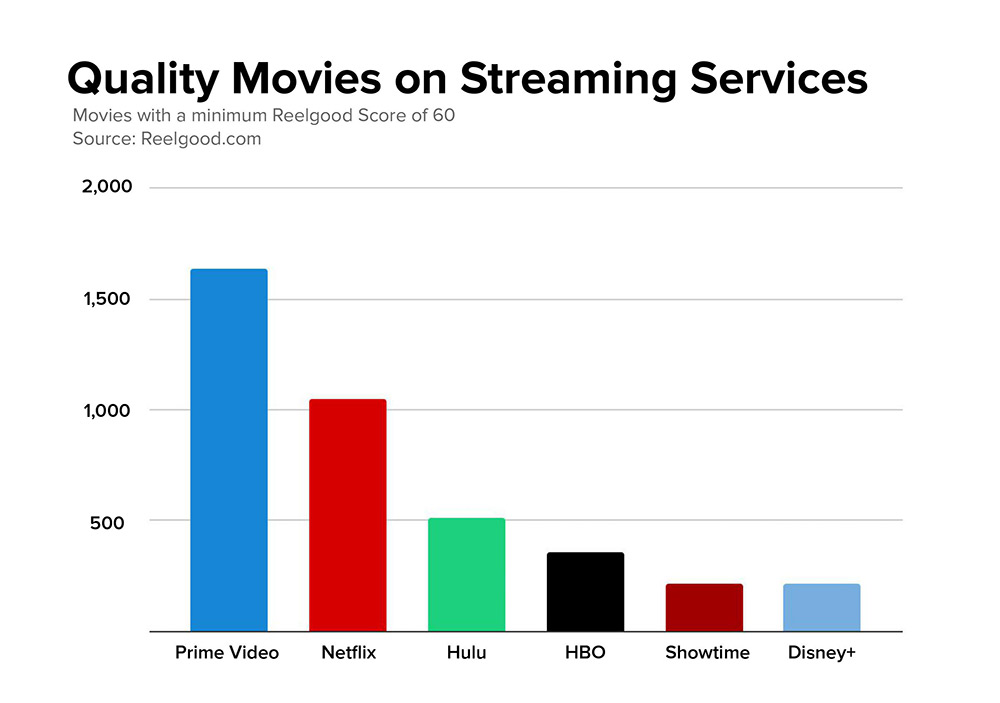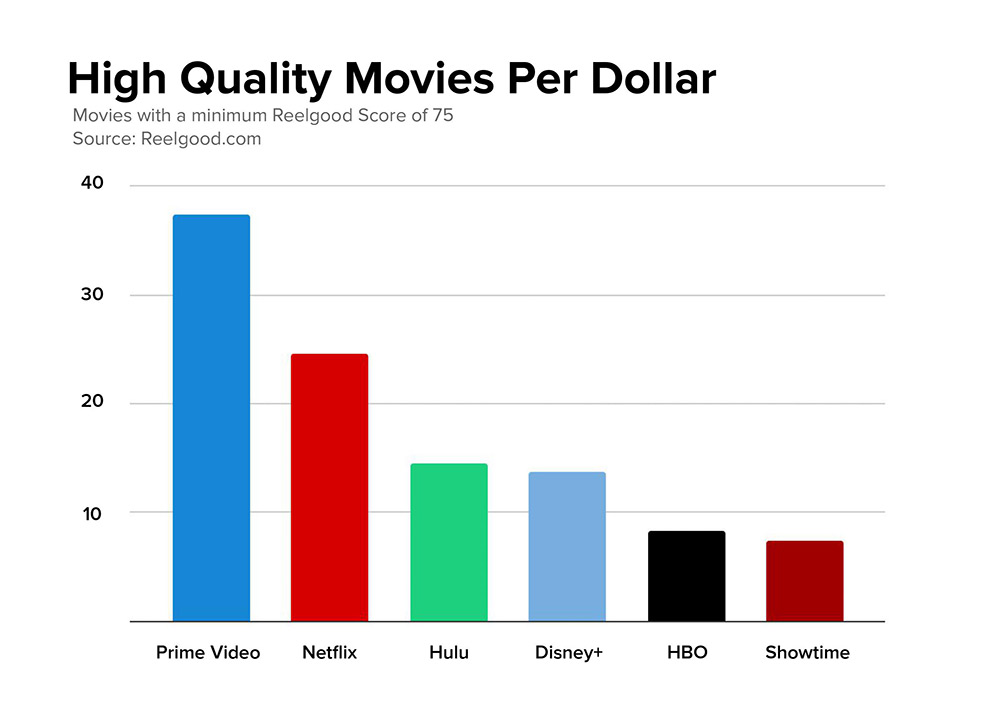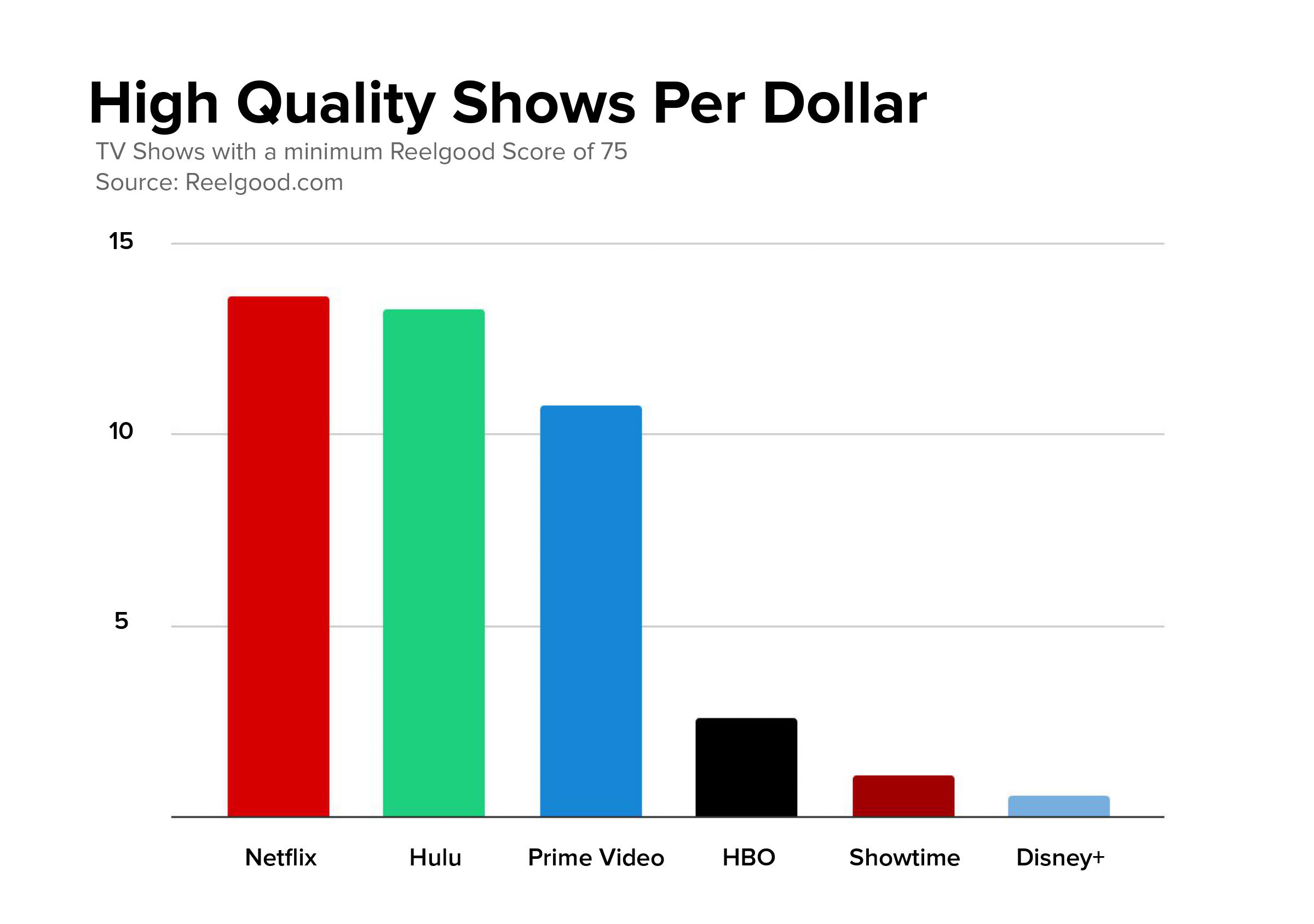 Fewer choices may not a bad thing when looking for a good TV show
Prime Video still has everyone beat in terms of quantity of television shows, but the tables reverse when we take into consideration the quality of those shows. While the top three rankings for TV show quantity are Prime Video, Netflix, and Hulu — it's exactly the opposite when looking at Quality TV shows, and Hulu leads with 601 shows having a Reelgood Score of 60 or better, versus 528 for Netflix and 305 for Prime Video.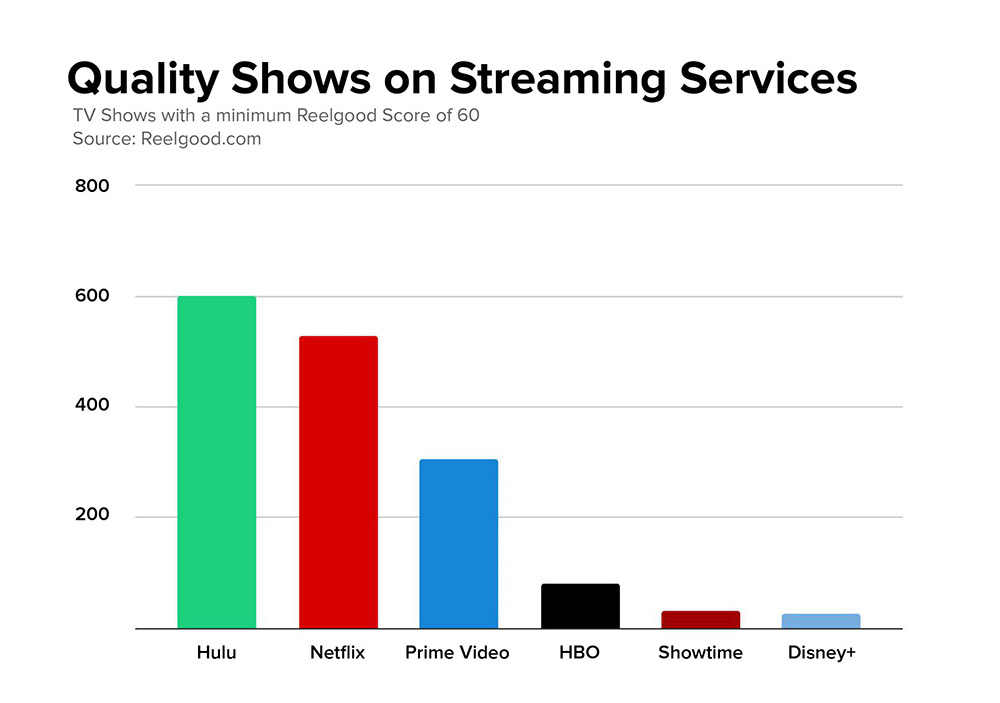 One would think that the order would stay the same when looking at High-Quality TV shows, but this time around Netflix leads with 177 titles compared to Hulu's 159. Coming in dead last is Disney+ with only four of its 127 shows scoring a High-Quality rating.
Prime Video may give subscribers the highest number of Quality and High-Quality movie titles per dollar, but it's Netflix and Hulu who take top honors in the TV category.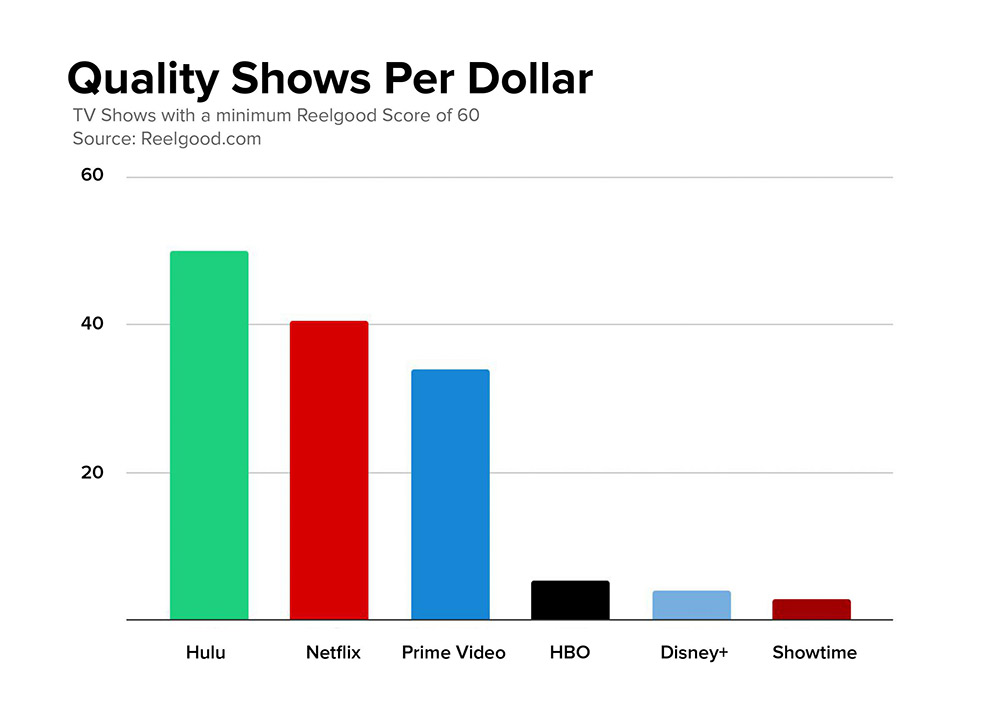 Final thoughts on the streaming service findings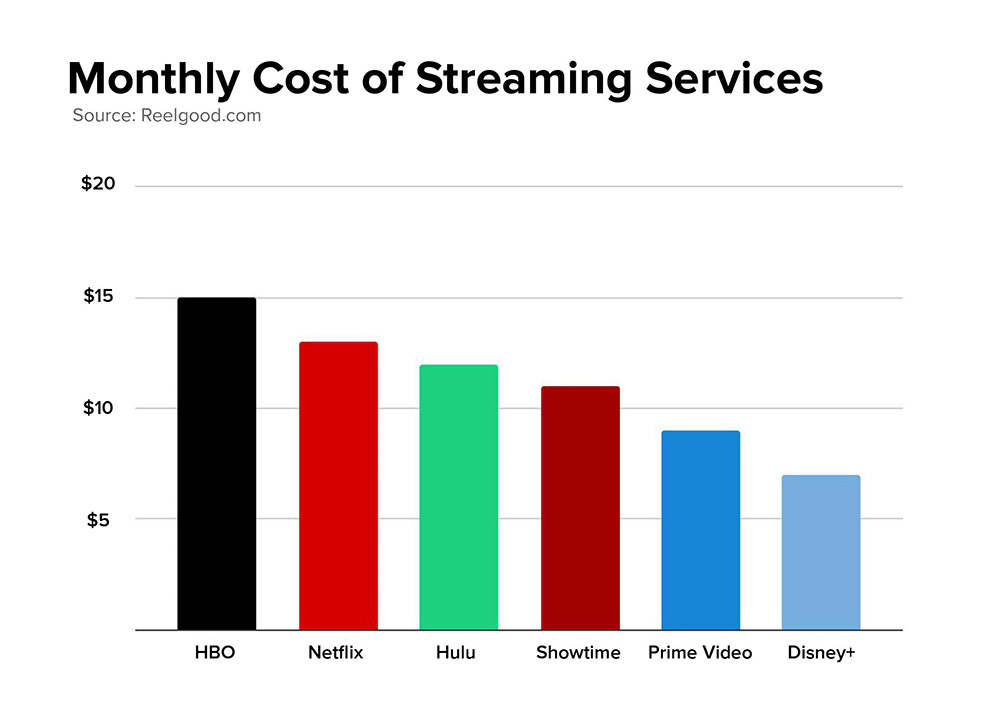 Consumers will have to ask themselves just how much variety they want with their content and how much they want to pay for it in choosing a service. Disney+ may come in as the cheapest option for now, but they don't come anywhere close to the volume of quality shows their competitors offer.
If viewers don't mind sitting through ads, Hulu's $5.99 plan is pretty hard to beat, particularly when one considers the number of quality content per dollar.
Prime Video and Netflix still lord over most of their streaming competitors in terms of sheer quantity, but then again, their massive libraries are missing Game of Thrones. (Prime does, however, carry some older HBO content such as The Sopranos and The Wire.)
Updated on 10-31-2019