Here are this week's Top 10 most-watched movies and TV shows in streaming (June 30 – July 6).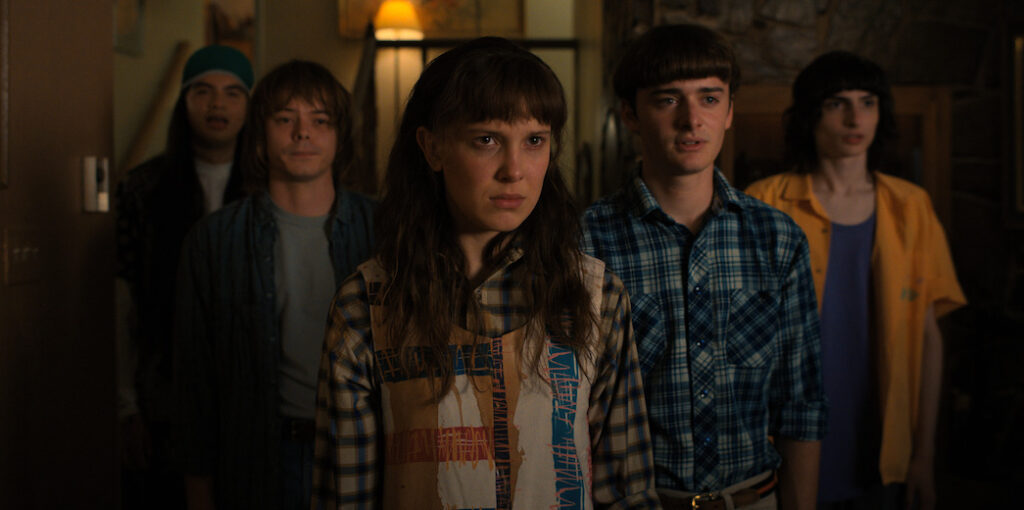 By Josh Terry
Ever since Netflix switched from a direct-to-consumer DVD service to a streaming TV and film giant, a significant part of its business model has been releasing every episode at once. From House of Cards to recent releases like God's Favorite Idiot and Man vs. Bee, these shows have debuted in season-long chunks perfect for binge-watching and spending an entire day gorging on new content. But with the company's stock cratering from a $700 high to a $160 low this year, mass layoffs, and a precarious new economic outlook, the once-dominant service is looking to switch things up and boost subscriber growth. The company has explored adding advertisements to its content, once a verboten idea, and experts expect that even the binge model is on the cutting table. After all, its competitors like Apple TV+ and Disney+ all favor a one-episode-per-week model.
While it's unlikely that Netflix will scrap a bedrock of its ethos, the way they've released this season of Stranger Things might point to a way forward. Back in May, the streamer debuted the first seven episodes of its marquee show's fourth season and it broke records. On the Reelgood Top 10, the show stayed on the ranking up until the week before its second batch of episodes dropped last week. Now, with the final two installments of the expensive and zeitgeist-swarming show on Netflix, Stranger Things once again claims the top spot on the Reelgood Top 10. Netflix also broke up the release strategy of its other major show Ozark with similar success.
Will the binge-lite model be the future of Netflix? WIll the streamer break up its biggest shows to build up momentum and keep subscribers coming back month after month?
1.Stranger Things (Streaming now on Netflix)
After a surprising hiatus from the Reelgood Top 10, Stranger Things has once again asserted its dominance on our weekly ranking. The final two episodes of the series, if you have avoided spoilers on Twitter and other social media, promise an intense showdown between Eleven (Millie Bobby Brown) and this season's bad guy Vecna. For Hawkins, Indiana, the stakes in this battle couldn't be higher, especially given the surprise shared history between El and the monstrous villain. Whatever the conclusion of this finale brings, there will be more Stranger Things arriving in the future. Back in February, the show was renewed for a fifth and final season.
2. The Terminal List (Streaming now on Prime Video)
Compared to every other streaming service, Prime Video excels at spy, espionage, and military thrillers. With Jack Reacher, Jack Ryan, and Hanna all gracing the streaming service, you need an amazing subscription if you want a heaping dose of highly violent, highly compelling, and highly intense shows to binge week after week. The latest installment in this streak is the Chris Pratt-starring series The Terminal List. Pratt plays James Reece, a Navy SEAL who finds his entire squad ambushed and has to pick up the pieces. Alongside The Old Man, this show promises betrayal, revenge, and a whole lot of twists. Joining Pratt is a great cast including Constance Wu, Riley Keough, Taylor Kitsch, and Jeanne Tripplehorn.
3. Doctor Strange in the Multiverse of Madness (Streaming now on Disney+)
Before Top Gun: Maverick recently took the throne, Doctor Strange in the Multiverse of Madness was the highest-grossing movie of 2022 worldwide. It only makes sense that its Disney+ streaming premiere would hit the top three of the Reelgood Top 10 for a second consecutive week. With 28 total films in the Marvel Cinematic Universe so far, audiences will continue to flock to see Benedict Cumberbatch, Elizabeth Olsen, John Krasinski, Rachel McAdams, Benedict Wong, Chiwetel Ejiofor, and more in a big-budget superhero flick.
4. The Old Man (Streaming now on Hulu)
On just its fourth episode, The Old Man loses its title as reigning champ of the Reelgood Top 10, dropping from the top spot for a second consecutive week to fourth place. Based on a 2017 novel by Thomas Perry, the show stars Jeff Bridges who plays Dan Chase, a former CIA operative who escaped the spy life for a quieter existence in Vermont but because of his knowledge of government secrets and skill as a deadly assassin, he still has enemies. One of those enemies is FBI agent Harold Harper (John Lithgow) who hunts Chase. While the show is notable for combining those two stars, it's also worth seeing for Bridges' resilient performance: not only are critics raving about his star turn but he overcame a cancer diagnosis and chemotherapy during filming.
5. Only Murders in the Building (Streaming now on Hulu)
Steve Martin thrives when he's playing a fictionalized version of Steve Martin: an aloof, contentious, and extremely funny jerk who can play a foil to a more wholesome and easy-to-pick on Martin Short. For the second season of Only Murders in the Building, which pairs Short and Martin with pop star Selena Gomez, a murder mystery that hits close to home unfolds new layers of intrigue, terror, and comedic hijinks. Joining this all-star trio are Cara Delevigne, Michael Rapaport, and Amy Schumer.
6. Spiderhead (Streaming now on Netflix)
This feature-length adaptation of a George Saunders short story hits the Reelgood Top 10 for a third consecutive week. Spiderhead is directed by Top Gun: Maverick's Joseph Kosinski and boasts an all-star cast in Miles Teller, Jurnee Smollett, and an excellent Chris Hemsworth. Between a Saunders story for the literary crowd, Kosinski's populist approach to blockbuster films, and a likable cast in Teller, Smollett, and Hemsworth, this is a winning combo for Reelgood Top 10 consistency. It's for fans of The Island, Ex Machina, Hunger Games, and more.
7. Last Night in Soho (Streaming now on HBO Max)
Edgar Wright has such a unique style as a filmmaker he's built up a sizable audience who follow him no matter what genre experiments he dives into. From his hilarious comedy trilogy with Simon Pegg in Shaun of the Dead, Hot Fuzz, and The World's End, to Baby Driver, Scott Pilgrim vs. the World, and his music documentary the Sparks Brothers, there's little this director can film with gleeful and slickly-edited abandon. His latest foray is the horror film Last Night in Soho and unlike Shaun of the Dead, this film relies more on the psychological terror of the genre rather than its campy comedy. It stars Anya Taylor-Joy, Thomasin McKenzie, and Matt Smith.
8. The Boys (Streaming now on Prime Video)
Amazon's The Boys fell out of the top three of the Reelgood Top 10 but still stays on at eighth. After a salacious and gaudy episode called "Herogasm," which showcases an annual orgy for superheroes in The Boys universe, it's clear the fever pitch of internet chatter couldn't maintain its intensity for another week and a much tamer episode. That said, The Boys is a hit this season. It's a satirical, brutal, and confrontational middle finger to a ubiquitous genre and it's still getting solid reviews. Considering the show's positive momentum, Prime Video has already renewed the series for a fourth season.
9. The Bear (Streaming now on Hulu)
The Bear has been called one of the best shows about working in a kitchen of all time and for good reason. Starring Shameless mainstay Jeremy Allen White as Carmen Berzatto, a Noma and French Laundry chef alum who returns to his family's Italian beef shop in Chicago after the passing of his brother, the series combines the clench-worthy frenetic filmmaking of the Safdie Brothers with a workplace drama about grief and making a good meal. Though the series arguably gets some details about its setting wrong, the show does get the dramatic heart of the story correct. Alongside White, there's a great cast in real-life chef Matty Matheson, Ebon Moss-Bachrach, Ayo Edebiri, Lionel Boyce, and Oliver Platt.
10. The Bad Guys (Streaming now on Peacock Premium)
Thanks to Despicable Me, Minions, and Minions: The Rise of Gru, there's a market for cartoon villains resonating with both kids and even adults. The Bad Guys, a 2022 film with a great cast of comedians turned voice actors, aimed to capitalize on this phenomenon. The film follows a series of CGI bad animal guys who must become model citizens after a lifetime of crime. It did pretty well at the box office, grossing nearly $250 million. Now that it's on streaming and with a cast as notable as Sam Rockwell, Awkwafina, Marc Maron, Craig Robinson, Zazie Beetz, and Richard Ayoade, it's no shock it debuted on the Reelgood Top 10.