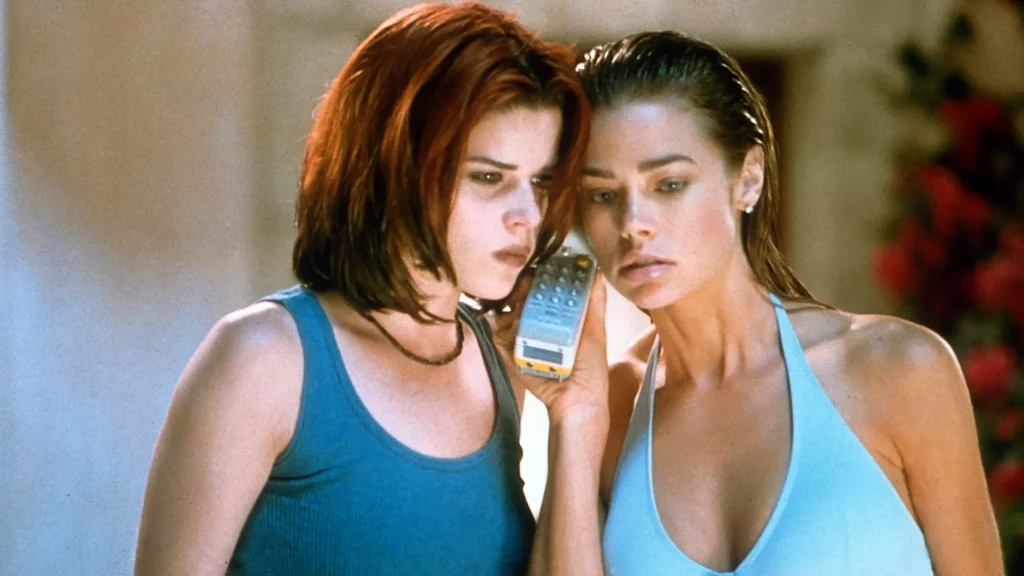 'Wild Things (1998)' is a unique fusion of drama, crime, and thriller genres, a combination that poises the film as an enthusiastic display of cinematic creativity. Driven by an enigmatic plot filled with surprising twists, the film presents a compelling narrative that keeps viewers on the brink of suspense.
Wild Things is not streaming in your country?
Any of our picks not streaming in your country? ExpressVPN unlocks Reelgood and all of your streaming services, giving you access to all movies and TV shows from around the world. Stream them from anywhere with a 30-day money-back trial from ExpressVPN.
Unblock Streaming with ExpressVPN (3 months free for Reelgood users!)
Connect to a US or UK server via ExpressVPN.
Let ExpressVPN run in the background as you watch all of your movies and TV shows, securely and with no throttling or bandwidth limits.
Overview of Wild Things
The 'Wild Things (1998) narrative is a complex web of deceit, manipulation, and desire set against the backdrop of a seemingly tranquil community in Florida. The main narrative revolves around Sam Lombardo, played by Matt Dillon, a revered high school guidance counselor accused of rape by two students, portrayed by Denise Richards and Neve Campbell. However, as the storyline unfolds, it's clear that there's more than what meets the eye. If you're fond of puzzles, you'll want to watch 'Wild Things (1998)'.
Central Characters and Performances
What infuses vitality into 'Wild Things (1998)' are the characters, each played impeccably by an ensemble cast. Dillon's portrayal of Lombardo captures a man whose life unravels when grave allegations tarnish his name. Richards and Campbell, as the alleged victims Kelly and Suzie, respectively, deliver provocative performances that catalyze the plot's incendiary evolution.
Unpredictability: The Core of Wild Things
Wild Things strikes a fantastic balance between lust, betrayal, and mystery. The film seamlessly transitions through various story arcs, keeping the audience's attention invested from start to end. Powered by a dynamite script that defies predictability, Wild Things metamorphosizes from a courtroom drama into a roller-coaster of unending surprises.
The Essence of Suspense
Film fans know too well the role of suspense in crafting a captivating drama. In 'Wild Things,' the suspense is woven into the fabric of the narrative, ensuring that viewers remain wide-eyed throughout the film's runtime. Twists and turns in the storyline and characters maintain the film's intoxicating allure.
The Craft of Storytelling
Director John McNaughton displays a masterstroke in storytelling in 'Wild Things.' He adeptly communicates the unfolding drama and the underbelly of deception within the society. The narrative is structured to maintain the suspense, gradually revealing the complex layers of the plot, thereby amplifying the intrigue surrounding the film.
Delving into Intricate Detailing in Plot Development
John McNaughton, who directed 'Wild Things,' is known for his attention to detail; this movie is no exception. The film's plot follows a series of twists and turns resembling an intricate labyrinth of lies and crime. Once merely a school counselor, Lombardo is thrown into a maelstrom of accusations and plotting. Meanwhile, the two victims reveal a sinister game of power filled with unpredictability. Exploring this further will make you curious to watch 'Wild Things (1998).'
Spotlight on Supporting Characters
While the main characters undeniably capture viewer attention, the supporting cast in 'Wild Things' contributes just as much to the film's success. Bill Murray, who plays Lombardo's attorney, breathes charisma into the narrative. His shrewd role adds a layer of complexity to the plot, and his character's dynamics with the rest of the cast are truly enthralling.
Cinematic Techniques and Atmosphere
The atmosphere and backdrop of 'Wild Things (1998)' are worth mentioning, as they significantly contribute to the movie's overall suspense and feel. Florida's sunny, seemingly idyllic settings are juxtaposed with the dark, compelling intrigue of the fatal plot, creating an atmosphere of tension and irony. This uniquely blends reality with suspense, making the audience eagerly watch 'Wild Things (1998)'. Moreover, the camera techniques used to frame the numerous plot twists create an engaging visual journey that adds to the overall cinematic experience.
The Enigmatic Ending
One of the reasons 'Wild Things' has maintained its popularity is its open-ended and enigmatic conclusion. Viewers are left on a cliffhanger as the final scene closes, providing ample room for speculation. This level of sophistication in storytelling was unprecedented at the time of the film's release and potentially revamped the way endings were perceived in drama and crime movies.
To fully appreciate the exquisitely tangled structure that concludes the movie, one must watch 'Wild Things (1998)'. An encapsulating journey from the beginning to the sudden end, the film leaves you in anticipation and unpredictability. It's more than just a movie; it's an experience of cinematic brilliance that stands tall in crime and drama.
The Stellar Ensemble Cast: Beyond the Main Characters
It is true that 'Wild Things (1998)' is proof of the powerful performances an ensemble cast can deliver. Apart from the headline cast members, the film is graced by several more compelling performances.
Kevin Bacon as Detective Ray Duquette
Kevin Bacon steps into the shoes of Ray Duquette, a detective who dives head-first into the murky waters of the case surrounding Sam Lombardo. Bacon's portrayals of Duquette's disciplined demeanor and investigative rigor help build an authoritative character that becomes integral to the storyline. Duquette's unraveling the intertwined secrets is an important narrative moment, and Bacon's performance certainly adds to the film's quality.
Robert Wagner as Tom Baxter
Robert Wagner plays Tom Baxter, a wealthy benefactor whose character contributes significantly to the film's core of mystery and suspense. Wagner's role, though brief, adds a touch of royalty and intrigue to the narrative. He effortlessly brings the character to life, adding another layer of complexity to the plot of 'Wild Things (1998)'.
Bill Murray's Second Glance
As mentioned, Bill Murray's character, Kenneth Bowden, Lombardo's attorney, brings a quirky flavor to the story. Though calm and seemingly eccentric, his character plays a pivotal role in unearthing various truths in a courtroom filled with secrets.
Theresa Russell as Sandra Van Ryan
Theresa Russell, acclaimed for her eccentric and varied roles, captures your attention as Sandra Van Ryan, the overbearing and wealthy mother of Kelly Van Ryan (Denise Richards). Her nuanced performance of a woman indulging in extravagance with a bone to pick adds another dimension to the story's overall charm.
Each cast member mentioned above imbues their character with a distinct essence, contributing significantly to the narrative complexity and audience appeal of 'Wild Things (1998)'. This unique combination of talented acting and an array of deeply well-written characters, intricately sewn together by an elaborate and evocative storyline, offers more compelling reasons to watch 'Wild Things (1998)'. Indeed, the film's cast and storytelling create an unforgettable cinematic experience.
Visual Intrigue: The Trailer of 'Wild Things (1998)'
Conclusion: 'Wild Things' Legacy in Drama and Crime Genre
As a blend of crime and drama, 'Wild Things (1998)' offers far more than mere entertainment. It opens discussions about societal values, the manipulation of truth, and the inherent dark corners of human nature. Its strength lies in its unconventionality and unpredictable nature, making it stand out in drama and crime.
The specter of suspense haunts every scene, leaving viewers aching for more until the end credits roll. If you love crime and drama genres intertwined with suspense, watching 'Wild Things (1998)' would indeed be a cinematic treat for you.
Even today, as a testament to ingenious plot formulation and a captivating narrative, 'Wild Things (1998)' remains an exhilarating watch. Its ability to keep audiences on their toes while simultaneously exploring dark themes is an achievement that testifies to the film's superior direction and scripting. One leaves the film both intrigued and baffled, a combination that rivals the experiences of the best in the crime and drama genres.