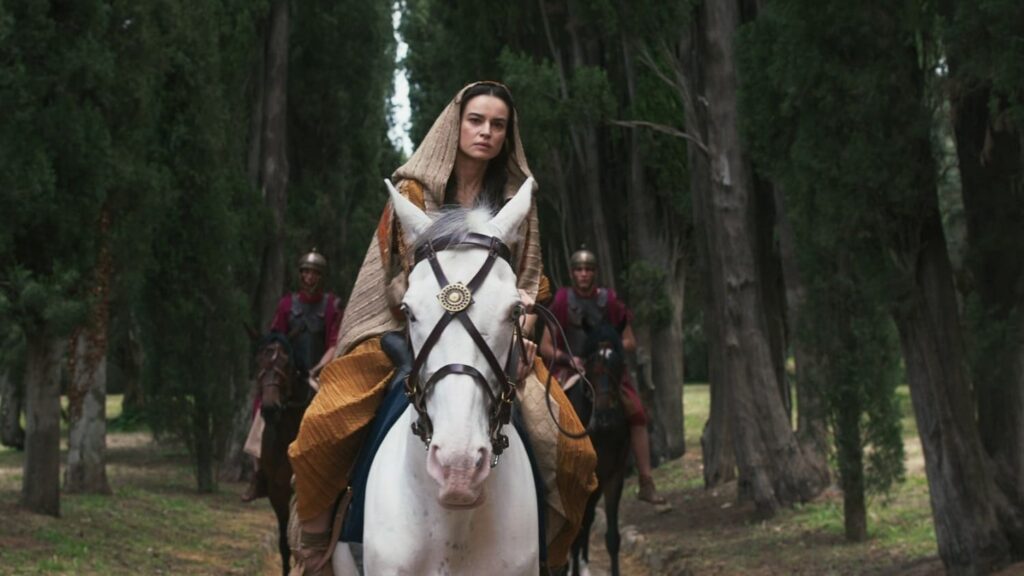 Domina returns with a thrilling new season, beckoning enthusiasts of Roman tales to plunge once more into the intrigues of Ancient Rome. As the series unfolds, it promises to dive deeper into the captivating narrative of the formidable duo, Livia Drusilla and Gaius. Their saga, which originally ensnared viewers in its debut season, is about to unveil even more enthralling chapters.
For those in Europe eager to dive deep into this gripping drama without interruption, consider amplifying your streaming journey. ExpressVPN comes highly recommended, a trusted companion ensuring you stay immersed in every moment of this Roman odyssey. Embark, and let the ancient narratives transport you.
Step-by-Step: How to watch Domina Season 2 in Europe on Sky Atlantic using a VPN
Select a VPN service that is optimized for streaming. We recommend ExpressVPN
Download the VPN and connect to the UK server.
Log in to Sky Atlantic.
Find Domina Season 2 and stream it no matter where you are!
Domina Season 2 Synopsis
Domina Season 2 thrusts viewers into the heart of the Roman Empire, where intense power battles rage, all captured through a distinct female viewpoint. Livia Drusilla, previously the shining star of the Claudii lineage, makes a resounding return to Rome after ten years in exile, eager to recapture her lost legacy.
Amid the backdrop of a crumbling empire and an unstable dynasty, Livia is confronted with the intricate task of both maintaining her bond with Gaius and championing her son's rightful claim to the throne. In this precarious realm, trust is a rare commodity. As seasoned adversaries and fresh contenders vie for supremacy, distinguishing allies from enemies becomes increasingly challenging.
Domina Season 2 Cast
Domina Season 2 sees the much-anticipated return of Kasia Smutniak as Livia and Matthew McNulty as Gaius. Fans will be delighted to find familiar talents like Liah O'Prey, Ben Batt, Ewan Horrocks, Claire Forlani, Darrell D'Silva, Christine Bottomley, and Alais Lawson gracing the screen once again.
This season also boasts fresh faces with Benjamin Isaac stepping into the shoes of Tiberius, Joelle as Vipsania, and David Avery embodying the young aristocrat, Domitius. The fate of Liam Cunningham reprising his role as Livia's father, Livius, hangs in the balance. Questions arise whether an actor of his stature would return for mere flashback sequences. Moreover, with Colette Tchantcho's stellar depiction of Antigone in Season 1, there's a cloud of mystery surrounding the potential recasting of this pivotal character.
When does Domina Season 2 premiere?
Domina Season 2 is all set to make its grand debut on Wednesday, September 13. A double-feature evening kicks off at 9:00 PM and seamlessly transitions into the second episode at 10:05 PM. Mark your calendars to watch exclusively on Sky Atlantic.
How many episodes does Domina Season 2 have?
Domina Season 2 unfurls over 8 riveting episodes, diving deeper into Livia and Gaius's journey, especially in the aftermath of Marcellus's demise. As Livia steps into the shoes of a dominant leader, she grapples with the monumental challenges that accompany the throne.
Season 2 Episode 1: Conspiracy – Sept. 13, 2023
Upon their grand return to Rome, Livia and Gaius face the daunting reality of a severe famine engulfing the city. In a bid to manage this calamity, Gaius ignites a race for succession, setting the stage for intense power plays in an already volatile political arena.
Season 2 Episode 2: Wedding – Sept. 13, 2023
The anticipated nuptials between Drusus and Antonina are overshadowed by looming threats, casting doubts on their dreamy celebrations. As uncertainty mounts, the very essence of their bond faces stern trials, and they find themselves battling forces that seek to disrupt their wedding bliss.
Season 2 Episode 3 – TBA
Domina Season 2 Trailer
Start Watching Domina Season 2 Now
Domina Season 2 is poised to be one of the most thrilling historical drama series this year. With a canvas of 8 spellbinding episodes, the narrative delves into the intricate lives of Livia and Gaius post-Marcellus's tragic demise. As Livia takes center stage as a commanding leader, and Gaius faces the challenges of a city in crisis, viewers are in for a roller-coaster of emotions, power plays, and historic revelations. The first two episodes, "Conspiracy" and "Wedding", set the tone for an epic season, promising a blend of political intrigue and personal dramas.
For those outside the primary broadcast regions or looking for a seamless streaming experience, there's a solution. Enhance your viewing journey with ExpressVPN. Not only does it offer a buffer-free connection, but it also ensures you have access to this gripping series, no matter where you are. Dive into the tumultuous world of Rome, ensuring no scene goes unseen with a reliable VPN by your side.