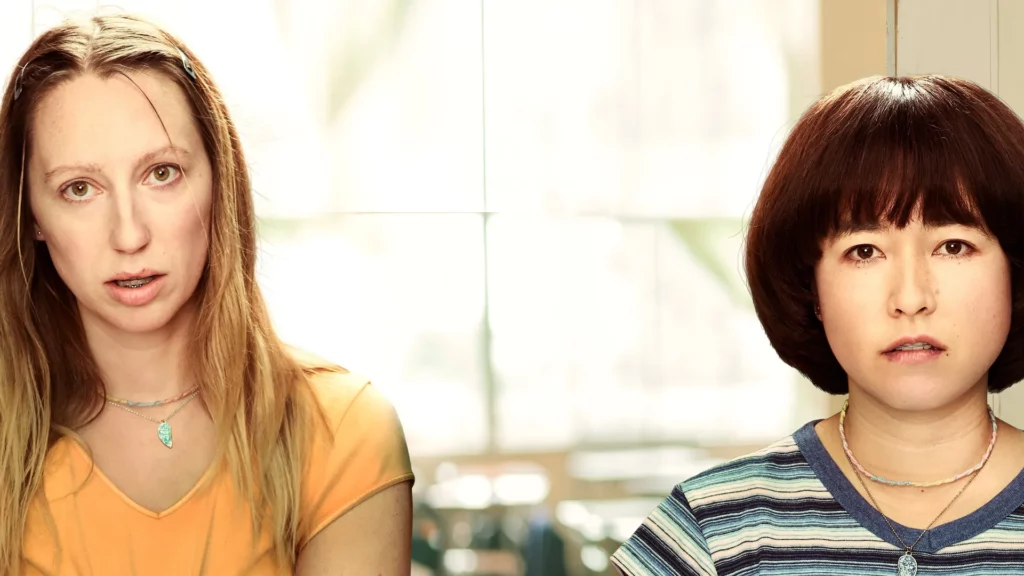 In the vast universe of comedy, there is something uniquely hilarious and compelling about the adolescent-themed comedy series PEN15. This original Hulu series is a fantastic amalgamation of humor, awkwardness, and nostalgia, making it a must-watch for comedy lovers. This article will delve into why you should "watch PEN15" and explore the series' captivating storyline and the brilliant performance of its real-life best friends and creators, Maya Erskine and Anna Konkle.
Pen15 is not streaming in your country?
Any of our picks not streaming in your country? ExpressVPN unlocks Reelgood and all of your streaming services, giving you access to all movies and TV shows from around the world. Stream them from anywhere with a 30-day money-back trial from ExpressVPN.
Unblock Streaming with ExpressVPN (3 months free for Reelgood users!)
Connect to a US or UK server via ExpressVPN.
Let ExpressVPN run in the background as you watch all of your movies and TV shows, securely and with no throttling or bandwidth limits.
PEN15: Comic Ode to Youth:
At its core, PEN15 is a comedic representation of two thirteen-year-old girls navigating through the ups and downs of middle school life in the era of Y2K. What sets this show apart is that the characters are played by adults, namely Erskine and Konkle, who provide an in-depth insight into pubescent experiences. The series tastefully combines the innocence and confusion of the teenage years with a splash of adult perception, craftily articulating the exaggerated realities of adolescence.
Watch PEN15: Embracing Nostalgia and Humor:
To revisit the chaos of adolescence injected with humor, you must watch PEN15. The creative depiction of the daunting atmosphere of middle school, toe-curling puberty references, and the ever-changing dynamics of teenage friendships will give you an amusing and nostalgic tour of your teenage years. The series brilliantly communicates the narrative that middle school was an uncomfortable, sometimes horrifying, but always memorable showcase of life-changing events.
PEN15 Actors: A Brilliant Real-life Duo:
The chemistry between Erskine and Konkle adds the necessary dash of flavor to this hilarious and emotional teen comedy-drama. They immaculately navigate the intense and awkward experiences of young teenagerhood, blending in with the teen cast and the pervading vibrant energy. Their dialogues and performances create a genuine resonance with the audience, offering a real connection with the anxiety, hilarity, and poignancy of teenage life.
PEN15's Unapologetic Narrative:
The unfiltered and uncensored narrative of PEN15 makes it hit home. The series does not avoid portraying the uncomfortable and often painful aspects of growing up using humor. It explores body image issues, peer pressure, teenage angst, first crushes, and heartbreaks while maintaining an underlying comedic charm. This bittersweet exploration of teenage life gives PEN15 a distinct identity in comedy.
Detailing The Uniqueness of PEN15
PEN15 is undeniably a show that couldn't be placed in the box of a generic comedy series. Set in the year 2000, the show feels like a time capsule, bringing back the era of AOL Instant Messenger, Spice Girls, and homework assignments done through library encyclopedias. This realistic and relatable portrayal of the pre-smartphone era lends a certain charm to the series.
The series further stands apart by using 'real' teens – played by actual adult actors – set against a cast of genuine teenagers. This creative aspect adds a layer of humor and allows for an expressive depiction of teen struggles and triumphs.
A unique blend of cringe, comedy, and drama, the second you watch PEN15, you're set to embark on a rollercoaster of emotions, one that catapults you straight back to the past, to the most uncomfortable and awkward years of your life – yet makes you revisit them with a rib-tickling perspective.
Why Watch PEN15
Watch PEN15, as it beautifully captures adolescence's innocent, mistake-prone wonder with a delightful twist of humor. The series sheds light on the confusion and emotional outbursts that seem overwhelmingly important during middle school but become comical material for adulthood.
The brilliant script and the chemistry between the real-life best friend duo, Erskine and Konkle, make the series a lively and relatable watch. The screenplay is not just humor-loaded but also addresses sensitive topics like race, divorce, and self-esteem, presenting them as relatable and empathetic.
PEN15 cleverly bridges the gap between a multi-camera sitcom and a single-camera comedy-drama. In a world filled with coming-of-age dramas and comedies, PEN15 has carved a unique space for itself with an unabashedly honest portrayal of adolescence from an adult's perspective.
PEN15's Quirky Humor
What makes PEN15 an irresistible watch is its quirky humor that transcends the obvious ludicrousness of adults playing thirteen-year-olds. It induces laughter through scenarios intensely relatable to anyone who has survived the trials of middle school. The series is relentless in presenting adolescent experiences without diluting them with an adult lens perspective – the confusion over bodies changing, school crushes, and teenage rebellion are all touched upon with brutal honesty and side-splitting humor.
The Cast of PEN15: A Closer Look
PEN15 boasts a colorful palette of characters piloted by Maya Ishii-Peters and Anna Kone, played by Maya Erskine and Anna Konkle, respectively. Erskine and Konkle, apart from being the adult leads in a sea of actual adolescent actors, are also the co-creators and co-writers of PEN15.
Maya Erskine, a Tisch School of the Arts graduate, has proven herself to be a skilled comedy actress. Before PEN15, she appeared in TV shows "Insecure" and "Man Seeking Woman." In PEN15, she portrayed her socially awkward character with remarkable ease and managed to infuse the role with a touch of relatability and a dash of humor.
Anna Konkle, also an alumna of Tisch School of the Arts, is quite familiar with comedy. Her work includes appearances in "Rosewood" and "Man Seeking Woman." In PEN15, Konkle exhibits her flair for comedy through her flawless portrayal of her equally awkward character.
Together, the duo added a unique flavor to the show by depicting painfully real adolescent experiences in a hilariously unusual way.
Astonishing Trivia about PEN15
Despite their on-screen awkwardness, Erskine and Konkle are real-life best friends who met while studying at the Tisch School in New York City. Their off-screen camaraderie translates to on-screen chemistry effortlessly.
PEN15 also features Taylor Nichols, a famous actor known for his roles in Whit Stillman films, playing Anna's father.
The name "PEN15" is a juvenile joke. When written down, PEN15 looks like an alternate spelling of the word 'penis.' This humorously symbolizes the adolescence and immaturity that the series portrays.
Many of the storylines and experiences depicted in PEN15 are pulled from Erskine and Konkle's middle school experiences, making the show semi-autobiographical.
Erskine's mother, Mutsuko Erskine, plays her character's mother in the series.
In essence, PEN15 offers a reimagined reality of middle school through the eyes of two talented actresses, reliving their adolescent years. It stands unique in its capacity to make viewers laugh, cringe, and revisit their childhood, all at the same time. For anyone who loves a good laugh and an excellent coming-of-age story, PEN15 is a must-watch.
Diving into the PEN15 Trailer: A Preview of Awkward Laughter
Conclusion: Why You Should Watch PEN15:
PEN15 is an audacious, empathetic, and admirably weird series that brings raw adolescent experiences to life with remarkable accuracy and humor. A binge-watch of PEN15 is not a mere ride down memory lane but an opportunity to reflect, reevaluate, and, most importantly, laugh at the beauty of one's awkward teenage years. Whether you've been through these adolescent tribulations or are yet to, PEN15 is the comedy journey you must venture on. Bright, bold, and wonderfully nostalgic, the series is a standout comedy spectacle. Watch PEN15 to laugh, cringe, and celebrate the universal human experience of growing up.
To fans of comedy, especially those who loved the poignant humor of TV comedies such as "Freaks and Geeks" or "The Wonder Years," you'll appreciate the comedic magic of PEN15. So unwind, reminisce about your awkward teenage years, and indulge in the deliciously funny series that is PEN15.
Your next binge-watch is calling, so answer it and dive into the hilarious adolescent world of PEN15. You won't regret it!