Lucifer was an American urban fantasy television series that was created by Tom Kapinos. It was produced by Warner Bros. Television, DC Entertainment, and Jerry Bruckheimer Television. The series premiered on January 25, 2016, and ended on September 10, 2021. Lucifer spanned over six thrillings, entertaining, dramatic, fantastical, and jam-packed mystery seasons, airing 93 episodes. The series was based on a DC Comics character developed by Mike Dringenberg, Sam Kieth, and Neil Gaiman. 
The series received multiple nominations and awards. The awards are the 2016 Teen Choice Awards. In 2017, the Saturn Awards, Dragon Awards, People's Choice Awards, and Bisexual Representation Awards. In 2018, another Bisexual Representation Award was. And in 2021, the American Society of Cinematographers Awards, Critics' Choice Super Awards, Hollywood Critics Association Awards, and Primetime Emmy Awards. All of these accolades just serve to illustrate how excellent the Lucifer series is because it is acknowledged, honored, and has garnered followers on a worldwide scale.

The Plot
Digging into the plot, the series centers on Lucifer Morningstar, a stunning and strong celestial who was expelled from Heaven for his treachery. As the Devil, Lucifer grows weary of the ages he has spent punishing humans as the Ruler of Hell. He gives up his throne in disobedience to his father and leaves his kingdom for Los Angeles, where he runs his own nightclub named Lux.

However, when he finds himself entangled in a murder investigation, he encounters the charming Detective Chloe Decker. After using his power to manipulate people to confess their most secret desires, he aids the Los Angeles Police Department, or LAPD, in cracking the case. After that, Lucifer accepts another invitation to join Chloe as a consultant to the department.

Throughout the television series, they come into contact with a variety of celestial beings or phenomena as they work together to solve crimes and forge relationships due to the intriguing, exciting, and varied plots entwined with mystery, fantasy, and fulfilling drama.

Cast of Lucifer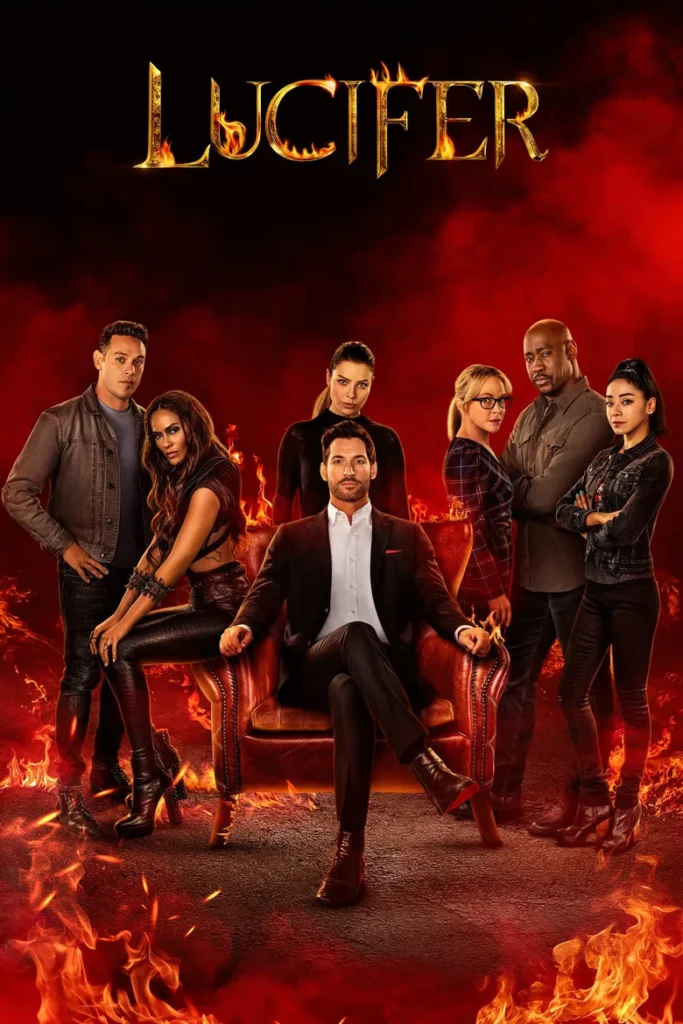 Tom Ellis (Lucifer Morningstar)

Welsh actor Thomas John Ellis (Tom Ellis) was born in Cardiff, Wales, on November 17, 1978. At the Royal Conservatoire of Scotland, formerly the Royal Scottish Academy of Music and Drama, he completed a BA in dramatic studies. Tom Ellis and Tamzin Outhwaite were married for eight years and had two daughters. He is married to Meaghan Oppenheimer, an American television and film screenwriter.

For more than six seasons, Tom Ellis played the lead role of Lucifer Morningstar, a fallen angel and the reigning Lord of Hell who decided to move to Los Angeles for a significant lifestyle change. He eventually encounters Detective Chloe Decker and joins the LAPD as a consultant, using his supernatural ability to discover people's hidden motivations to solve murders.

Lauren German (Chloe Decker)

American actress Lauren Christine German was born in the Los Angeles suburb of Huntington Beach, California, on November 29, 1978. She graduated from Orange County High School of the Arts and Los Alamitos High School before enrolling at the University of Southern California to study anthropology. She keeps her personal life secret and doesn't have any kids. It also doesn't appear that she is currently dating, from what she has revealed to her admirers.

In the series, Lauren acted as Lucifer's LAPD partner in catching criminals. He has constantly flirted with her since they first met, but they have only begun to take their relationship seriously. Their relationship has been an emotional roller coaster through all six seasons, packed with many beautiful and outstanding events.

Kevin Alejandro (Dan Espinoza)

Kevin Michael Alejandro is an American actor and director born on April 7, 1976, in San Antonio, Texas. He is well known for playing various roles in many films and television shows. He then enrolled at the University of Texas, Austin, where he received his diploma. In high school, he studied acting and was named "Best Actor in the University Interscholastic League competition."

Kevin Michael Alejandro played the role of Daniel "Dan" Espinoza, a homicide investigator for the Los Angeles Police Department who met Lucifer Morningstar due to his work. Because of Lucifer's tricks and connection to Dan's ex-wife Chloe Decker and daughter Trixie, Dan found Lucifer somewhat repulsive.

D. B. Woodside (Amenadiel)

American actor David Bryan Woodside was born on July 25, 1969, in the Queens neighborhood of New York City. The State University of New York (SUNY) at Albany awarded Woodside a BA, and the School of Drama at Yale University granted him an MFA. Golden Brooks, an actress, and Woodside were romantically involved from 2008 through 2010. On September 1, 2009, he and his partner gave birth to Dakota Tao Brooks-Woodside, their first child.

Woodside plays the character of Amenadiel, the eldest of all God's Angels. Amenadiel, the oldest of the family, was God's primary executor and messenger for his lifetime since he would be involved in carrying out his father's most important commandments. He set out on his own path of maturation and eventually became one of Lucifer's closest associates in the following seasons.

Lesly-Ann Brandt (Mazikeen)

The actress Lesley-Ann Brandt was born in Cape Town, South Africa, on December 2, 1981. Brandt is also a Cape Coloured person with descent from Spain, Germany, the Dutch, and India. She is a fluent Afrikaans speaker, and some of her interests are yoga, hockey, and baseball. She was also taught the Meisner technique in 2008 and studied acting.

Brandt portrayed Mazikeen of the Lilim, a demon from Hell who goes by the nickname Maze and assumes the appearance of a young lady. She is Lucifer's best friend and fellow lover and served with him for millennia as one of his most faithful subordinates and servants. She also worked alongside Lucifer at the Lux and started bounty hunting.

Aimee Garcia (Ella Lopez)

American actor and writer Aimee Sandimés Garcia López de Ordóez was born on November 28, 1978, in Chicago, Illinois. She attended Piven Theatre Workshop for acting lessons. She also attended Northwestern University, where she performed in regional plays and musicals while pursuing a triple major in economics, journalism, and French. After receiving her degree and working in finance, she gave up acting, but she wasn't content there. Hence, she relocated to Los Angeles, California, in 2002 to continue acting as a career.

Aimee Garcia played Ella Lopez, the resident forensic scientist for the LAPD who collaborates with Lucifer, Chloe, and Dan on crime investigations. Ella Lopez is a lively, gregarious, and kind forensic scientist, but she also has a disturbing tendency to gravitate toward "bad boys."

Rachael Harris (Linda Martin)

American actress and comedian Rachael Elaine Harris was born in Worthington, Ohio, on January 12, 1968. She obtained a Bachelor of Fine Arts in the theater after graduating from Otterbein College in 1989 and Worthington High School in 1986. Harris and violinist Christian Hebel were wed secretly on April 30, 2015, in New York City. Even though they had two kids, Harris and Hebel divorced in 2019.

Rachael Elaine Harris played Linda Martin, a therapist in Los Angeles. The latter regularly receive requests for advice from Lucifer Morningstar, the ruler of Hell, generally over matters about Chloe Decker or his family. At 17, she also had her first child, and she remained in denial the entire time. The predicament became more apparent to her after the birth of her daughter.

Scarlett Estevez (Trixie)

American actress Scarlett Estevez was born in Los Angeles, California, on December 4, 2007. She started her acting career as a child in a few movies, and even as a young child, she showed a talent for the performing arts. She was the niece of actress Liza Weil and was only three years old when she signed on for her first national commercial.

Scarlett Estevez played Beatrice Espinoza, better known as Trixie. As the daughter of Chloe and Dan in the series, Trixie has developed strong ties with Lucifer and Mazikeen. She is a vivacious, bright, and cheerful young woman who enjoys hugs, getting to know new people and chocolate cake. She acts like a responsible adult and has fun tricks for whomever she is with, demonstrating how clever she is.

Dennis Haysbert (God)

Actor and producer Dennis Haysbert was born in San Mateo, California, on June 2, 1954. In 1972, he attended and completed his senior year at San Mateo High School in San Mateo, California. She also went to the American Academy of Dramatic Arts, where she received her degree (AADA).

In the movie, Dennis Haysbert portrayed God, who, together with his wife, Goddess, is one of the non-corporeal co-creators of the universe. God created his children (angels) to achieve self-actualization, and they had many of them. To allow His creations to live freely without intervention from Him, God largely kept His presence hidden.

Tricia Helfer (Charlotte/Goddess)

Tricia Janine Helfer, a Canadian actress and former model was born in the small Canadian town of Donalda on April 11, 1974. In Stettler, Alberta, she attended William E. Hay Composite High School. She resided and worked on the family's grain farm along with her three sisters. Additionally, Helfer was spotted by a scout from a modeling agency at the age of 17 while waiting in line at a movie theater.

Tricia Helfer played the Goddess, who is both the wife of God and the mother of Lucifer and his siblings. She is one of the two people who created the universe. She took over the body of a deceased lawyer named Charlotte Richards when her marriage to her husband started to go downhill, and she joined Lucifer in Los Angeles.

 Inbar Lavi (Eve)

Inbar Lavi, an actress, was born in Ramat Gan, Israel, on October 27, 1986. The Sofi Moskowitz School of Acting in Tel Aviv allowed her to concentrate on Method Acting and the Stanislavski approach after she completed her ballet and modern dance studies at the Kiarat Sharet School of Arts. When she was 17, she moved to New York to model and act. After about 8 months there, she relocated to Los Angeles.

Inbar Lavi played Eve, the first woman that God ever created. She and Adam were subsequently expelled from the Garden of Eden after being persuaded by Lucifer to eat from the tree of life. Before eventually dying and ascending to Heaven, she gave birth to Cain and Abel. After growing weary of paradise, Eve returned to Earth to start a new life. When she and Lucifer reconnected, they began dating, but it didn't work out since she brought out the worst aspects of his character.

 Brianna Hildebrand (Rory)

American actress Brianna Caitlin Hildebrand was born in College Station, Texas on August 14, 1996. She has always loved singing and composing. She believes that singing was her first love, and she received the opportunity to study acting in Los Angeles after winning a competition held by the "International Models and Talent Association."

In the most recent season, Brianna Hildebrand portrays Aurora Morningstar, sometimes known as Rory, who is the child of Chloe Decker and Lucifer Morningstar. She is an angel, more precisely a Nephilim, and a mysterious new antagonist dubbed a "rebellious angel" who may end up following Lucifer's way.

 Tom Welling (Marcus Pierce/Cain)

American actor, director, producer, and model Thomas Joseph Welling was born in Putnam Valley, New York, on April 26, 1977. Tom chose to pursue acting. He received an offer to become an actor from a man who worked for the agency where he was signed. Tom went to a couple auditions, and not long after, he started acting and gained recognition from multiple directors.

Thomas Welling played the role of Marcus Pierce, initially introduced as a reputable police lieutenant hired to direct the LAPD. However, it is eventually discovered that he is actually Cain, the evil son of Adam and Eve. After killing his brother Abel, he was sentenced to an eternity of wandering the Earth.

 Graham McTavish (Father Kinley)

Scottish author and actor Graham McTavish was born in Glasgow, Scotland, on January 4, 1961. Initially in his career, McTavish worked in theater with repertory companies in London's West End, and at the Dundee Rep. He later attended the Queen Mary University of London. He graduated with a degree in English literature.

Graham McTavish played the role of Father Kinley, a disturbed priest Chloe Decker encounters in the Vatican City. Soon later, she learns who Lucifer really is. Together, they devise a plot to exile Lucifer to Hell, but she breaks her promise when she realizes that Lucifer is not a danger to humanity.

 Alexander Koch (Pete)

American actor Alexander Koch was born in Pointe Park, Michigan, on February 24, 1988. He participated actively in the local community, and high school theatrical plays before earning his diploma from Grosse Pointe South High School in 2006. He enrolled in DePaul University's Theatre School and actively participated in plays. He also earned a BFA in acting in 2012.

Alexander Koch played Pete, who is a journalist. Pete and Ella have a romantic relationship, and they seem to be a perfect couple who adore and appreciate one another. Though she doesn't take it seriously, he turns out to be a serial killer, a fact Ella later learns and leads to his imprisonment.

 Scott Porter (Carol Corbett)

American actor and vocalist Matthew Scott Porter was born in Omaha, Nebraska, on July 14, 1979. He studied at Florida's Lake Howell High School in Winter Park. In April 2013, Porter wed Kelsey Mayfield, a casting director, and ex-cheerleader for the University of Texas. Mayfield gave birth to their children, McCoy Lee and Clover Ash.

Matthew Porter played Carol, who starts working for the LAPD soon after Dan's passing. Dan brings up Carol for the first time when he tries to hook him up with the eccentric forensic scientist Ella Lopez. Dan is very complimentary of Carol and is the one who introduced him to Ella, with whom he is currently involved romantically.

Series Remarks

Overall, the series is excellent since it offers top-notch entertainment and is undoubtedly a delightful show that keeps you occupied. As a result, if you enjoy urban fantasy, mystery-crime, comedy-drama, and romance with outstanding diverse plots and subplots that achieve a quality viewing experience, you should consider watching it. The show provides amusement and imparts a wealth of moral lessons that we may use throughout our daily lives. It is highly recommended by everyone, and it has also received multiple awards, demonstrating how good it is by attracting many fans worldwide.