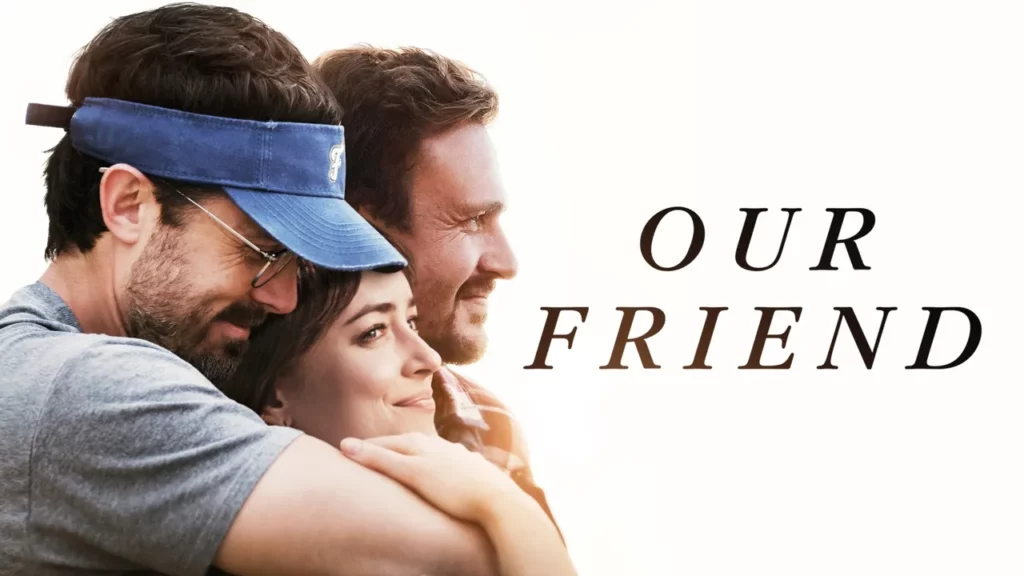 In a world often defined by its complexities, the power of friendship remains an unwavering beacon of light that guides us through life's ups and downs. "Our Friend" is a cinematic masterpiece that beautifully captures the essence of this enduring bond. With a narrative rooted in compassion, resilience and the extraordinary connections we forge, this film has left an indelible mark on audiences worldwide. Join us as we delve into the heartwarming journey of "Our Friend," uncovering its touching story, remarkable cast, and emotional resonance that has made it a cinematic gem.
Out Friend is not streaming in your country?
Any of our picks not streaming in your country? ExpressVPN unlocks Reelgood and all of your streaming services, giving you access to all movies and TV shows from around the world. Stream them from anywhere with a 30-day money-back trial from ExpressVPN.
Unblock Streaming with ExpressVPN (3 months free for Reelgood users!)
Connect to a US or UK server via ExpressVPN.
Let ExpressVPN run in the background as you watch all of your movies and TV shows, securely and with no throttling or bandwidth limits.
"Our Friend" Overview and Unique Elements
"Our Friend" is an emotionally resonant drama that centers around the heartwarming and heartbreaking journey of three lifelong friends. The story revolves around Nicole Teague, a young woman diagnosed with terminal cancer, and her husband Matthew, as they navigate the challenges of her illness. Their close friend Dane Faucheux steps in to provide unwavering support, moving in with the family and offering a helping hand during their most trying times.
The film explores themes of friendship, love, and the power of human connection in the face of adversity. It delves deep into the complexities of caregiving, the sacrifices made for loved ones, and the profound impact of selflessness. As the narrative unfolds, viewers witness the emotional highs and lows of the characters' lives, highlighting the bonds that sustain them through the toughest moments.
Release Date and Insightful Trailer
Release Date: January 22, 2021
Meet the Cast and Crew
Gabriela Cowperthwaite – Director:
Gabriela Cowperthwaite is the talented director behind "Our Friend." Known for her work in both documentaries and fiction films, she brings a unique vision to the project, guiding the emotional journey of the characters and capturing the essence of the story.
Casey Affleck – Matthew Teague:
Casey Affleck takes on the role of Matthew Teague, one of the central characters in "Our Friend." Affleck's portrayal brings depth to the character, depicting the challenges, emotions, and growth that Matthew experiences throughout the film.
Dakota Johnson – Nicole Teague:
Dakota Johnson plays Nicole Teague, Matthew's wife, and a pivotal character in the film. Johnson's performance embodies the complexities of Nicole's journey as she navigates her own struggles while supporting her family.
Jason Segel – Dane Faucheux:
Jason Segel portrays Dane Faucheux, Matthew's best friend, who steps in to provide support during the family's difficult times. Segel brings warmth and authenticity to the character, capturing the essence of friendship in the face of adversity.
Gwendoline Christie – Teresa:
Gwendoline Christie takes on the role of Teresa, a close friend of the Teague family. Christie's portrayal adds a layer of empathy and understanding to the story, showcasing the impact of community and connections.
Compelling Reasons to Watch "Our Friend"
Powerful Performances: With a star-studded cast led by Casey Affleck, Dakota Johnson, and Jason Segel, "Our Friend" delivers performances that resonate deeply with the audience. The emotional depth and authenticity brought by these talented actors are reasons alone to experience the film.
Heartfelt Storytelling: At its core, "Our Friend" is a story about the resilience of human connections. The film beautifully explores themes of friendship, love, and sacrifice, creating a narrative that leaves a lasting impact and resonates long after the credits roll.
Directorial Excellence: Helmed by director Gabriela Cowperthwaite, known for her skill in handling emotionally charged narratives, "Our Friend" promises a delicate balance of emotions and storytelling. Her expertise ensures that the film's emotional nuances are handled with care and authenticity.
True-Life Inspiration: "Our Friend" is based on a real-life story, adding an extra layer of emotional depth. The film's portrayal of the Teague family's journey through hardship and friendship is a testament to the strength of the human spirit.
Emotional Resonance: Movies that can evoke genuine emotions and touch the hearts of audiences often become cherished favorites. "Our Friend" is poised to do just that, promising an emotional rollercoaster that will leave viewers reflecting on their own relationships and connections.
How to Watch "Our Friend" from Any Country
Step-by-Step Guide: How to Watch "Our Friend" from Anywhere
Step 1: Choose the Right Streaming Service
Begin your journey to watch "Our Friend" by selecting a suitable streaming platform. As of now, the movie is exclusively available on Prime Video. Prime Video offers a wide range of movies, TV shows, and original content. Subscribing to Prime Video not only grants you access to "Our Friend" but also opens the door to a plethora of entertainment options. Prime Video comes with several benefits, including the convenience of streaming on multiple devices and the option to download content for offline viewing.
Step 2: Sign Up for Prime Video
If you're not already a Prime Video subscriber, head over to their official website and sign up for an account. Choose the subscription plan that suits your needs. Amazon Prime membership often includes Prime Video access as part of its benefits, giving you even more value for your subscription.
Step 3: Install a VPN for Geo-Restricted Content
In cases where Prime Video's content may be limited or unavailable in your region, employing a Virtual Private Network (VPN) becomes essential. A VPN masks your IP address and connects you to servers in different countries, allowing you to bypass geographical restrictions. For reliable and seamless access, ExpressVPN stands out as a top choice due to its fast speeds, strong security features, and user-friendly interface.
Step 4: Set Up and Connect to Your VPN
Once you've chosen ExpressVPN or your preferred VPN service, follow their setup instructions to install the app on your device. Launch the VPN app and connect to a server in a region where Prime Video is accessible. This step ensures that you can access "Our Friend" and other content without any restrictions.
Step 5: Access "Our Friend" on Prime Video
With your VPN in place, go back to Prime Video and navigate to "Our Friend." You're now ready to enjoy the touching story and performances brought to life on screen.
Step 6: Sit Back and Enjoy
Congratulations! You're all set to immerse yourself in the heartwarming narrative of "Our Friend." As you follow the characters' journey, the VPN ensures that you won't miss a single moment, no matter where you're located. Enjoy the movie from the comfort of your own space, and prepare for an emotional and impactful viewing experience.