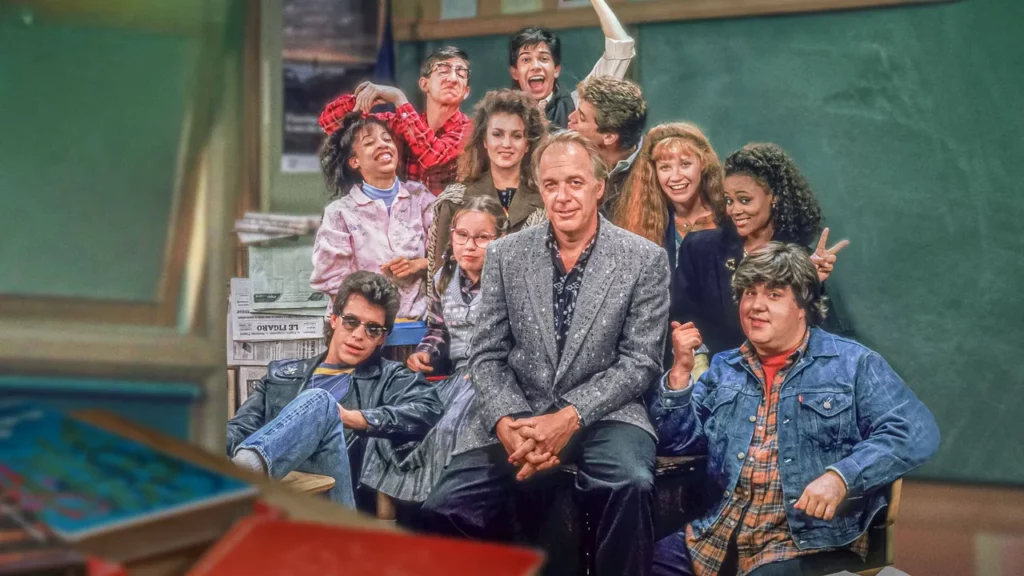 Welcome to the intriguing world of "Head of the Class"! As one of the most anticipated television series, "Head of the Class" is poised to captivate audiences with its unique blend of humor, wit, and thought-provoking storytelling. With a fresh take on education, a diverse ensemble cast, and a promising premise, this show promises to be a breath of fresh air in the realm of sitcoms. Join us as we dive into everything you need to know about "Head of the Class," from its inception to what lies ahead. Get ready to be schooled in the art of entertainment!
Head of the Class is not streaming in your country?
Any of our picks not streaming in your country? ExpressVPN unlocks Reelgood and all of your streaming services, giving you access to all movies and TV shows from around the world. Stream them from anywhere with a 30-day money-back trial from ExpressVPN.
Unblock Streaming with ExpressVPN (3 months free for Reelgood users!)
Connect to a US or UK server via ExpressVPN.
Let ExpressVPN run in the background as you watch all of your movies and TV shows, securely and with no throttling or bandwidth limits.
A Fresh Take on Classic Humor and Academia
"Head of the Class" returns with a fresh take on the classic sitcom, set in the prestigious and academically rigorous Millard Fillmore High School. The series follows a diverse group of gifted students known for their intellect, humor, and unique personalities. Led by their unconventional teacher, they embark on educational adventures that blend humor and learning in unexpected ways.
This iteration of "Head of the Class" retains the essence of the original but introduces contemporary elements that resonate with modern audiences. The show embraces cultural diversity, technological advancements, and societal shifts, making it relevant and relatable in today's world. While capturing the essence of the original's humor, the new "Head of the Class" brings fresh dynamics to the classroom, creating a dynamic balance between laughter and personal growth.
Release Date and Sneak Peek
Release Date: September 17, 1986
Cast and Crew of "Head of the Class"
Michael DeLorenzo as Alex Torres:
Michael DeLorenzo brings Alex Torres to life, a charismatic and passionate Spanish teacher at Millard Fillmore High School. With his unique teaching methods and dedication to his students, Alex adds a dynamic presence to the classroom.
Rain Pryor as Theola June 'T.J.' Jones:
Rain Pryor portrays Theola June 'T.J.' Jones, a brilliant and outspoken student with a sharp wit and a passion for learning. T.J.'s vibrant personality and commitment to her studies make her a standout among her classmates.
Billy Connolly as Billy MacGregor:
Billy Connolly takes on the role of Billy MacGregor, the unconventional yet endearing substitute teacher. Billy's unconventional teaching style and his ability to connect with his students on a personal level create a unique dynamic in the classroom.
Jeannetta Arnette as Bernadette Meara:
Jeannetta Arnette embodies Bernadette Meara, the caring and insightful guidance counselor at Millard Fillmore High School. Bernadette's nurturing presence offers valuable support to both students and faculty.
Khrystyne Haje as Simone Foster:
Khrystyne Haje plays Simone Foster, a kind-hearted and creative student who adds a touch of artistic flair to the classroom. Simone's warmth and artistic talents make her an important member of the group.
Kimberly Russell as Sarah Nevins:
Kimberly Russell portrays Sarah Nevins, as an intelligent and dedicated student with a strong interest in academics. Sarah's studious nature and determination make her a role model for her peers.
Exploring Academia with Heart and Humor
Nostalgia Reimagined: For fans of the original series, the return of "Head of the Class" offers a chance to reconnect with familiar characters while introducing new faces that add depth and diversity to the mix. Get ready to experience the magic of Millard Fillmore High all over again.
Fresh Perspectives: With the addition of new characters, the show injects fresh perspectives and dynamics into the storyline. This season promises to explore contemporary issues relevant to today's students, allowing viewers to connect with the challenges and triumphs of the characters on a deeper level.
Hilarious Classroom Shenanigans: "Head of the Class" has always been known for its witty humor and clever classroom antics. From quirky teacher-student interactions to comical misunderstandings, this season is set to deliver laughter in abundance, making it an ideal choice for those seeking light-hearted entertainment.
Endearing Characters: The characters of "Head of the Class" have a special place in the hearts of fans. Whether you're a fan of the classic personalities or excited to meet the newcomers, this season promises a delightful blend of relatable characters who navigate the challenges of school, friendship, and personal growth.
Timeless Lessons: Beyond the laughter, "Head of the Class" has consistently delivered meaningful life lessons. The show tackles important themes such as diversity, acceptance, and the value of education. Expect the upcoming season to continue this tradition, offering viewers valuable insights wrapped in humor and heart.
Your Guide to Watching from Anywhere
Step-by-Step Guide: How to Watch "Head of the Class" from Anywhere
Step 1: Choose the Right Streaming Service
Embark on your "Head of the Class" journey by selecting the ideal streaming platform. Currently, the show is exclusively available on Freeve, a fantastic source for a variety of content. Free offers a diverse library of shows, movies, and original content, making it an excellent choice for entertainment enthusiasts. The platform provides different subscription plans to cater to your preferences and budget.
Step 2: Sign Up for Free
If you're not already a Freeve subscriber, it's time to sign up. Visit the Freeve website and follow the prompts to create an account. Choose the subscription plan that suits you, providing access to "Head of the Class" and a wide array of other content. This step will set you on the path to enjoying the laughter and wit of the classroom.
Step 3: Install a VPN for Geo-Restricted Content
For those residing in regions where Freeve's content may be geographically restricted, using a Virtual Private Network (VPN) is the ultimate solution. A VPN masks your IP address and connects you to servers in different countries, enabling you to bypass geographical barriers. When it comes to dependable and seamless access, ExpressVPN is highly recommended. It boasts fast speeds, strong security features, and user-friendly functionality.
Step 4: Set Up and Connect to Your VPN
Once you've selected ExpressVPN or your preferred VPN service, follow their instructions to install the app on your device. Launch the VPN app and connect to a server in a region where Freeve is accessible. This step guarantees unrestricted access to the laughter-filled episodes of "Head of the Class."
Step 5: Access "Head of the Class" on Freeve
With your VPN in place, return to Freeve's platform and navigate to the "Head of the Class" series. Now, you're all set to dive into the witty classroom banter and the entertaining adventures of the students and their unconventional teacher.
Step 6: Enjoy the Lessons
Congratulations, you're ready to immerse yourself in the delightful world of "Head of the Class" from anywhere in the world. As you follow the hilarious antics and relatable challenges of the students, your VPN ensures you won't miss a single comedic moment.