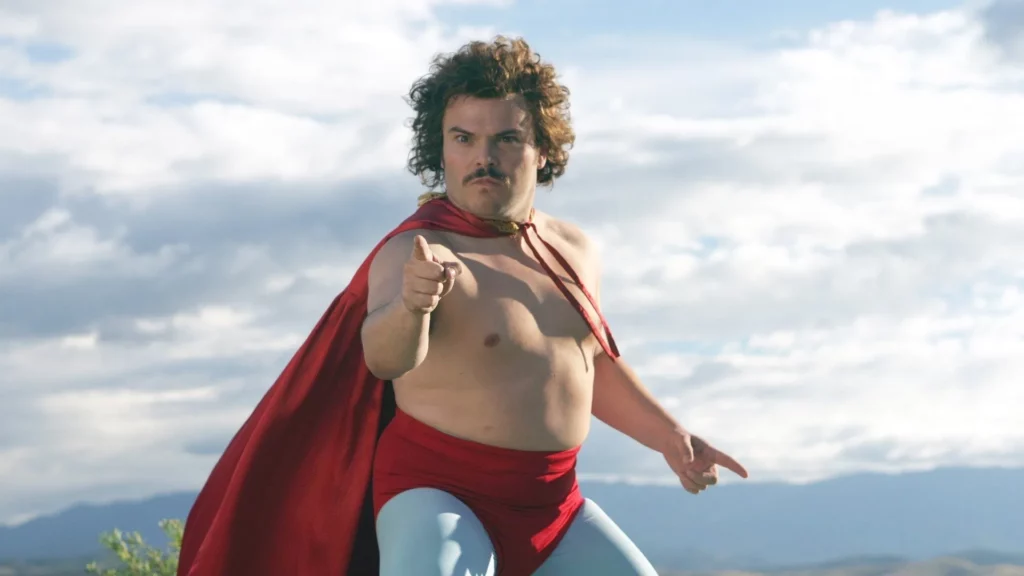 As a comedic connoisseur, I have consumed hundreds of films propagated with rib-tickling laughter and wholesome hilarity. One comedy film that always manages to leave me laughing, with my sides aching from laughter each time, is Jared Hess's 2006 masterpiece, Nacho Libre. Thus, as a fan of comedy movies, I deem it only apt to pen a salute to this classic manifestation of humor, much remembered today.
Nacho Libre is not streaming in your country?
Any of our picks not streaming in your country? ExpressVPN unlocks Reelgood and all of your streaming services, giving you access to all movies and TV shows from around the world. Stream them from anywhere with a 30-day money-back trial from ExpressVPN.
Unblock Streaming with ExpressVPN (3 months free for Reelgood users!)
Connect to a US or UK server via ExpressVPN.
Let ExpressVPN run in the background as you watch all of your movies and TV shows, securely and with no throttling or bandwidth limits.
Nacho Libre: A Brief Summary
Nacho Libre is a buffet of laughter, an all-you-can-eat of lighthearted fun. Centered on the life of Ignacio (Jack Black), who leads a sad life as a cook at a Mexican monastery, catering to orphans. The plot shimmies into ebullient twists when Ignacio decides to transition from mere cooking to lucha libre (wrestling) to save the monastery from financial doldrums. Carnivals of humor amusingly run the gamut through Ignacio's individual and professional journey.
Jack Black in Nacho Libre: A Tour-de-Force Performance
As Ignacio, Jack Black gave a stand-out performance. His over-the-top body language, larger-than-life expressions, and slapstick humor blended with his authentic charm, make Ignacio an unforgettable character. He dives into the character's heart, making Ignacio's sense of dedication, earnestness, and absurd dreams believable. Black ensures the audience roots for Nacho, even as his endeavors take an absurd turn.
Sublime Use of Comedy in the Narration
Nacho Libre is more than an ordinary slapstick comedy. Hess encapsulates the narrative with insightful humor, extending beyond face value, encapsulating cherished human values and satire. The film's laugh-inducing parts come from the absurdity of situations that Ignacio finds himself in and his earnestness and innocence as he tries to maneuver these situations. The quirkiness of Ignacio's character and his often unpredictable reactions to his life challenges make the story an excellent concoction of absurdity and heartwarming moments.
The Element of Surprise
Nacho Libre is not a predictable comedy flick. The story takes sudden twists when you least expect it, delivering fresh, spontaneous, and authentic humor. These unexpected comedic punches keep the audiences hooked, making Nacho Libre a true cinematic gem.
Worthwhile Nacho Libre Streaming
In the age of digital streaming platforms, finding "nacho libre streaming" online is like unearthing a treasure trove of laughter, a well-deserved escape to unwind from the routine chaos of life. Nacho Libre is a timeless comedy classic that deserves another watch or even more.
Unravelling the Layers: A Deeper Dive into the Movie
Nacho Libre is a gem that brings lighthearted humor, but simultaneously, it brims with substantial depth beneath its comedic surface. The setting is deeply entrenched in Mexico's rich cultural tapestry, reflecting through disparities in the socio-economic setup, the love for wrestling (lucha libre), and the deep-rooted religious traditions. A subtle satirical critique of these societal elements is woven seamlessly into the screenplay.
Infused with slapstick humor and absurd situations, the heart of Nacho Libre lies in its sincere depiction of the human spirit. The movie follows Ignacio's journey, who sports a spirit that refuses to die despite his experiences of failure, rejection, and ridicule. It's a celebration of the quintessential underdog tale, which tickles the audience's heart and funny bones alike.
The Comic Coincidence
An amusing trivia about Nacho Libre, adding more depth and authenticity to the narrative, is the storyline's roots in the real world. The plot is loosely based on the true story of Fray Tormenta, a Mexican Catholic priest who became a masked wrestler to support his orphanage financially. This interesting nugget shows how inspirations from the real world can result in delightful, comedic storytelling to enchant the audiences.
The Flavor of Mexico
The film is widely appreciated for its vibrant portrayal of Mexican culture. Shot on location in Oaxaca, Mexico, Nacho Libre uses evocative elements such as Mexican wrestling, folklore, and local cuisine, adding a unique flavor to the film. The detailed, colorful costumes, especially the wrestling attire, complete with vibrant masks and capes, mirror the zestful spirit of Mexican wrestling.
The Nacho Libre Streaming Trivia
Interestingly, Nacho Libre has also carved a unique space in digital comedy. Often, one might find "Nacho Libre streaming" listed under popular recommendations on various platforms. This showcases the enduring popularity of the movie and its timeless appeal among comedy lovers, bridging the gap between the past's cinematic vibes and the digital era's demand.
The Cast: The Pillars of Nacho Libre
One of the linchpins contributing immensely to Nacho Libre's success and charm is undoubtedly its cast. The actors bring a multi-faceted vibrancy to the film, each performance meticulously carved to seal its place in comedic cinema.
Jack Black as Ignacio / Nacho
An artist synonymous with comedy, Jack Black, known for his effortless comedic timing and versatility, is the heart of Nacho Libre as Ignacio, aka Nacho. His earlier roles in films like "School of Rock" and "Shallow Hal" vouched for his capacity to transform any character into a favorite. In Nacho Libre, Black did more than justice to the character of a cook turned wrestler, painting him with shades of dogged ambition, innocent love, self-deprecating humor, and unflinching zest.
Ana De La Reguera as Sister Encarnación
Mexican actress Ana De La Reguera plays the role of Sister Encarnación, a new nun at the monastery. Ana, the heartthrob of Mexican television and a recognized name in Hollywood gave life to Sister Encarnación with subtlety and grace. Known for her roles in "Cowboys & Aliens" and the famed TV series "Narcos," Ana plays the nun's character who unwittingly becomes Nacho's muse with commendable ease and charm.
Héctor Jiménez as Esqueleto
Héctor Jiménez, another Mexican talent, plays Esqueleto, a street dweller who becomes Nacho's wrestling partner. Héctor is a renowned actor famous for his roles in Mexican and American cinema, including prominent projects like "Killer Women" and "Weeds." He brings a distinctive humor quotient to Nacho Libre, his quirky camaraderie with Black providing numerous laugh-out-loud moments throughout the film.
The Supporting Ensemble
An exceptional supporting cast complements these protagonists, creating a cinematic blend of comedic brilliance. From Peter Stormare, who played Emperor, to the scenes stealing young Carlos Maycotte as Candidate 1, each performer contributed to the film's humor canvas, making Nacho Libre an unforgettable experience.
The cast's dedication and authentic performances in Nacho Libre are a testament to their talents. Each character they portrayed left a lasting impression, pulling every chord of humor in the audience's hearts, making "Nacho Libre Streaming" a delightful plunge into the world of comedy.
Unveiling the Laughter Fiesta: The Nacho Libre Movie Trailer
Conclusion: An Unforgettable Comedy Film
Nacho Libre stands out because of how it treats its subjects and presents their story. It combines earnestness with laughter, genuineness with hilarity, and simplicity with vivacious vibrancy. Nacho Libre serves humor in heaps and is a disarming tale of a man's journey who seeks to achieve his dreams despite the odds that life hurls at him.
The commendable performance of Jack Black, the director's storytelling, comic timing, and an engaging script make Nacho Libre a highly entertaining comedy film. Whether it's your first time or a repeated viewing, the innocence and laughter of Nacho Libre always leave a satisfactorily hilarious aftertaste.
Nacho Libre isn't just a comedy film. It is a testament to the craft's power and how comedy, interlaced with endearing narratives, can breathe vivacity into cinema, vouching for uproarious laughter one can't resist. From one comedy fanatic to another, don't let the joy of "nacho libre streaming" miss you; embrace it and dive into a world of delightful humor.