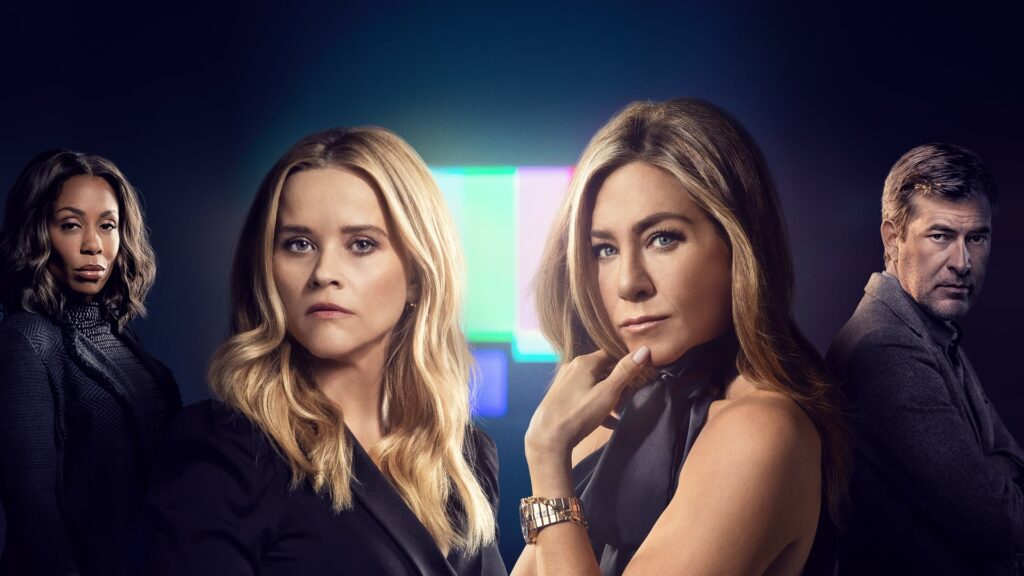 The Morning Show marks its thrilling return with its third season on Apple TV+. This gem unveils the whirlwind dynamics of morning news, showcasing the dedicated souls powering America's daybreak. With every twist, it delves deeper into the shadows of a scandal stemming from an anchor's ill choices.
For the uninitiated or those feeling a distance from this sensation, fret not. The magic of ExpressVPN bridges that gap, putting every dramatic moment just a click away. Step into the story, and let it captivate you.
Step-by-Step: How to watch The Morning Show Season 3 online on Apple TV+ via VPN
Select a VPN service that is optimized for streaming. We recommend ExpressVPN
Download the VPN and connect to the US server.
Log in to Apple TV+.
Find The Morning Show Season 3 and stream it no matter where you are!
The Morning Show Season 3 Synopsis
As Season 3 of The Morning Show rolls out, the fate of the network hangs in the balance. A tech powerhouse casts its gaze on UBA, unraveling a web of shifting loyalties and fresh collaborations. Secrets once concealed now bear weight, challenging everyone's moral compass.
This chapter dives into the tumult post-Season 2: Alex Levy (Aniston) faces off against COVID-19, spotlighting her journey in a poignant UBA+ recovery special. Parallelly, Bradley Jackson (Witherspoon) braves the pandemic, rekindling bonds with her brother amidst the frenzy of a bursting ER.
The plot thickens as Cory Ellison (Crudup), the mastermind behind UBA, unabashedly bares his heart towards Bradley, stoking the fires of speculation about her genuine feelings.
The Morning Show Season 3 Cast
The Morning Show Season 3: Cast Details
Wondering who's gracing the screens for The Morning Show Season 3? Here's your detailed cast rundown:
Jennifer Aniston as Alex Levy
Reese Witherspoon as Bradley Jackson
Billy Crudup as Cory Ellison
Greta Lee as Stella Bak
Mark Duplass as Charlie Chip Black
Julianna Margulies as Laura Peterson
Néstor Carbonell as Yanko Flores
Karen Pittman as Mia Jordan
Bel Powley as Claire Conway
Desean Terry as Daniel Henderson
Janina Gavankar as Alison Namazi
Tom Irwin as Fred Micklen
Marcia Gay Harden as Maggie Brener
Hasan Minhaj as Eric
Holland Taylor as Cybil Richards
Tara Karsian as Gayle Burns
Valeria Golino as Paola Lambruschini
Ruairi O'Connor as Ty Fitzgerald
New Faces in The Morning Show Season 3:
Jon Hamm portrays Paul Marks, a business mogul who pulls Cory, Alex, and Bradley into his influential sphere.
Natalie Morales steps in as Kate Danton, Stella's university ally from Stanford, both immersed in a start-up ecosystem guided by Paul Marks.
Nicole Beharie takes on the role of Christina Hunter, an anchored, ambitious, and lively new anchor. Christina pairs dedication with a dash of wit and a unique way of cruising through the Teacup.
Tig Notaro emerges as Amanda Robinson, right-hand to the business behemoth, Paul Marks.
Stephen Fry embodies Leonard Cromwell, a determined UBA board member aiming to steer the firm amidst financial hurdles.
When does The Morning Show Season 3 premiere?
The Morning Show's third season launches on Apple TV+ this Wednesday, September 13th, 2023, right at 12:01 a.m. Eastern Time. Mark your calendars!
How many episodes does The Morning Show Season 3 have?
The Morning Show Season 3 delivers a captivating 10-episode lineup. Kickstart your viewing journey with the first two episodes dropping on September 13. Stay tuned as the saga unfolds with weekly releases, building up to the grand finale on November 8.
The Morning Show Season 3 Trailer
Start Watching The Morning Show Season 3 Now
Dive into the riveting world of The Morning Show Season 3 with its enthralling 10-episode lineup. The drama unfolds right from the get-go with the initial two episodes premiering on September 13. As the gripping narrative progresses, anticipate weekly episodes that culminate in a grand climax on November 8.
If geographical restrictions are holding you back, we've got the perfect solution. We recommend ExpressVPN to seamlessly stream the series. With reliable speeds and top-notch security, it ensures you don't miss a moment of this spellbinding show, no matter where you are in the world. Happy watching!