When it comes to Hollywood leading men, few are as versatile and talented as Jake Gyllenhaal. From action flicks to romantic comedies, he's done it all! We've rounded up some of his best movies that you'll definitely want to check out—all in one place. Whether you're a fan already or looking for something new, this list has something for everyone.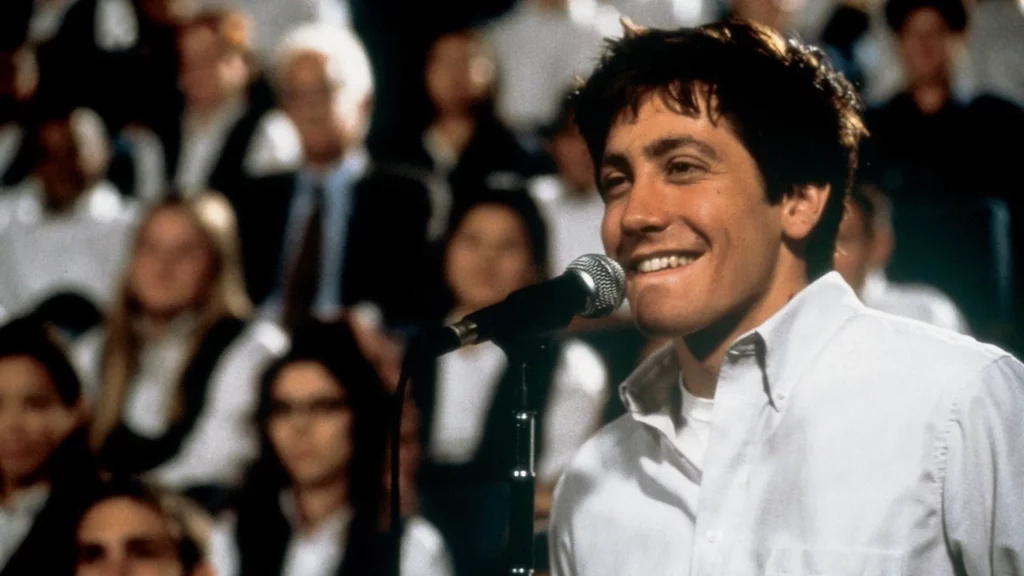 1. Nightcrawler (2014)
Have you ever wondered what would happen if an ambitious journalist took the law into their own hands? In the 2014 crime thriller Nightcrawler, we get just that with Jake Gyllenhaal's portrayal of Louis Bloom, a driven man who starts his own business as a freelance news cameraman. His single-minded ambition quickly turns into something sinister when he begins to manipulate the crime scenes he covers to make big money. This movie is sure to keep you on the edge of your seat! Check it out here: https://reelgood.com/movie/nightcrawler-2014
2. Source Code (2011)
In this sci-fi thriller directed by Duncan Jones, Gyllenhaal stars as Capt. Colter Stevens—a soldier sent on an impossible mission that requires him to relive 8 minutes over and over to stop a terrorist attack from happening. With a stellar performance, Gyllenhaal does an excellent job of portraying suspense and emotion throughout the film. This is it if you're looking for a mind-bender with a great story! Check it out here: https://reelgood.com/movie/source-code-2011
3. Zodiac (2007)
In David Fincher's true crime drama Zodiac, Gyllenhaal plays Robert Graysmith—a cartoonist obsessed with discovering the identity of the infamous Zodiac killer that terrorized California in the late '60s and early '70s. While Graysmith is determined to solve the mystery, his search leads him into dangerous territory. Gyllenhaal does an amazing job of showing the character's inner turmoil and obsession with finding the truth. If you're looking for a gripping thriller, this is it! Check it out here: https://reelgood.com/movie/zodiac-2007
4. Donnie Darko (2001)
Gyllenhaal stars as Donnie—a troubled teen who begins to have unique visions after he is visited by a six-foot rabbit named Frank. The movie follows his journey as he navigates his dreams, reality, and time travel while trying to figure out the meaning of his visions and ultimately save the world from destruction. It's an intriguing movie that will leave you wanting more! Check it out here: https://reelgood.com/movie/donnie-darko-2001
5. Brokeback Mountain (2005)
In Ang Lee's classic romantic drama, Jake Gyllenhaal stars as Jack Twist—an introverted cowboy who falls in love with Ennis Del Mar (Heath Ledger). Despite their love for each other, they are forced to keep it a secret due to the societal pressures of the time. In one of his most acclaimed performances, Gyllenhaal shows the painful struggle between passion and fear that comes with being gay in 1960s America. Check it out here: https://reelgood.com/movie/brokeback-mountain-2005
6. Love & Other Drugs (2010)
In this romantic comedy, Jake Gyllenhaal stars as Jamie Randall—a charming yet cocky pharmaceutical salesman. He meets Maggie Murdock (Anne Hathaway), a young woman with early-onset Parkinson's Disease, and the two quickly form an unlikely connection that leads to love and self-discovery. With a mix of humor and heartwarming romance, this movie will surely make you smile! Check it out here: https://reelgood.com/movie/love-other-drugs-2010
7. Prisoners (2013)
In this gripping thriller directed by Denis Villeneuve, Gyllenhaal plays Detective Loki—a mysterious cop put on the case to find two missing girls. As he gets closer to the truth, Loki must face his own demons and a myriad of twists and turns that lead him deeper into a dark world. With an intense performance and plenty of suspense, this movie will leave you breathless! Check it out here: https://reelgood.com/movie/prisoners-2013
From psychological thrillers to romantic comedies, Jake Gyllenhaal has repeatedly proven why he's one of the most versatile actors in Hollywood. So whether you're looking for something lighthearted or darker, there's something for everyone when it comes to Jake Gyllenhaal movies! Be sure to check out these seven amazing films he's starred in. You won't be disappointed!
Happy watching! 🙂