GI Jane has been one of the most talked about feminist movies. Director Ridley Scott's action/drama movie GI Jane was released in 1997, casting Demi Moore to portray Jordan O'Niel, the main protagonist. The whole film talks about the misogynist standard of people in the early years, which unfortunately can still be seen in today's generation. This said film portrays a female who attempts to be the first woman to join the Navy SEAL program training, and with hard work and determination, she succeeds.
The film had a budget of 50 million dollars in production and, over time, got a gross network of 48 million dollars. Aside from this extravagant news, the film also got mixed reviews and got Demi Moore a Razzie Award for Worst Actress. (this award is intended to be a humorous award)
A most asked question among GI Jane fans "Will GI Jane 2 Happen?" or was it all just mere Chris Rock jokes on Will Smith's wife, Jada? Many theories have raged all over the internet after the viral incident at the Oscars. But unfortunately, there is no official statement on this question. But what do you think the plot will be? Who will be the next GI Jane?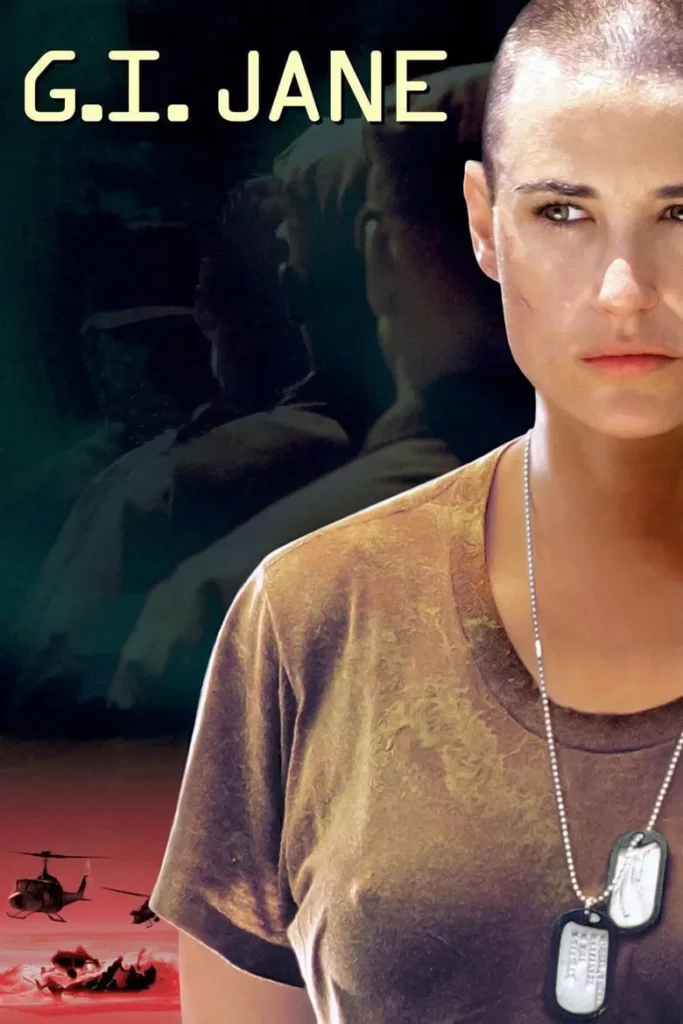 Plot
In a press conference, Senator Lillian DeHaven criticizes the Navy for being a misogynist and not being gender-fluid in their field of work. After a long debate about this issue, little did they know a deal was struck: They were eager to create an experiment to see whether or not women compare favorably with men if so, the military would integrate women into all positions and training in the Navy.
The Senator specifically picked O'Neil for her feminine looks, making her stand out among all candidates. When O'Neil entered the Navy training program, she was tasked to survive the grueling training program in which almost 60% and an increasing number of candidates gave up. Every week they conquer a different concept of training to pass. She must go through all 12 weeks of training and overcome the challenges. 
The training program is supervised by Command Master Chief John James Urgayle and entails 20-hour exercises meant to deplete trainees' physical and mental stamina, such as pulling enormous ship fenders over sand dunes, completing obstacle courses, and hauling landing rafts.
As O'Neil overcame challenges faced in training, involving harassment, unfair treatment, special treatment, criticism, and more, she became more and more determined to finish the training and prove herself as well as the women who desired to fight and lead. As her superiors convinced her to give up and "ring out" (ringing a bell 3 times, signaling her voluntary withdrawal from the training program), she became a hot topic for the media, given the nickname "GI Jane" and "Joan of Arc." It is later revealed that Senator DeHaven never intended for O'Neil to succeed nor use a woman in the Navy training for women's empowerment but instead as a bargaining chip for her selfish desires. 
During the final phase of training, the troops faced an operational readiness exercise interrupted by an emergency that required the support of a CRT trainee. The situation involved a reconnaissance satellite. This made O'Neil use her experience as a topographical analyst and eventually saved her troop from getting killed. 
This experience proved that O'Neil, a woman, was just as competent as the male trainees in the program, and this soon earned the most significant respect of her troops and her seniors. Upon their return, they got a congratulatory celebration for the success of their training. 
Summary
At the film's beginning, Jordan O'Neil was unaccepted by men in the military simply because they saw women as someone vulnerable and unable to fight in wars. But despite all the discrimination and conflict she faced, she could still prove that women are just as capable as men, perhaps even more powerful. Over time, she earned the respect of her peers and demanded the same treatment in training as her colleagues. 
In response to the political request made by Senator Lillian DeHaven (played by Anne Bancroft), she conducted a social experiment on the U.S. Navy, beginning a program that would eventually allow women into its services. With the ongoing debate with her fellow politicians and militaries who see women as incapable of leading, she began a program with a selected trial candidate and chose Lieutenant Jordan O'Neil precisely because of her femininity and specific qualifications. As she succeeds in enrolling O'Neil into the CRT (Combined Reconnaissance Team) training program, Jordan O'Neil immediately understands that the people around her expect her to fail and quit. 
O'Neil entered the facility wholeheartedly and was determined to serve. At the beginning of this gruesome program known to be the "hardest military training known to man," she enters the training program under the command of Master Chief John James Urgayle (played by Viggo Mortensen), who has since started treatment unfairly and pushes O'Neil until her determination and eagerness wins his respect and eventually got her position in the Navy SEALS as the first ever female ranking officer.
Cast
Demi Moore as Lieutenant Jordan O'Neil
Viggo Mortensen as Command Master Chief John James Urgayle
Anne Bancroft as Senator Lillian DeHaven
Jason Beghe as Lieutenant Commander Royce Harper
Daniel von Bargen as Secretary of the Navy Theodore Hayes
Scott Wilson as Captain Salem
John Michael Higgins as Chief of Staff
Kevin Gage as Instructor Max Pyro
David Warshofsky as Instructor Johns
David Vadim as Sergeant First Class Cortez
Lucinda Jenney as Lieutenant Blondell
Morris Chestnut as Lieutenant McCool
Josh Hopkins as Ensign F. Lee 'Flea' Montgomery
Jim Caviezel as 'Slov' Slovnik
Boyd Kestner as Lieutenant 'Wick' Wickwire
Final Thoughts
Overall, the movie was knowledgeable and an eye-opener to the issues we do not realize are still happening. There is a significant impact on the audience who choose to enjoy this film. The moral lesson of this film is to never discriminate and belittle the abilities of any gender or treat anyone poorly. This lesson applies not only to misogynists but to everyone. A woman should not be generalized to be sensitive, vulnerable, and weak, but rather as a warrior. 
The epic plot of the first movie could not end there. There are a lot of theories on the internet over this wanted sequel. But the main question is, will GI Jane ever happen?