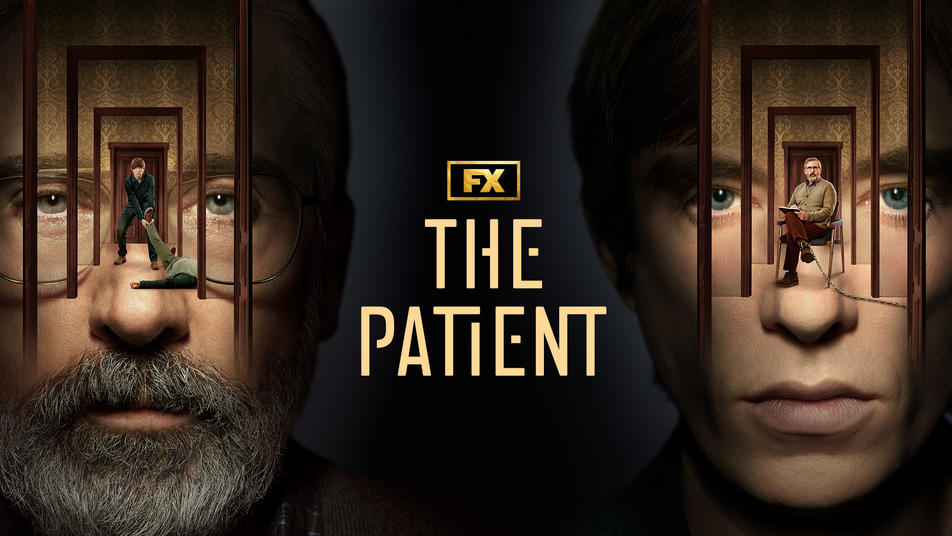 There's nothing quite like finding a perfect new show or movie: something that keeps you entertained for its entire runtime and makes you think deeply for hours or days after viewing. This new column on the Reelgood Blog will take one excellent new film or series and provide a hearty list of semi-related recommendations to make your latest streaming obsession even more rewarding. This week's list is all about FX on Hulu's star-studded thriller The Patient, where a psychiatrist played by Steve Carrell takes on a dangerous, serial killer patient played by Domnhall Gleeson.
The Patient (FX on Hulu)
Compared to the biggest shows of the summer in Stranger Things, House of the Dragon, and The Lord of the Rings: Rings of Power, with their big budgets, immaculate set design, and CGI action sequences, FX's The Patient feels decidedly small and intimate. Episodes never crack the half-hour mark, and most of the plot is confined to one room. The show follows a grieving psychotherapist Alan (played by Steve Carrell), who is kidnapped by a disturbed patient named Sam (Domnhall Gleeson), who demands a cure for his compulsive proclivity for murder. The stakes are set clearly: Alan must work with Sam as a therapist, all while looking for a way to save his life and escape being chained up in Sam's basement.
Helmed by The Americans showrunners Joel Fields and Joe Weisberg, in lesser hands, this show could veer into macabre, gratuitous horror. Instead, the two patiently and deftly jump between moods and emotions: terror, empathy, levity, and sadness are all explored with equal seriousness. Carrell and Gleeson, two fantastic actors with impressive CVs, carry the show. After all, the two are onscreen approximately 90 percent of the time. Rounding out the cast are Laura Niemi and David Alan Grier, who appear mostly via flashbacks. But it's the push-pull relationship between Alan and Sam and the surprisingly heartfelt way Alan treats Sam, despite being captive in his basement, that gives the show its emotional core.
It's refreshing to see a show this focused and contained in light of the massively ambitious series populating streaming services. It's also nice to see a wholly original work of television: unlike many of the shows and films listed below, The Patient isn't recycled IP; it's not an adaptation of a book or based on a podcast or true events. It's nice to be genuinely surprised by something new, and according to the Reelgood Top 10, which has prominently featured The Patient these past two weeks, viewers agree too.
1. In Treatment (HBO Max) 
In 2008, HBO released a somewhat revolutionary TV show, In Treatment. It wasn't necessarily groundbreaking for its content, which showcased a therapist (played by Gabriel Bryne) and his sessions with patients, but the way it was released: instead of once a week like most series, the network chose to put out one half-hour episode per weekday for several weeks. Set in one room and one therapy session throughout a 30-minute runtime, you could watch Byrne's character treat his patients week after week. Guest stars included actors like Mia Wasikowska, Amy Ryan, Dane Dehaan, Josh Charles, Dianne Weist (who plays Byrne's character's therapist), and John Mahoney. It lasted for three seasons until HBO rebooted the series in 2020.
2. The Shrink Next Door (Apple TV+)
Sometimes it's the therapist who is the bad guy. In this TV series that's based on a podcast that's based on a true story, Will Ferrell plays Marty Markowitz, a nice but easy pushover who, in 1982, starts seeing a charmingly slick therapist Ike Herschkopf played by Paul Rudd. But unlike most patient-therapist relationships, this one's bizarrely unconventional to the point where Dr. Herschkopf begins to take over Markowitz's life methodically and unrelentingly, eventually taking over his business and properties. It's a wild story but one that's based on a real story (which became a popular Wondery podcast in 2019). While Ferrell and Rudd are excellent comic actors, and some of their bizarre dynamics is played up for laughs, The Shrink Next Door is bracing in the sense that it's not a comedy.
3. Shrink (Peacock)
You'll recognize Shrink star and co-creator Tim Baltz from Righteous Gemstones, where he steals scenes by playing BJ, the bullied and emasculated spouse of Judi Gemstone (Edi Patterson). If there's one show out of these 10 series mentioned in this article, I hope it's this diamond in the rough from 2017. It originally aired on the short-lived Seeso comedy streaming service, but now it has a hopefully permanent home on Peacock. The show follows a would-be doctor and medical student who, after losing an important internship, decides to become a therapist by taking on hours and hours of pro-bono clients from his parent's garage. Deep in debt but earnestly down for the cause of therapy, the series' hero attempts to persevere against seemingly insurmountable odds in what's actually a relatively light-hearted comedy. One plot line actually feels surprisingly close to the plot of The Patient.
4. Shining Girls (Apple TV+)
Though this show has little to do with psychotherapy, it does deal with a terrifying serial killer. Starring the always sublime Elisabeth Moss (who herself has caught murderers in the excellent and underrated Top of the Lake), the show follows a traumatized Chicago Sun-Times archivist who discovers the root of her own trauma and helps solve a ridiculously complex murder case to save those who experienced her pain too. Based on the book of the same name by Lauren Beukes, the show is a period piece of Chicago in more ways than one. On top of that, Jamie Bell plays a mysterious and beguiling villain that's as terrifying as he is intriguing. While it hasn't gotten the rave reviews that garner mass viewing, it truly is one of the year's best shows.
5. The Sopranos (HBO Max)
HBO's The Sopranos is one of the most lauded shows of all time for a reason but my favorite joke to tell my friends is that I fast forward through the mob scenes just to watch the parts where Tony Soprano sits with his therapist Dr. Melfi. While that bit works because The Sopranos is a show that fires on all cylinders, especially with its Mafia drama and many subplots, the scenes with Dr. Melfi portray the emotional core of the entire series. You'll find many things to love if you're a first-time viewer of HBO's most famous show, but you won't find better acting between James Gandolfini as Tony Soprano and Lorraine Bracco as Dr. Melfi. It's a battle of wills, but it's also a legitimate therapist/patient relationship that gets challenged and subverted throughout the series.
6. The Americans (Hulu)
The Patient showrunners Joe Weisberg and Joel Fields also worked on FX's The Americans, where the two were co-showrunners and co-lead writers. Their collaboration resulted in several Emmys for the Cold War-era spy show that follows both the top secret missions and undercover mundane family life of two KGB spies who pretend to be American travel agents in the 1980s. The show works in a multitude of ways, mainly being able to capture the unremarkable parts of their daily life: living in the suburbs and raising kids who have no idea their parents are Russian spies. But the show also works in being a thriller: seeing these spies fulfill their missions and compromise various folks in the U.S. government. If co-stars Keri Russell and Matthew Ryhs seem to have a lot of onscreen chemistry, it's real: the two are married in real life as well.
7. Couples Therapy (Prime Video and Showtime Anytime)
Unlike every other title in this roundup, Couples Therapy is a reality show featuring actual people instead of actors, scripts, and a plot. Hosted by Dr. Orna Guralnik, a practicing New York City-based clinical psychologist, the film follows her sessions with real-life couples on the brink of their relationships. Combining the gross voyeurism of reality TV with the actual empathy and care that comes from psychotherapy is an unsettling cocktail, but over the course of these sessions, you begin to understand these couples and the way your own past relationships may have failed. While you might never agree to have your most intimate moments broadcasted for Showtime audiences everywhere, you can't look away at these real-world domestic disputes.
8. Mindhunter (Netflix)
While it only ran for two seasons (there might be a third but showrunner David Fincher has been busy), Mindhunter dove deep into the minds of serial killers with ample dramatic flair. Based on the 1995 book Mindhunter: Inside the FBI's Elite Serial Crime Unit by FBI agent John E. Douglas, who specialized in criminal personality profiling of serial killers and mass murderers. In the show, the character based on Douglas is played expertly by Jonathan Groff. While the show is thrilling for both its period piece 1970s flourishes and true crime intrigue, the highlights come from the chilling and compelling portrayals of real-life serial killers like Edward Kempner, Charles Manson, Son of Sam, and many more.
9. Silence of the Lambs (Prime Video and Showtime)
The Patient unfolds with a battle of wills between the therapist and his captor, which evokes the dynamic between the murderous and cunning Hannibal Lecter (Anthony Hopkins) and his captor, FBI agent Clarice Starling (Jodie Foster). Though not a therapy session, their one-on-one conversations carry the same emotional terror as this FX series. This iconic Jonathan Demme film, which is based on the 1988 Thomas Harris novel of the same name, is a classic for a reason. With two powerhouse performances from Hopkins and Foster and one bone-chilling story, this film set the bar for future serial killer thrillers to come.