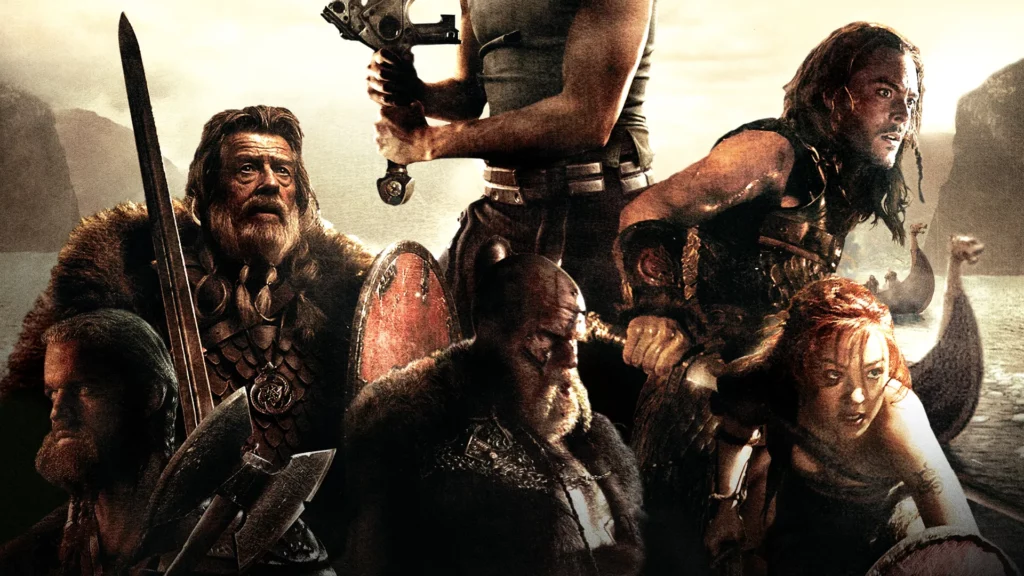 Viking movies have captivated audiences for decades. From tales of heroic warriors to epic battles and mythical creatures, these films offer a glimpse into the world of Norse mythology and its history. While some may be more fantastical than others, all Viking movies share a common thread – an immersive and exciting story of adventure, exploration, and courage. This article will explore some of the best Viking movies ever made.
These Best Viking movies are not streaming in your country?
Any of our picks not streaming in your country? ExpressVPN unlocks Reelgood and all of your streaming services, giving you access to all movies and TV shows from around the world. Stream them from anywhere with a 30-day money-back trial from ExpressVPN.
Unblock Streaming with ExpressVPN (3 months free for Reelgood users!)
Connect to a US or UK server via ExpressVPN.
Let ExpressVPN run in the background as you watch all of your movies and TV shows, securely and with no throttling or bandwidth limits.
The Vikings (1958)
Perhaps one of the most iconic Viking movies ever made, The Vikings is a classic tale of adventure and exploration. Directed by Richard Fleischer in 1958, this film follows the journey of two brothers as they set sail for North America in search of glory and riches. Starring Kirk Douglas as Einar, Tony Curtis as Eric, Janet Leigh as Princess Morgana, Ernest Borgnine as Ragnar, and other notable actors such as James Mason and Max von Sydow, The Vikings is an entertaining, action-packed movie that has become a classic in its own right.
Pathfinder (1987)
Another popular Viking movie is Pathfinder (1987). Directed by Nils Gaup, this Norwegian-produced film follows the story of a young boy left behind after a group of ruthless Vikings slaughters his family. As he grows up in the wilderness with only his wits to survive on, he learns how to hunt and fight like a Viking warrior. Eventually, he seeks revenge against the men who killed his family by leading an army against them. With stunning visuals and an intense score composed by Vangelis, Pathfinder will keep you on the edge of your seat throughout its runtime.
The 13th Warrior (1999)
The 13th Warrior is another great example of a Viking movie featuring thrilling action sequences and interesting characters. Directed by John McTiernan in 1999, this film stars Antonio Banderas as Ahmed Ibn Fahdlan – an Arab ambassador stranded among a group of Norse warriors on their way to battle an evil force known as the "Wendol." Along with his newfound companions – including Omar Sharif as Buliwyf – Ahmed must learn how to survive their dangerous mission. With spectacular cinematography and an engaging story that draws inspiration from Beowulf and other Norse sagas, The 13th Warrior will surely please fans of both fantasy epics and historical dramas alike.
Valhalla Rising (2009)
Valhalla Rising is another visually stunning movie that tells the story of One-Eye – a mute warrior who finds himself on a journey to the fabled land known as Valhalla with his loyal companion Are (Mads Mikkelsen). Along their way, they encounter many dangers but also find friendship among strangers they meet. With beautiful cinematography from Anthony Dod Mantle and intense sound design from Ben Frost, Valhalla Rising will leave viewers in awe at its breathtaking visuals and emotionally charged story.
Outlander (2008)
Outlander is another great example of a Viking movie with many action-packed sequences, interesting characters, and engaging dialogue. Directed by Howard McCain in 2008, this film follows Kainan (James Caviezel), an alien warrior who crashed on Earth when Vikings roamed freely across Scandinavia. After befriending Wulfric (Jack Huston), Kainan must find a way to stop an ancient monster while also trying to protect Wulfric's people from harm's way. In addition, Outlander offers viewers plenty of exciting scenes involving sword fights between Kainan's alien technology against ancient weapons wielded by Vikings – making it one helluva ride!
Conclusion
Viking movies have been thrilling audiences for decades with their captivating stories of adventure and exploration set against stunning visuals that bring these tales to life in epic fashion. From The Vikings up through Outlander, there are plenty of great examples for fans to enjoy – each offering their unique take on Norse mythology while still managing to stay true to its core elements, such as courage and honor amongst warriors fighting for what they believe in no matter what odds are stacked against them. So whether you're looking for something more lighthearted or intense, there's sure to be something out there for everyone regarding Viking movies!