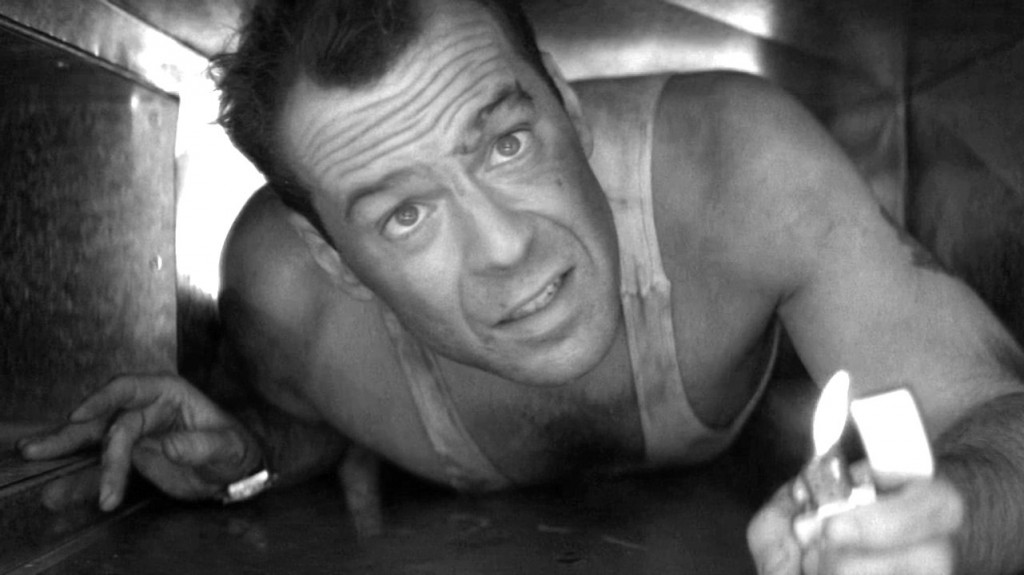 It's hard to believe that Bruce Willis has been crawling his way into our hearts (and through our office building air ducts) since 1955. It's true, the bonafide action star and father of five is 64 years old this year. No, that is not a typo.
To celebrate his birthday and his influence on pop culture, here are 7 of our favorite films starring the man himself.
Armageddon
Type:  Thriller, Action & Adventure, Drama
Release Date: 1998
Director: Michael Bay
Starring: Bruce Willis, Billy Bob Thornton, Ben Affleck
Rating: 6.7/10 IMDb
If a group of rough and tumble oil drillers on a mission to save Earth from a speeding asteroid is not your idea of a good time, then obviously you haven't seen 1998 hit Armageddon. Trust me, by the time you've reached the end credits, you'll be half-tempted to give it a rewind and watch one more time.
Die Hard
Type: Thriller, Action & Adventure
Release Date: 1988
Starring: Bruce Willis, Alan Rickman, Reginald VelJohnson
Rating: 95% RT, 8.2/10 IMDb
When NYC cop John McClane joins his ex-wife at a holiday party, the last thing in the world he expects is a full-on hostage situation. But that's exactly what he gets. As over the top as this film is, it is still damn entertaining.
Pulp Fiction
Type: Crime, Drama
Release Date: 1994
Director: Quentin Tarantino
Starring: John Travolta, Samuel L. Jackson, Bruce Willis
Rating: 94% RT, 8.9/10 IMDb
The film that skyrocketed Uma Thurman and Quentin Tarantino to fame also played a role in reviving the career of John Travolta. With such big names attached to this film, we won't blame you for forgetting that Willis was a member of the cast, in a brief but memorable and intense role.
The Sixth Sense
Type: Mystery, Drama
Release Date: 1999
Director: M. Night Shyamalan
Starring: Bruce Willis, Toni Collette, Haley Joel Osment
Rating: 85% RT, 8.1/10 IMDb
As the child psychologist working with a young boy who believes he can see the spirits of the dead all around him, Bruce Willis really shines.
RED
Type: Mystery, Crime, Thriller, Action & Adventure, Drama, Comedy
Release Date: 2010
Director: Robert Schwentke
Starring: Bruce Willis, John Malkovich, Helen Mirren
Rating: 71% RT, 7.1/10 IMDb
If you like good fun, then you'll like RED. This action flick pairs Willis with an incredibly impressive cast and follows a group of retired CIA agents who come out of retirement for one last job.
Moonrise Kingdom
Type: Comedy, Drama
Release Date: 2012
Director: Wes Anderson
Starring: Jared Gilman, Kara Hayward, Bruce Willis
Rating: 93%, 7.8/10 IMDb
Speaking of ensemble casts, Wes Anderson's Moonrise Kingdom has quite the assortment. In 1965 New England when two awkward pre-teens fall in love and run away together, the search is on.  
12 Monkeys
Type: Cult, Fantasy, Science-Fiction, Mystery, Thriller
Release Date: 1995
Director: Terry Gilliam
Starring: Bruce Willis, Madeleine Stowe, Brad Pitt
Rating: 89% RT, 8/10 IMDb
If you're into time travel, sci-fi, and dark 1990s indies, then 12 Monkeys is right up your alley. Set in the 2030s, James (Willis) finds himself traveling back to the 1990s in order to track down the source of a deadly plague that is set to wipe out most of humanity.