Prime Video's new series is a charming and loving new spin on Penny Marshall's classic 1992 film.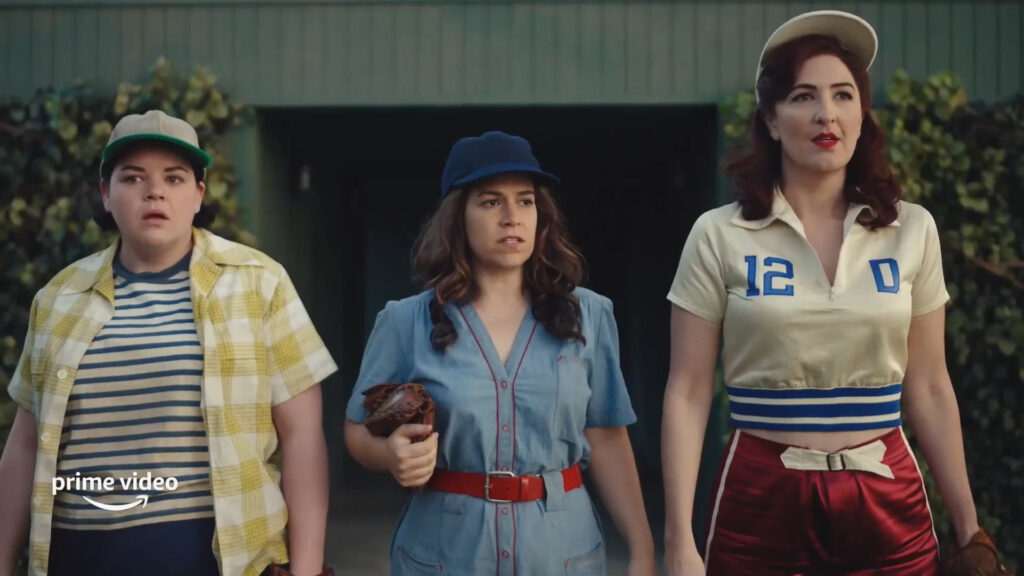 There's nothing quite like finding a perfect new show or movie: something that keeps you entertained for its entire runtime and makes you think deeply for the hours or days after viewing. This new column on the Reelgood Blog will take one excellent new film or series and provide a hearty list of semi-related recommendations to make your latest streaming obsession even more rewarding. This week's list is all about Prime Video's new series A League of Their Own, a charming and loving new spin on Penny Marshall's classic 1992 film.
A League of Their Own (Prime Video)
Penny Marshall's iconic 1992 sports comedy film A League of Their Own was a fictionalized portrayal of the real-life women who played in the All-American Girls Professional Baseball League (AAGPBL), which started in 1943. It's been a long-loved title for the past thirty years. Now, Prime Video has its take on the property from Will Graham (Mozart in the Jungle) and Abbi Jacobson (Broad City), which takes a much more inclusive and historically accurate look at those years. Where the original, though charming and beloved for a reason, focuses mainly on the white players and only hints at LGBTQ representation and the existence of segregation, this reboot refuses to pull any punches. Where scenes about Black people being excluded from playing for the league in the original last only a handful of seconds, here's it's a full arc (led by the excellent actress Chanté Adams). Compared to the subtext of the film, here, gay characters actually kiss and talk about their sexuality.
Though Jacobson is a co-creator, she's also the star of the series leading an all-star ensemble of all original characters. (The film featured real-life people who played and coached for the Rockford Peaches, while Graham and Jacobson take more narrative liberties). Alongside Jacobson and Adams is the always delightful D'Arcy Carden as the team's glamorous and charming first baseman, Nick Offerman as the weathered coach, Kate Berlant, Kelly McCormack, Roberta Colindrez, Molly Ephraim, Melanie Field, and Priscilla Delgado as Rockford Peaches—each with their own unique personalities and backstories. One of the film's original stars, Rosie O'Donnell, even shows up in a later episode as the owner of a local gay bar.
While the show dives into the real history of the league and its rough blemishes regarding inclusion, the series is charming and a breezy watch, thanks to the onscreen chemistry of the cast. Fans of the original will find so many things to love, especially with the fairly explicit callbacks and homages to the film too.
1. A League of Their Own (Prime Video and AMC+)
List the cast of Penny Marshall's 1992 film A League of Their Own, and you'll realize it's absolutely stacked. There's Geena Davis, Rosie O'Donnell, Madonna, Lori Petty, Ann Cusack, Tom Hanks, and Tracy Reiner, and they all work perfectly together to make one of the best sports movies of all time. Unlike its Prime Video reboot, this tells the real-life story of the Rockford Peaches and even features some of the actual people these actors are portraying in the film—warning that scene will bring the waterworks. This movie is a classic that I'm sure you've seen before with your mom on an old VHS or a TNT Sunday afternoon matinee.
2. GLOW (Netflix)
Speaking of excellent ensemble casts featuring women subverting expectations in sports, Netflix's incredible Glow is the perfect companion piece to A League of Their Own on Prime Video. Though it was renewed for a final season, the COVID-19 pandemic ended up giving this hilarious and heartful 1980s wrestling drama an early cancellation at just three seasons. Starring Betty Gilpin, Allison Brie, Sydelle Noel, and Marc Maron, the '80s period piece followed a group of women who join a struggling wrestling promotion called Gorgeous Ladies of Wrestling (GLOW). It's subversive but also full of great chemistry between the onscreen talent. Geena Davis, who starred in A League of Their Own the film, joins on as a guest star in a later season.
3. Brockmire (Hulu)
Though not quite as concerned with social justice issues and inclusion as A League of Their Own, the IFC series Brockmire is one of the best baseball comedies to ever air on TV. Starring Simpsons legend Hank Azaria as Jim Brockmire, a play-by-play MLB announcer who suffers an on-air public meltdown after he finds out his wife is cheating. With his life in a spiral, he finds a second chance being the stadium announcer for a small town's minor league team. Azaria plays the fool expertly, portraying an alcoholic and massively depressed formerly great broadcaster who's down on his luck. Amanda Peet, who is always fantastic in whatever role she's playing, is a perfect foil for his chaotic energy.
4. Bend It Like Beckham (HBO Max)
When Bend It Like Beckham first hit theaters, it was clear this modest coming-of-age sports flick had massive crossover potential. Starring Parminder Nagra as Jess, the daughter of strict immigrant British-Indian parents who forbid her from playing soccer despite her skills and her being 18, the movie is a lighthearted coming-of-age story. It balances the teenage feelings of love, future, and figuring out who you are despite your upbringing, as well as a thoughtful story of being an immigrant and navigating South Asian mores in a Western context. Alongside Nagra is Keira Knightley as Jules, her soccer teammate. The film grossed nearly $100 million despite a $5 million budget.
5. Eastbound & Down (HBO Max)
Besides the baseball connection, Danny McBride's Eastbound & Down could not be further from A League of Their Own in sensibility, but it's still worth a watch. That said, it's an astoundingly funny and offensive journey through one man's supremely toxic masculinity as he fails and tries a comeback and fails and tries a comeback in his baseball career. Though the show gets most of its attention for the crass jokes and the lead character's boorish behavior, McBride's turn as lead character Kenny Powers is some of the most gripping and masterful actings of the aughts. No one does maximalist comedy that dives into the darkest corners of the American male's psyche quite like McBride.
6. Ted Lasso (Apple TV+)
This incredibly kindhearted and incredibly popular Apple TV+ soccer series seems like the most obvious recommendation when talking about Prime Video's A League of Their Own adaptation. After all, the popular soccer comedy has earned a whopping 20 Emmy nominations this year, and if you haven't seen it yet, I'm sure your family members, coworkers, and friends have probably given you the recommendation already. We know you either have already watched it or, at this point, never will, but if you are in the small minority still open to the idea of Jason Sudeikis as a nice American football coach experiencing a fish-out-of-water culture shock as a soccer manager in the U.K., what's taking you so long?
7. Lovecraft Country (HBO Max)
Lovecraft Country, like A League of Their Own, on paper couldn't seem further apart: the former is a horror show based on a book, while the latter is a sports comedy based on a movie (and real-life events). However, both are period pieces set in the midwest, and both reckon with the racist dynamics of post-war and pre-civil rights America. But, Lovecraft Country finds its real scariness in the structural and overt racism of its setting rather than the monsters lurking in the shadows. It's a thoughtful series undergirded by great acting courtesy of Jurnee Smollett, Jonathan Majors, and the late Michael Kenneth Williams that truly deserved another season.
8. Yellowjackets (Showtime and Paramount+)
There are very few stronger all-woman ensembles on TV than Showtime's breakout hit Yellowjackets, which is only set to get stronger in its upcoming second season. The show follows a high school soccer team who get into a plane crash and have to struggle to survive in the wilderness and their lives 25 years later as they cope with how they were able to survive (spoiler: it involves cannibalism). Though this is clearly not a lighthearted romp like A League of Their Own, it is a tense and gripping thriller featuring a cast of Melanie Lynsky, Christina Ricci, Lauren Ambrose, and many more.
9. Abbott Elementary (Hulu)
Abbott Elementary is the breakout network comedy of the past few years. In showrunner, writer, and star Quinta Brunson's whipsmart and wholesome look at the Philadelphia public school system, there are able laughs, fully-formed characters, and a ton of heart. Brunson stars as a well-intentioned but green young teacher working at one of the most underprivileged elementary schools in the country. Her colleagues are hilarious archetypes of public school teachers: the white and naive Teach For America-alum idealist, the hardened 20-year veterans who take little nonsense from their colleagues and students, and the overtly corrupt and superficial principal. Season 2 is rapidly approaching, so if you aren't familiar, you have until September 21 to catch up.