HBO's ridiculous and ambitious Nathan Fielder series is unlike anything on TV right now.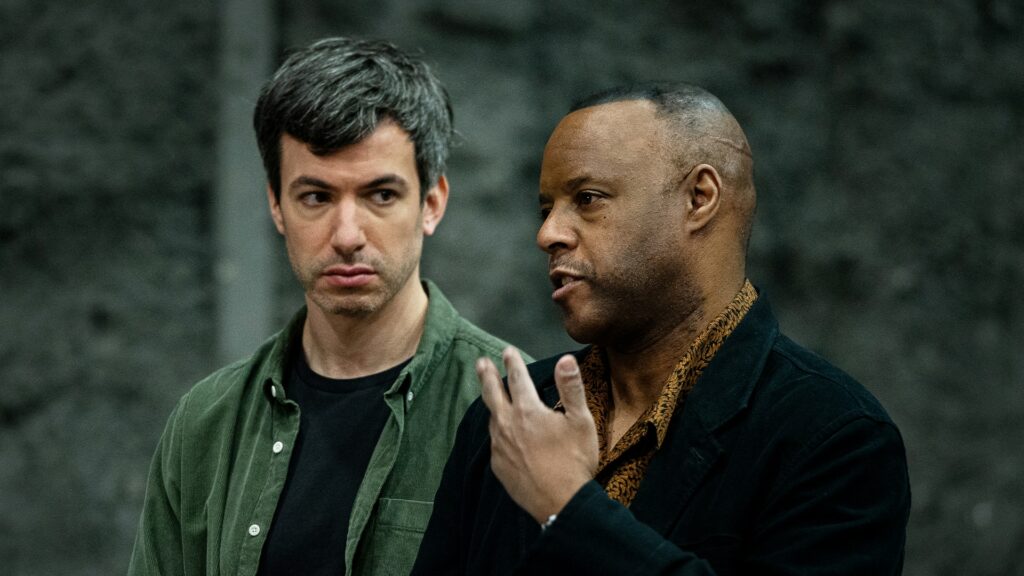 There's nothing quite like finding a perfect new show or movie: something that keeps you entertained for its entire runtime and makes you think deeply for the hours or days after viewing. This new column on the Reelgood Blog will take one excellent new film or series and provide a hearty list of semi-related recommendations to make your latest streaming obsession even more rewarding. This week's list has to do with The Rehearsal, the new HBO show from comedian Nathan Fielder that's unlike anything we've ever seen on TV.
The Rehearsal (HBO Max)
Explaining The Rehearsal to someone who has never watched it feels like a psychedelic experience. Talking about the ridiculous premise, plot particulars, and how it's executed, you catch yourself mid-sentence and realize, "I sound like a crazy person," and worry that the person you're talking to thinks you're weird. There's no getting around it: The Rehearsal is a bizarre show that'll make you feel uncomfortable, but it will also make you laugh hysterically and think about life, art, and how the lines between reality and fiction can be easily blurred. 
On The Rehearsal, comedian Nathan Fielder finds real-life subjects via a Craigslist ad ("TV Opportunity: Is there something you're avoiding?") who need help with a life problem like admitting a lie to a close friend, becoming a parent, or convincing a family member to let you have your inheritance, and preps them for the experience. For these "rehearsals," Fielder goes to ridiculous lengths to account for every conceivable variable. In one episode, he constructs a life-like and exact replica of the neighborhood bar of one of his subjects, down to the tilted portraits on the walls, the exact spice racks on the bar, and even the holes in the old leather chairs. In another, he hires dozens of child actors on a schedule (to comply with Oregon state labor laws) and rents a house to simulate the experience of parenthood for a woman who wonders if motherhood is for her.
Much of the humor comes down to the massive, cerebral, and expensive-seeming measures Fielder takes to help his subjects be ready for these big events in their life. But just as much comes from the subjects themselves as they're presented with Fielder's antics. Sometimes it's wholesome, like the first subject's kindhearted nerves about confessing a lie to a friend, while other times it's unsettling, like the second subject's proclivity for religious conspiracy theories and the third subject's surprising anti-semitism. When confronted with the oddest qualities of his subjects, Fielder plays it straight, giving an awkward "Oh, okay" or a confused, stilted look. He speaks in a monotone, loves cats, and thrives on cringe. "I've been told my personality can make people uncomfortable, so I have to work to offset that," he says in the first episode.
Because of the ambitious nature of the project and Fielder's own probing, overthinking, and meta approach to these rehearsals, the show quickly veers off the rails into the totally out-there territory. It feels like Inception meets The Truman Show meets Andy Kaufman and Charlie Kaufman. It's a disorienting watch that'll have you question Fielder's motives and inner life, but it'll also provide some fascinating questions about human nature and undeniable visual gags and jokes. 
1. Nathan For You (HBO Max and Paramount+)
Before The Rehearsal, Fielder was known for his work on Comedy Central's Nathan For You, where he posed as a business expert who helped smaller establishments boost their PR and gain customers through increasingly outlandish schemes. Episodes featured him subverting parody law by transforming a Los Angeles coffee shop into "Dumb Starbucks"  or garnering free press for a local diner by manufacturing a celebrity (played by an impersonator), leaving a massive tip, among many others.  Some of the sketches on Nathan For You, which like The Rehearsal, meant Fielder worked with real-life people with real-life businesses, feel a little mean-spirited now, but Fielder's comedic touch and self-aware musings make up for it. 
2. How to With John Wilson (HBO Max)
Nathan Fielder produces How to With John Wilson, which feels like a much kinder and subdued cousin to The Rehearsal. Instead of actively inserting himself into his real-life subjects, New York-based filmmaker John Wilson documents them from a distance living their life in the city. Wilson's tutorial videos like "How to Make Risotto" boasts Wilson's narration and musings over footage of New York ephemera: visual gags, people acting strange, gross things on the sidewalk, and in-person interviews with strangers he meets while walking around the city. It's a slice-of-life TV that's bizarre but also inviting. Wilson takes pleasure in the mundane, and this show encourages viewers to be more present in their surroundings. 
3. Borat (HBO Max)
While Nathan Fielder interacts with real-life people to better understand human nature, Sacha Baron Cohen's "Borat" character tries to show the uglier parts that are hiding under the surface. In arguably Cohen's most iconic role, he plays an anti-semitic and misogynistic journalist from Kazakhstan who travels to America to learn about their culture and film a documentary, and interacts with real-life Americans as the drives through the heartland. Just as Fielder has received criticism that he's duped his participants into being on camera, so too did Cohen as Borat became a comedy smash, and dozens of regular people came off looking bad. 
4. Borat Subsequent Moviefilm (Prime Video)
Sequels are tough to master, but the second film installment for Sacha Baron Cohen's Borat character is excellent and surprisingly sweet. Borat Subsequent Moviefilm like predecessor features Borat traveling to America and filming his interactions with real-life people, but this time, he's bringing his daughter, played by the excellent Maria Bakalova. While not entirely as funny as the first movie, this sequel has much more heart and a show-stoppingly horrifying scene with former New York mayor Rudy Giuliani. 
5. Who Is America? (Showtime Anytime)
If the comparisons between Fielder and Cohen weren't easy to see, Fielder directs a handful of episodes from Cohen's Showtime docuseries Who Is America? Like Borat, this series finds Cohen assuming different characters to expose hypocrisy in American politics. He interviewed well-known politicians and celebrities with the sole purpose of making them look silly. While he landed some huge gets like O.J. Simpson and Dick Cheney, some lesser-known people make the biggest fools out of themselves, like former Georgia lawmaker Jason Spencer who soon resigned after his appearance. 
6. Synecdoche, New York  (Hulu)
"Synecdoche, New York is the best film of the decade," wrote the late critic Roger Ebert in 2009. "It intends no less than to evoke the strategies we use to live our lives. After beginning my first viewing in confusion, I began to glimpse its purpose and by the end was eager to see it again, then once again, and I am not finished." From writer Charlie Kaufman in his directorial debut, whose work consistently blurs the lines between fiction and reality, the film follows a neurotic theatre director played by Phillip Seymour-Hoffman who attempts to create a replica of New York City to put on a play celebrating the mundane. 
7. Review  (Paramount+)
Andy Daly plays Forrest McNeil, a television host who has a show called Review, where he reviews life experiences (sample prompts: public speaking, eating 15 pancakes, leading a cult). Besides the show-within-a-show mockumentary setup, the main comedic draw is McNeil's relentless commitment to his art and his show. As he agrees to more and more outlandish reviews, his personal life unravels in increasingly absurd and tragic ways. While a fictional show with tons of slapstick laughs, Review does ask questions about the limits of committing to your work and not sacrificing yourself for your career.  
8. Jackass Forever (Paramount+ and Showtime Anytime)
Listen, I'll be the first to admit a bunch of friends allowing themselves to be humiliated, sometimes physically hurt for the sake of childish pranks, doesn't quite seem like a one-to-one comparison to Fielder's cerebral comedy. However, beneath the immature humor at the heart of Johnny Knoxville and co's Jackass film and TV series are some genius sketches and comedy writing. Like Fielder, the Jackass crew knows a thing or two about committing to the bit and going to ridiculous lengths for a joke. Here, instead of Russian doll-like levels of set design and plot devices to go through a "rehearsal," it's increasingly elaborate nut-shots and Rube Goldberg contraptions of physical comedy. 
9. The Truman Show (HBO Max) 
In The Truman Show, the titular lead character, played by Jim Carrey, has no idea he's the star of a 24-hour, seven days a week reality TV program that has followed his entire life from birth to the present day. While this isn't a 1-to-1 comparison with Fielder's subjects for The Rehearsal—these people had agreed to be on TV—The Truman Show is a prescient film that makes you think deeply about a life broadcasted. This is arguably Carrey's best role and his most thought-provoking film.