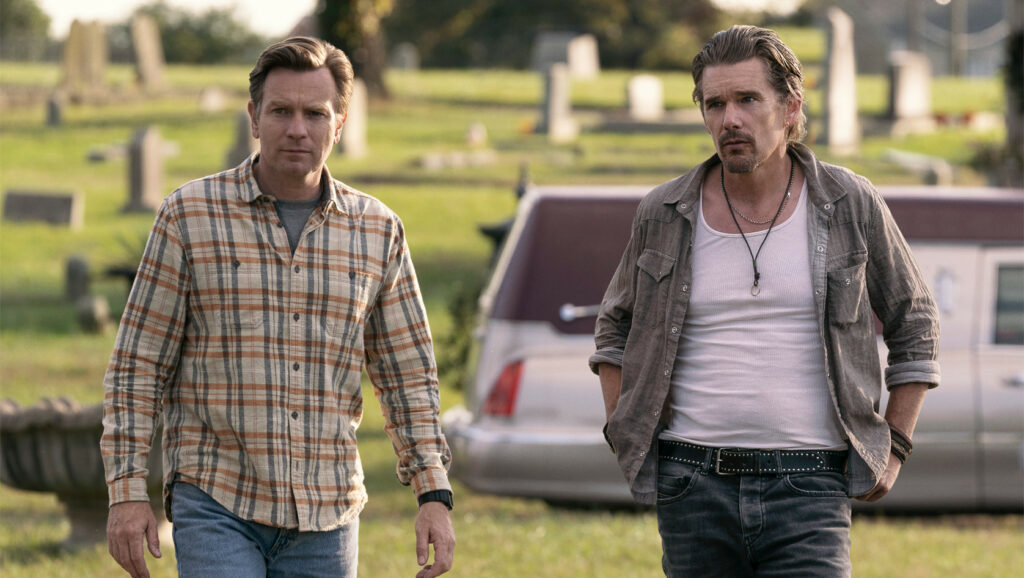 There's nothing quite like finding a perfect new show or movie: something that keeps you entertained for its entire runtime and makes you think deeply for hours or days after viewing. This new column on the Reelgood Blog will take one excellent new film or series and provide a hearty list of semi-related recommendations to make your latest streaming obsession even more rewarding. This week's list is about Raymond & Ray, a new Apple TV+ original film that's a dramedy where Ethan Hawke and Ewan McGregor play half-brothers who reconnect after their father's death.
Raymond & Ray (Apple TV+)
There are maybe five actors whom I'll watch a movie they're in just because they star. No matter the Rotten Tomatoes score, whether Richard Brody pans it in the New Yorker or if the trailer looks abysmal, I'll give it a shot if a film has an actor I like. Two of these actors are Ethan Hawke and Ewan McGregor, who both star in the new Apple TV+ movie Raymond & Ray. The two play half-brothers named, you guessed it, Raymond and Ray, who reunite after the death of their estranged father for his funeral. Both characters have a deep resentment for their passed-on patriarch, and the two come to grips with their trauma and bitterness during this quiet, understated indie film.
Hawke and McGregor are 51 years old and have been in some of the best films of the past few decades, but they've never worked together before. Unsurprisingly, their performances in this Rodrigo Garcia-directed movie are the main highlights. While McGregor is Scottish and Hawke from Texas, the two play convincing half-brothers, each mired in their own pasts and pain. McGregor's Raymond is a divorced, sad man with a dead-end job, while Hawke's Ray is a recovering heroin addict, widower, and jazz musician who is now working in construction. Each of their current predicaments is caused, either indirectly or tragically directly, by their father's incompetence, abuse, and absenteeism. In one scene, Ray muses to his brother, "We come from chaos."
Raymond & Ray isn't a perfect film, but it's worth watching if you want to see the leads in a tender, human movie that focuses on family drama and healing. In the film, Raymond and Ray's father's last wish is that his estranged sons attend his funeral and dig his grave themselves without machinery. It serves as one last way to screw with his kids' heads as well as a literal way for the film's protagonists to do the work to resolve their issues. Many scenes don't work: there's excessive quirkiness in some of the world-building scenes, as well as an emotional climax for Raymond that's jarring and somewhat violent. But what the movie does well is getting to the heart of what makes a family a family, no matter how frayed and painful those connections may be. Below, we've compiled some other TV shows and movies that fit with the tone and themes of this Apple TV+ exclusive film.
1. Six Feet Under (HBO Max)
While The Sopranos and The Wire have rightly represented HBO's groundbreaking run in the 2000s, perhaps the most rewatchable and sentimental show from that era is the transcendent Six Feet Under. In the show's first episode, the patriarch (Richard Jenkins) of the Fisher family (and owner of the family funeral home) dies in a car accident, leaving his wife and three kids to pick up the pieces and run the business. Lauren Ambrose, Peter Krause, Michael C. Hall, and Frances Conroy play the grieving family. Since the show is set in a funeral home and each episode begins with the death of one of their clients, no show has been so concerned with death and so thoughtful in its explorations of grieving.
2. Columbus (Showtime Anytime)

This is a really beautiful film about an unlikely friendship and architecture. The Columbus where this movie takes its name isn't Christopher Columbus or Columbus, Ohio but Columbus, Indiana, one of the architectural meccas in the United States (you're forgiven if you've never heard of it). Starring John Cho and Haley Lu Richardson, the movie finds Cho's character traveling to Columbus when his father, an architect, has a stroke during a residency there. While much of the film hones in on Cho and Richardson's unexpected friendship, it also excels in its meditative discourses on architecture and its thoughtful conversations about family. A beautifully shot film that you won't stop thinking about.
3. The Skeleton Twins (Kanopy and Starz)
Bill Hader and Kristen Wiig play depressed and estranged siblings who escape death on the same day and decide to reunite and fix their relationship. Released in 2014, this movie is pretty unflinching in its depiction of depression and its portrayal of suicidal protagonists, but it's not as dire of a watch as it could be. Sweetness at the heart of Hader and Wiig's onscreen relationship and a surprise needle drop of Starship's "Nothing's Gonna Stop Us Now" makes this a memorable flick.
4. Joshy (Rent or Buy on Prime Video)
The first scene in Joshy is shocking and deserves a trigger warning. In a hotel room, the titular character's fiance hangs herself on the door of their room, and the following movie deals with what would've been the bachelor party for their wedding. Josh (played by Thomas Middleditch) is a wreck, but his friends (played by many great character actors, comedians, and indie film directors) do their best to cheer him up. It's sad, it's thoughtful, and despite the morose subject matter, it's actually a great, life-affirming watch.
5. Death at a Funeral (Kanopy)
Funerals can be funny and not just in a cathartic chuckle way. In this uproarious 2007 U.K. comedy (please skip the U.S. remake), everything that can go wrong at a funeral does: the funeral home brings the wrong casket, a funeral attendee accidentally gets a potentially-life altering dose of psychedelic drugs, the deceased's secret gets aired out in an embarrassing fashion, and dozens of other mishaps and hijinks. The British original is worth watching for its excellent cast and whip-smart writing that feels like a play but please skip the American remake, which isn't nearly as good.
6. This Is Where I Leave You (HBO Max)
Jonathan Tropper's 2009 novel This Is Where I Leave You is an excellent family dramedy that's messy, heartfelt, and kind of weird, like most families are. In 2014, the book was turned into a star-studded film with a murderer's row of actors in Jason Bateman, Tina Fey, Adam Driver, Rose Byrne, Corey Stoll, Kathryn Hahn, Connie Britton, Timothy Olyphant, Dax Shepard, and Jane Fonda. While not as good as the source material, the film is definitely a step up from Tropper's directorial debut this year in The Adam Project.
7. Somebody Somewhere (HBO Max)
Grief is at the core of this big-hearted dramedy on HBO. Set in rural Kansas, the series follows a grieving older sister (played by comedian Bridget Everett) who is trying to get her life together after her little sister passes away. It's rare to see such small-town representation on television, and this show does a good job of capturing the mundane details of what it's like to live in a rural place with not much going on. It proves that you don't need New York to play itself or Los Angeles as the main character to capture real moments between people on television.
8. Rachel Getting Married (Showtime Anytime)
Jonathan Demme, who is known for films like Silence of the Lambs, Stop Making Sense, and Philadelphia, directs this intimate and affecting family drama in Rachel Getting Married. Shot almost entirely in what feels like a handheld camera, the film follows Kym (Anne Hathaway) as she returns home from a nine-month stint in rehab to see her sister Rachel (Rosemarie DeWitt) get married. While the frayed relationship between siblings and Kym's sobriety makes for compelling cinema, some of the movie's best parts come from its authentic depictions of family celebrating a new couple. Ignore some of the late aughts signifiers that are outdated for many reasons (the wedding party wears saris for some reason despite no Indian attendees!) but stay for the truly human emotions that exude throughout every scene.
9. The Worst Person in the World (Hulu)
This Oscar-nominated Norwegian dramedy follows an aimless late-twenties and early-thirties, something as she bounces from relationship to relationship without much drive, ambition, or sense of self. What originally opens as a lighthearted and unflinching romp through early adulthood quickly becomes something much more tragic and mournful in its final third. It's a star-making turn for the relative unknown lead actress Renate Reinsve, who exudes the messiness that comes with that time in your life.