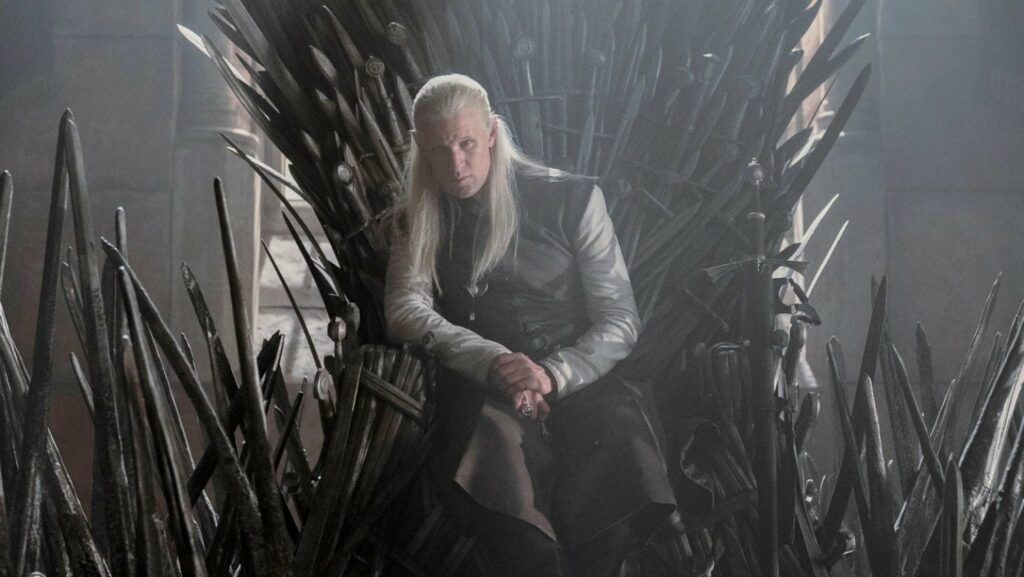 There's nothing quite like finding a perfect new show or movie: something that keeps you entertained for its entire runtime and makes you think deeply for hours or days after viewing. This new column on the Reelgood Blog will take one excellent new film or series and provide a hearty list of semi-related recommendations to make your latest streaming obsession even more rewarding. This week's list is all about HBO's new series House of the Dragon, a brutal and well-reviewed new prequel to Game of Thrones.
House of the Dragon (HBO Max)
After eight seasons of diligently learning the names of so many Lords, knights, Kings, Queens, and bad guys, only to be totally disappointed by the finale, you thought you had given up on Game of Thrones. Because the ending was so controversial, you had sworn that you were done with Westeros, the Seven Kingdoms, and those darn white-haired weirdo Targaryens once and for all. But then House of the Dragon came quicker than you thought it would to HBO, and you watched, making it the most viewed series premiere in network history, joining 9.9 million others watching the premiere live and HBO Max. (The first episode of Game of Thrones had just 4.15 million viewers in 2011).
House of the Dragon is a prequel HBO had greenlit following the end of Game of Thrones with a brand new storyline and new showrunners loosely adapting George R.R. Martin's Fire & Blood novel, which takes place 200 years before the events of Game of Thrones. The show and the book follow House Targaryen and their turbulent reign on the Iron Throne. After King Viserys is unable to find a true heir to the throne, the House devolves into chaos with multiple factions in the family vying for power and angling to assume the throne. This period in history is what Martin has referred to as the "Dance of the Dragons," a major civil war in the Seven Kingdoms. While House of the Dragon begins several years before this civil war, if it's on long enough, it'll definitely get deep into the conflict.
Like its predecessor, which featured a murderer's row of established U.K. character actors rounding out its seemingly ceaseless ensemble cast, House of the Dragon has a lot of familiar faces donning platinum blonde wigs and Westerosy garb. Paddy Considine plays the King Viserys Targaryan while Milly Alcock and Emma D'Arcy tackle his daughter Rhaenyra Targaryen, Dr. Who alum Matt Smith is Daemon Targaryen, Olivia Cooke is Alicent Hightower, and Eve Best plays the "Queen Who Never Was" Rhaenys Targaryen. (In just that Cliff Notes-lite paragraph, there's already a Rhaenyra and a Rhaenys to keep straight, so be prepared to be introduced to a lot of similar and confusingly worded names and characters).
If you watched the shocking and honestly well-done House of the Dragon premiere last Sunday, Reelgood has compiled nine other shows and films to scratch a similar itch.
1. Game of Thrones (HBO Max)
It's highly unlikely that you turned on House of the Dragon without watching Game of Thrones first. But anything is possible, and if you heard it was a prequel, you probably thought, "why not watch it in order?" If you are one of the rare souls whose introduction to George R.R. Martin is through House of the Dragon, consider diving headfirst into Game of Thrones as you wait for each weekly installment of the new series. Because it's a very distant prequel that takes place 200 years before the events of the original show, it's not like spoilers are going to ruin your experience. In fact, learning the ways Westeros and the Seven Kingdoms work in the future will only enrich your experience watching the Targaryens self-destruct on House of the Dragon.
2. The Last Kingdom (Netflix)
Back in 2015, The Last Kingdom premiered on BBC. An adaptation of Bernard Cornwell's historical fiction series The Saxon Stories about the birth of England, the show aired for two seasons in the U.K. before being acquired by Netflix. It ended its television run this year with its fifth and final season, but a feature-length film sequel is currently in the works at the streamer. The show starts in the year 866 A.D. and covers the historical battles between the Anglo-Saxons and the Vikings. It's a fictionalized telling of actual battles and conquests, and across five seasons, the show covers the territory of ten of Cornwell's novels.
3. The Last Duel (HBO Max)
Director Ridley Scott is a legend, and as much as he's known for directing sci-fi mainstays in the Alien franchise, Blade Runner, and The Martian, he's just as adept at making movies set in the middle ages like 2005's Kingdom of Heaven and 2021's The Last Duel. With the latter, which was exorbitantly well-reviewed by critics, the cast is worth the price of admission alone. It boasts Jodie Comer, Adam Driver, Matt Damon, and Ben Affleck. This 14th-century tale takes place in France and follows the upsetting events that lead to a trial by combat between a knight and a squire who's been accused of raping the knight's wife. Inspired by real-life events, this "duel" was the last-sanctioned trial by combat for the French government.
4. Succession (HBO Max)
Succession is a lot like Game of Thrones in the sense it's about a weird and powerful family who try to gain power over each other when their patriarch searches for an heir. The two are also alike in the sense that there are a ton of characters whose names you might forget on the first viewing. The long-running HBO show follows the Roy family, whose patriarch Logan runs an international media empire. His conniving offspring is played by the excellent Kieran Culkin, Jeremy Strong, and Sarah Snook. Though not set in a period of knights in shining armor, these Roys are just as ruthless and cunning as any member of the Game of Thrones canon.
5. Vikings (Hulu, Prime Video, Peacock Premium)
First airing on the History Channel in 2013, Vikings was one of the first and one of the most popular TV shows capitalizing on Game of Thrones' success on HBO. Despite being set around the same time period as The Last Kingdom, these are two separate shows with their own storylines despite there being some overlap with character names. Though Vikings concluded its lengthy run in 2020, Netflix acquired the rights and released a sequel series called Vikings: Valhalla in 2022.
6. The Northman (Peacock)
Robert Eggers, the longtime A24 director of The VVitch and The Lighthouse, left the trendy production house for Focus Features to make The Northman, his edgy take on Vikings lore. The film boasts the tagline "Avenge father. Save mother. Kill Fjölnir," which, to be honest, might be one of the most memorable movie slogans in recent memory. It's got a great cast in Alexander Skarsgård, Anya Taylor-Joy, and Nicole Kidman too. Like House of the Dragon, there's a lot of bloody family drama in this tale.
7. The Green Knight (Showtime Anytime)
What a strange movie. If you were ever thinking, "what if the House of the Dragon was much weirder and had to do with Arthurian legend?" then this film is for you. Directed by the excellent David Lowery (Pete's Dragon, A Ghost Story), this tale follows Sir Gawain (Dev Patel), King Arthur's disappointing and ambitious nephew, as he tries to seek glory and defeat the Green Knight. Lowery's gorgeous cinematography blends the brutal reality of the middle ages with the mysticism of Arthurian legend, creating an almost psychedelic color palette in the film.
8. The Tudors (Showtime Anytime)
Look at this cast: You have Superman himself, Henry Cavill, Bend It Like Beckham and Velvet Goldmine hunk Jonathan Rhys-Meyers, Jurassic Park star Sam Neill, and Game of Thrones fan favorite Natalie Dormer. This historical drama is set in 16th century England and, like many of the titles listed so far, features a King desperately searching for an heir to the throne. There's a ton of political intrigue between England and France, as well as the monarchy and the Catholic Church. First airing in 2007, this show laid a loose blueprint for the many series and films that followed.
9. Rome (HBO Max)
Rome walked so Game of Thrones could run. Back in 2005, HBO debuted an expensive and ambitious new television series called Rome, which took an unflinching but salacious look at life in the Roman Empire. While the first season was full of historical tidbits and exciting world-building, the series did become more of a vehicle for gratuitous sex and violence than history. However, if you're a Game of Thrones fan, you probably won't mind that. Despite its relative popularity and groundbreaking television, Rome only aired for two seasons.