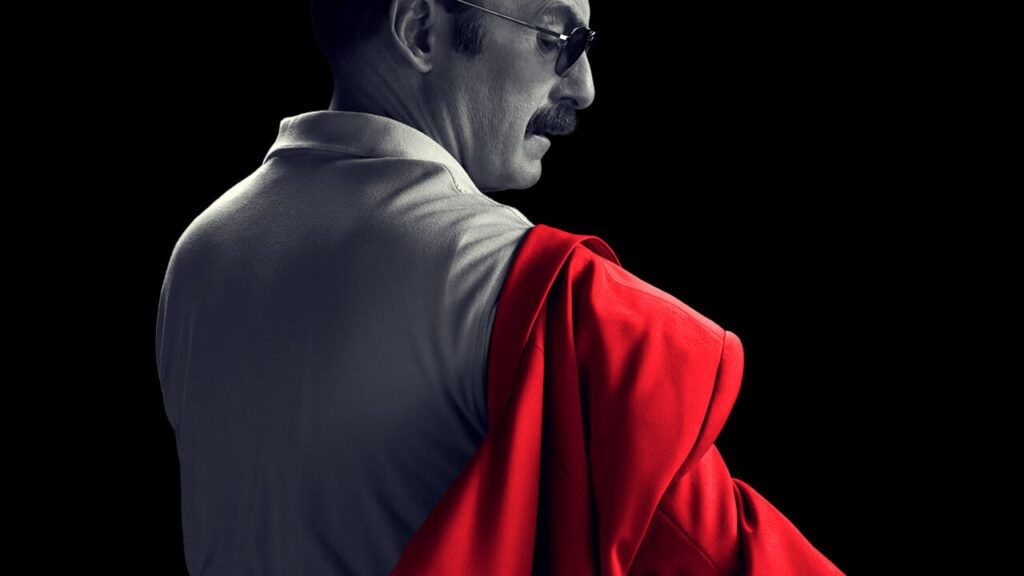 There's nothing quite like finding a perfect new show or movie: something that keeps you entertained for its entire runtime and makes you think deeply for hours or days after viewing. This new column on the Reelgood Blog will take one excellent new film or series and provide a hearty list of semi-related recommendations to make your latest streaming obsession even more rewarding. This week's list is all about AMC's Better Call Saul, the 46-time Emmy-nominated Breaking Bad prequel that finished its six-season run this month.
Better Call Saul (Netflix, AMC+)
After 63 episodes, six seasons, and 46 Emmy nominations, it's no longer controversial to say that Better Call Saul not only rivals its predecessor Breaking Bad in quality but might even be better. Bob Odenkirk's performance as Jimmy McGill, the Chicago-to-Albuquerque transplant with a rough past and a disapproving brother who becomes a lawyer and later Saul Goodman, is legendary, nuanced, and totally charismatic. McGill's journey from an upstart lawyer who tries to play by the rules and achieve success despite his worst impulses to the slimeball, win-at-any-costs Saul Goodman is both tragic and enthralling, especially as otherwise innocent folks get caught in the crossfire.
The incredibly compelling and ultimately ill-fated love story between McGill and fellow lawyer Kim Wexler (the sublime Rhea Seehorn) is more than this main arc into depravity and criminality. From the first episode, the chemistry between Odenkirk and Seehorn is so palpable that I hope the two actors can co-star in another series or film sometime in the future. As their characters' bond tightens throughout the middle seasons, it's wholesome despite the fact that they're prone to bring out the worst in each other and commit crimes. Even though you probably know what happens as someone who's likely watched Breaking Bad, you're rooting for Kim and Jimmy to make it through unscathed.
Making a prequel is a hard thing to pull off, especially one that's supposed to live up to one of the most beloved and acclaimed shows of the millennium in Breaking Bad. But showrunner Vince Gilligan nails it. One of the many charms of Better Call Saul is the way the show is able to organically weave in characters from Breaking Bad without it seeming like gratuitous fan service. Everyone from Hank Schrader, Gustavo Fring, Mike Ehrmantraut, Krazy-8, Tuco Salamanca, and several others make appearances and even seasons-long arcs on the show.
1. Breaking Bad (Netflix)
Though Better Call Saul is still an enjoyable and thrilling TV show without seeing Breaking Bad first, it's unlikely that you decided to start it without already watching the original series. If you are one of the few who jumped into Vince Gilligan's brutal fictionalization of the Albuquerque drug world without being familiar with Breaking Bad, we don't need to tell you to watch the AMC icon. It's undeniably one of the best shows of the last twenty years (up there with The Sopranos, The Wire, and Mad Men). Bryan Cranston and Aaron Paul play one of the most unlikely antihero duos in television history, and Cranston's performance as Walter White, a meek high school science teacher who turns into a ruthless meth kingpin, is astounding.
2. El Camino: A Breaking Bad Movie (Netflix)
Though Breaking Bad ended in a tense moment, it wasn't quite a cliffhanger. But El Camino: A Breaking Bad Movie looks at what happens to Jesse Pinkman (played by Aaron Paul) following the events of the series finale. There are ample flashbacks and jumps back to the present, showcasing the gravity of the many bad decisions Pinkman made over the course of building a meth empire with Walter White (Bryan Cranston). While El Camino was not as well-reviewed as Breaking Bad or Better Call Saul, it did provide some extra closure for the most diehard fans of the series.
3. Lodge 49 (Prime Video, Hulu)
One of the most underrated AMC shows that deserved another couple of seasons, Lodge 49 feels like a much more wholesome, optimistic, and weirder cousin to Better Call Saul. While they share little on paper and have drastically different stakes for their characters, both shows capture the mundanity of depressed urban life and modern-day capitalism. Wyatt Russell stars as Dud, a grieving slacker getting over the death of his father who finds meaning by joining a mysterious social club called the Lynx. Produced by Paul Giamatti, who later guests on the show, the series is kind, totally out there, and full of many surprisingly tender moments.
4. Rectify (AMC+, Fubo TV)
Though anchored by equally stellar performances and writing, Rectify feels like the exact opposite of Breaking Bad and Better Call Saul. Where the two latter shows are focused on the moral descent of their protagonists, Rectify hones in on healing and forgiveness. In what's arguably the best television acting performance of the past decade, Aden Young stars as Daniel Holden, a man convicted of killing his high school sweetheart who gets let out from solitary confinement and a death sentence after new evidence suggests a mistrial. The show follows his reintroduction into society 19 years after his trial, his family's support, and his journey to closure. It's such an empathic piece of television that his alleged guilt, which is inconclusive through most of the series, feels ancillary to the emotional resonance of Holden's road to redemption.
5. Sicario (Rent or Buy on Amazon)
A recent classic in the gritty drug drama film canon, Sicario is one of the last decade's tensest and most engrossing cinematic experiences. Written by Taylor Sheridan, who would later go on to helm the Yellowstone TV empire, the film follows FBI and CIA agents who take on the Mexican drug cartel. It boasts an all-star cast in Emily Blunt, Josh Brolin, Benicio Del Toro, and Daniel Kaluuya (among many others) and also features some slick action sequences that pull few punches when it comes to blood and carnage. There's a sequel to this film that, while solid, is entirely skippable since it doesn't live up to its predecessor.
6. Hell or High Water (Netflix)
Speaking of writer Taylor Sheridan, Hell or High Water is probably his best work. Directed by David Mackenzie, the film follow two brothers (played by Chris Pine and Ben Foster) who have been screwed over by the banks and the late aughts financial crisis and decide to rob several banks to help out their family and get revenge. They're chased by a Texas Ranger (Jeff Bridges), and the following action is both heart-wrenching and action-packed. The movie feels like a classic morality tale mixed with some Cormac McCarthy grittiness.
7. The Wire (HBO Max)
The Wire is an all-time classic television show. If you haven't watched it, you've been told to check it out by countless coworkers, ex-boyfriends, friends, family members, and now this blogger at Reelgood. Listen, it's time to take the plunge. Across five seasons, you'll get an in-depth dramatization of the inner workings of Baltimore crime and neglect: from the corner drug dealers, the corrupt cops trying to catch them, the greedy union guys, the underfunded teachers, and the crooked politicians. It's a humane piece of television that doesn't flinch from being painstakingly brutal and exhaustive in the ways it tells a story. While fiction, the show unfolds like a lengthy expose in a print newspaper.
8. ZeroZeroZero (Prime Video)
Prime Video's ZeroZeroZero only lasted for one season but don't let that stop you from giving it a shot. An eight-episode adaptation of Robert Saviano's book of the same name looks into the financials of the international drug trade. It's got a cast of heavy hitters in Andrea Riseborough, Gabriel Byrne, and Dane Dehaan. Though an Italian production (Saviano wrote the book Gomorrah, which inspired the film and the TV series), the show takes in the international trade fully with scenes in Italy, Monterrey, Mexico, New Orleans, Africa, and other places.
9. Nobody (HBO Max)
If you like Better Call Saul you already know that Bob Odenkirk is an incredible actor. The Illinois-raised actor got his start in comedy rather than traditional acting at the city's famed Second City Theater, then he had stints on Saturday Night Live, and he acted, wrote, and created the iconic HBO sketch show with David Cross, Mr. Show. He's got the range. Here, instead of a comedy role, Odenkirk plays a former assassin turned family man who has to return to his old superspy killing machine ways to protect what's most important to him. It's basically John Wick but with Odenkirk. While it may not reinvent the wheel, that's a solid combo.