There's little doubt that Netflix will face stiff competition with the new Disney+ service launching in the fall. But because Netflix has a stronghold in the marketplace, it's unlikely that many will actually cancel. As the trend of SVOD stacking—subscribing to more than one streaming service—shows no signs of slowing down, there's room for both companies to thrive in this space.
"It's not a zero-sum game," said Netflix CEO Reed Hastings during the Q2 earnings report, which many are calling "big trouble" for the streaming giant. But what these reports fail to take into consideration is the rapid growth in the home entertainment space which is creating room for multiple Netflix-style heavyweights. People need multiple services to quench their growing thirst for video content. And this is especially true now that some of our favorite shows are about to move to different homes.
Right now, the average Reelgood user is subscribed to about 7.2 streaming services. And as new competitors like Disney+ and HBO Max come in, it's beginning to look like the question people are really going to be asking soon isn't "who am I going to subscribe to?", but "who's going to make life easier by putting all of this content in one place?"
Last month, we conducted a survey of more than 1,000 Netflix US subscribers to find out if people were actually going to drop Netflix once Disney+ enters the picture. A whopping 37.6% insist they'll keep Netflix and add Disney+ to their collection of streaming services.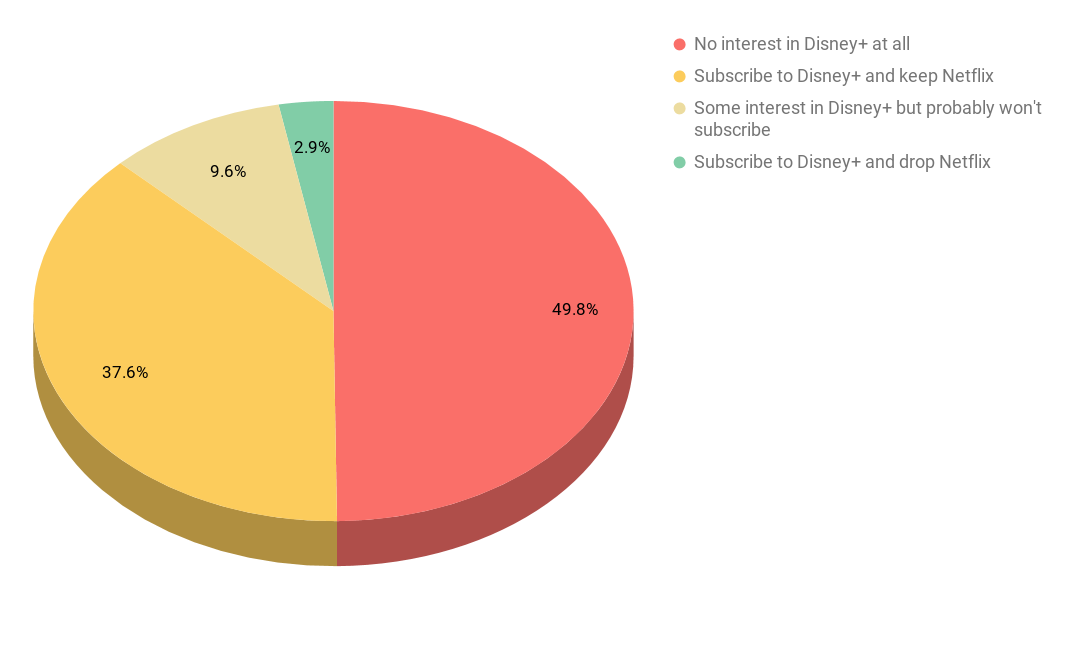 The main reason for this, respondents told us, was because they plan to get Disney+ for the kids, and hold on to Netflix for themselves.
This suggests that consumers have an appetite for more content, and more variety for the entire household.
Netflix is prepared for this post-SVOD stacking world; they've been stocking their arsenal for a "streaming war" by slowly moving away from licensed titles and developing strong original content.
Over the years, Netflix has undoubtedly established itself as a service that will "create" your new favorite show as opposed to just giving subscribers a collection of random flicks they might like. And obviously as more licensed content leaves Netflix, their resources are freed up for more amazing original series and films.
After all, the company was reportedly spending about $150 million for content from Disney, and $100 million to stream "Friends"; budget which is now ostensibly freed up for original content.
As for Netflix's troubling lack of new subscriber additions this quarter, it's no secret that the Q2 curse has been a thing for the company since 2013. Their number of new subscribers, both domestic and global, never fail to peak at Q1 only to sharply drop in Q2, but it's reassuring to note that the trend always picks back up from Q3 through Q4.
According to their team, the Q2 low this year was partly due to a lack of fresh original content, and Netflix is insistent that things will look up for them this next quarter as bigger shows like Money Heist come back. Pictured in our chart below, the numbers consistently fall during Q2 of each year where almost no major original titles are launched. Then we see them steadily rise again as new seasons of hit series like Orange is the New Black and The Crown are released.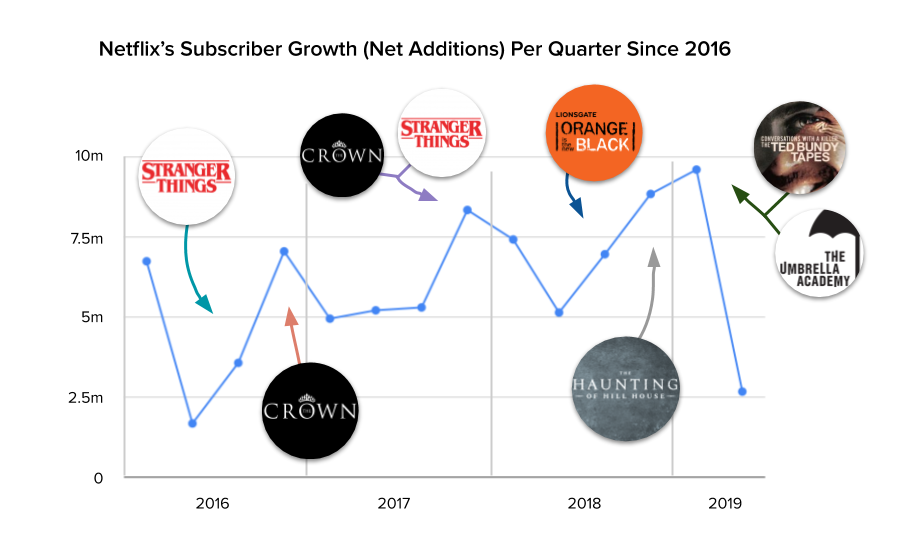 Yes, original content is that powerful. Not convinced? Take HBO as another example—it's pretty common knowledge that a lot of Game of Thrones fans only subscribe to the service once a new season becomes available. When it's over, they don't think twice about cancelling HBO and switching to a different streaming service for the rest of the year.
It's not unreasonable then to conclude that consumers now care about content like Stranger Things a lot more than they actually do about whichever streaming service happens to carry it. And whether or not Netflix realizes this, they are definitely headed in the right direction. By producing more original content that's curated for their subscribers, the streaming service is slowly sinking their claws deeper into their audiences.
Clearly Netflix isn't backing down anytime soon, so expect the streaming experience to become more fragmented as the competition gets fiercer. As new streaming services are added to the bunch, so rises the demand for an app that can keep up with all of the content that's being bounced around.
Consider two other industries where we saw a similar shift—Kayak and Expedia search thousands of options to get you from SF to NYC as cheaply as possible. Spotify and Apple Music help consumers discover and play all their music in one app. This shift within the video streaming space is no different—we're headed for a world where subscribers flock to a service that will conveniently put all of their content together in one place to solve the problem of fragmentation.