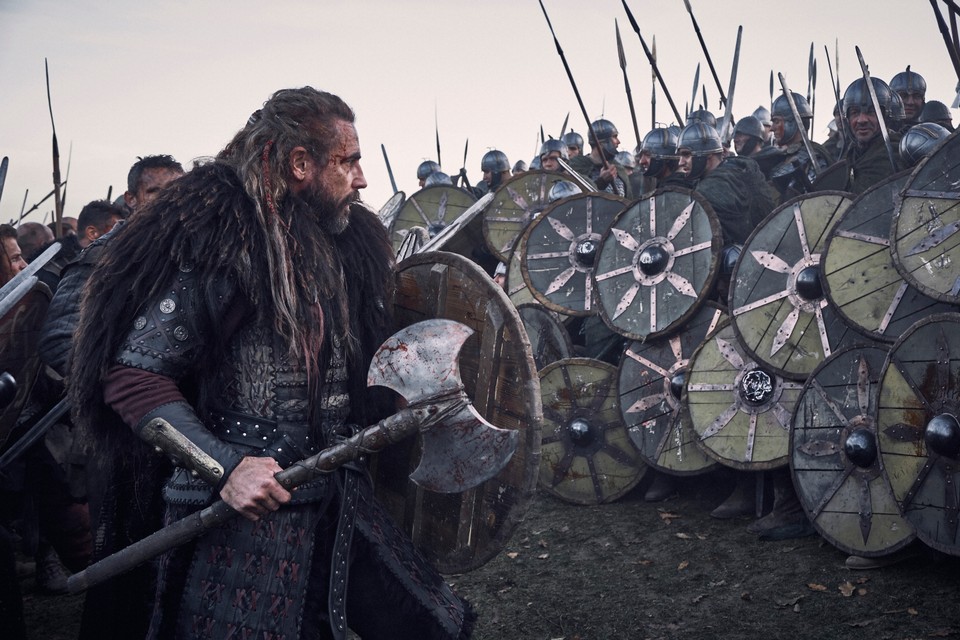 The series finale of HBO's massively popular Game of Thrones is quickly approaching. While we could spend all day speculating on what lies ahead for Daenerys and Jon, the end is inevitable and it won't be long before GOT is gone forever. But fear not, loyal watchers, for there are plenty of other worthy series out there that fans could enjoy.
As expected, many of these series will have all the sword-clashing action and steamy romance that GOT regularly delivered. However, a number of our entries make good on the fantasy front as well. If you're looking for a solid series that's capable of filling the void left by Game of Thrones, consider giving these addictive and award-winning shows a try.
All of the titles below came from our website's "People Also Liked" feature, and are shows that hardcore GOT fans and Reelgood users enjoyed and highly recommend.
Rome
Type: Adventure, Drama, History
Original Run: 2005-2007
Starring: Kevin McKidd, Ray Stevenson, Polly Walker
Rating: 8.8 IMDb
This HBO miniseries gave viewers an unflinchingly detailed look at life in ancient Rome from both the perspective of slaves and centurions. Many of the characters are based on real persons of that time, and illustrate how their lives played out amid landmark events of the era such as the Ides of March and the Battle of Actium.
The Last Kingdom
Type: Adventure, Drama, History
Original Run: 2015- present
Starring: Alexander Dreymon, Ian Hart, David Dawson
Rating: 8.5 IMDb
This BBC show that's now produced by Netflix has all the blood and brutality of GOT, minus the dragons and white walkers. That's not a bad thing though. Set in the 9th century, the show follows a warrior prince who was born a Saxon but raised by Vikings, and who now must choose where his loyalties lie.
Westworld
Type: Adventure, Science Fiction
Original Run: 2016- present
Starring: Evan Rachel Wood, Jeffrey Wright, Ed Harris, Anthony Hopkins
Rating: 8.8 IMDb
Part western, part science fiction, and completely bizarre, this HBO show adapted from the 1970s film delves into mankind's desire to create the ultimate fantasy playground via technology. The storylines crisscross between the scientists who have created the fictional world, and the artificial beings who inhabit and slowly begin to realize their existence.
Vikings
Type: History, Adventure, Drama
Original Run: 2013- present
Starring: Gustaf Skarsgård, Katheryn Winnick, Alexander Ludwig
Rating: 8.6 IMDb
Inspired by the sagas of legendary Viking hero Ragnar Lothbrok, this scripted series produced by the History Channel explores Lothbrok's rise from farmer to the eventual Scandinavian king. As expected of the material the show is based on, there's quite a bit of frolicking and all around medieval brutality. While the character's storylines might not be as complex as GOT's, it's a worthy watch for fans of the genre.
Outlander
Type: Drama, Fantasy, Romance
Original Run: 2014- present
Starring: Caitriona Balfe, Sam Heughan, Duncan Lacroix
Rating: 8.5 IMDb
Outlander may not have battle axes regularly decapitating people as in GOT, but it does incorporate a fantasy element that viewers should enjoy. The series is a time-travel adventure romance that follows a nurse from the 1940s who is transported back in time to the year 1743. After she falls in love with a Scottish warrior, things get really complicated as she must choose which world she truly wants to be a part of.
The Handmaid's Tale
Type: Drama, Science Fiction, Thriller
Original Run: 2017- present
Starring: Elisabeth Moss, Max Minghella, Alexis Bledel, Yvonne Strahovski
Rating: 8.5 IMDb
https://www.youtube.com/watch?v=SAXy_NyUN6k
Based on the dystopian novel of the same name, this award-winning Hulu series follows a group of women who have been forced into surrogate slavery after the fall of the United States. The show touches on everything from women's rights to religion and the abuse of power through caste systems.
Black Sails
Type: Adventure, Drama, History
Original Run: 2014-2017
Starring: Jessica Parker Kennedy, Toby Stephens, Hannah New, Luke Arnold
Rating: 8.3 IMDb
Set in the years leading up the storyline of Robert Louis Stevenson's Treasure Island, this swashbuckling series follows the lives of pirates Long John Silver and Captain Flint. The show's unique characters and the often debauched and violent lives they lead make for an excellent series that's sure to have GOT's fans binge-watching.
Deadwood
Type: Crime, Drama, History
Original Run: 2004-2006
Starring: Timothy Olyphant, Ian McShane, Molly Parker
Rating: 8.7 IMDb
Westwood wasn't HBO's first foray into the Wild West. This drama, set in the late 1800s, is full of real-life characters like Calamity Jane and Doc Holiday. The town of Deadwood, South Dakota provides the perfect gritty setting for all the crime and corruption that its citizens deal with on a daily basis. As expected, there are plenty of shootouts, bar fights, and general lawlessness.
House of Cards
Type: Drama
Original Run: 2013-2018
Starring: Kevin Spacey, Michael Kelly, Robin Wright
Rating: 8.8 IMDb
https://www.youtube.com/watch?v=ULwUzF1q5w4
While based on a British series, Netflix moved this show to the states and gave its central character some truly evil intentions. The show features a sociopathic politician who will do whatever it takes to wield absolute power in Washington D.C…. no matter who he has to kill.
The Tudors
Type: Drama, History, Romance
Original Run: 2007-2010
Starring: Jonathan Rhys Meyers, Henry Cavill, Anthony Brophy, Sarah Bolger
Rating: 8.1 IMDb
Set during King Henry VIII's reign of England in the 16th century, the series is all about the dramas of the royal family. Scandalous romantic affairs are aplenty in this series, and the storyline makes no apologies about the often violent consequences that the characters reap for their actions.