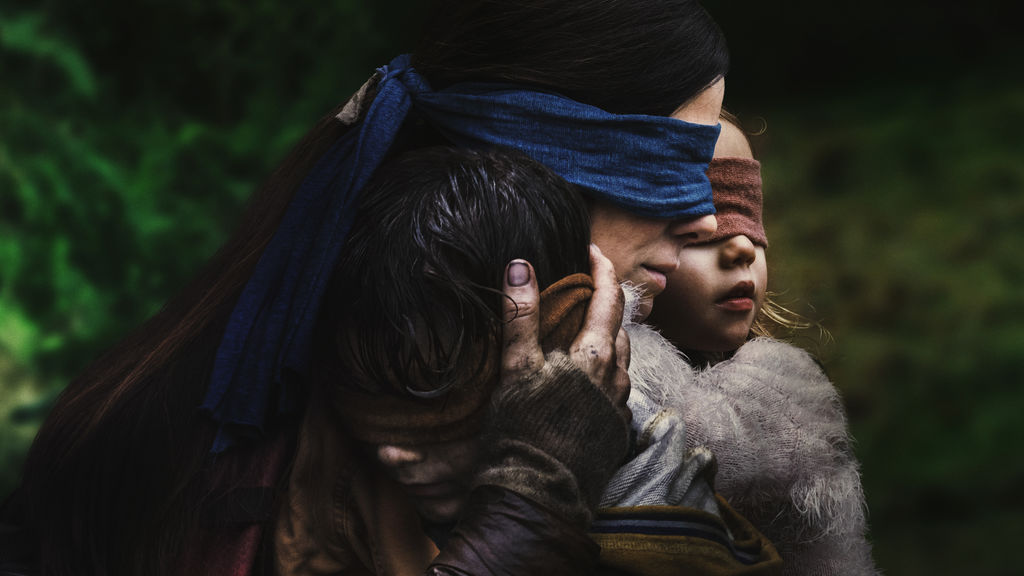 If you're lucky, there's a holiday break looming in your future, but if you thought that vacation time could be spent catching up on all the shows you missed in 2018, then you underestimated your favorite streaming services.
The end of the year may be approaching, but Netflix, Hulu, Amazon, and HBO aren't slowing down this week. From buzzy British imports to a new Sandra Bullock horror movie and Ellen DeGeneres' new stand up special, there are plenty of quality shows, movies, and specials headed your week.
Check out the full list of everything new that's coming to the big four streamers this week below, and let our picks help you decide what to watch first (because with this many options, everyone could use a little help).
Netflix
Dec. 18
Baki (Netflix Original)
Ellen DeGeneres: Relatable (Netflix Original)
Terrace House: Opening New Doors: Part 5 (Netflix Original)
Dec. 21
3Below: Tales of Arcadia (Netflix Original)
7 Days Out (Netflix Original)
Back With the Ex (Netflix Original)
Bad Seeds (Netflix Original)
Bird Box (Netflix Film)
Derry Girls (Netflix Original)
Diablero (Netflix Original)
Greenleaf: Season 3
LAST HOPE: Part 2 (Netflix Original)
Perfume (Netflix Original)
Sirius the Jaeger (Netflix Original)
Struggle: The Life and Lost Art of Szukalski (Netflix Film)
Tales by Light: Season 3 (Netflix Original)
The Casketeers (Netflix Original)
Wolf (BÖRÜ) (Netflix Original)
Our Picks:
DeGeneres has been doing her talk show for so long, it's easy to forget just how talented she is as a comedian. She returns to the stage in this special that will remind you that DeGeneres is so much more than a pleasant host who serves up funny cat videos.
An entity that can take the shape of a person's worst fears is at the center of this creepy film starring Sandra Bullock as she tries to protect her family in a world where one glimpse of a monster can end their lives.
Hulu
Dec. 18
Dec. 19
The Killing: Complete Seasons 1–4
The Real Housewives of Beverly Hills: Complete Season 8
A Most Wanted Man
His and Her Christmas
Dec. 20
Disorder
Food, Inc.
Skate Kitchen
Dec. 21
Marvel's Runaways: Complete Season 2 Premiere (Hulu Original)
Dec. 22
Our Picks:
Way too many people gave up on The Killing when the Rosie storyline wasn't solved at the end of Season 1. Now is the perfect time to revisit this misunderstood drama that only got better with age.
https://www.youtube.com/watch?v=8Y2T3SOlbmg
Runaways stumbled a bit through its first season, but now that the kids have finally left their parents behind, Season 2 has a chance to live up to the story's potential.
Amazon
Dec. 19
A Most Wanted Man (2014)
Dec. 21
Life Itself (Prime Original movie)
Vanity Fair (Prime Original series), Season 1
Our Picks
Life Itself
Is This Is Us not making you cry enough this season? Then check out series creator Dan Fogelman's weepy new movie on Amazon.
Vanity Fair
Based on the classic novel, this luxurious period drama is perfect for a chilly winter marathon.
HBO
Dec. 21
En El Septimo Dia (On the Seventh Day)
Dec. 22
Our Picks:
Wes Anderson's strangest project yet is also possibly his most heartfelt.
Go ahead and clear your schedule, because this week's streaming offerings are too good to miss.