Here are this week's Top 10 most-watched movies and TV shows in streaming (July 7 – July 13).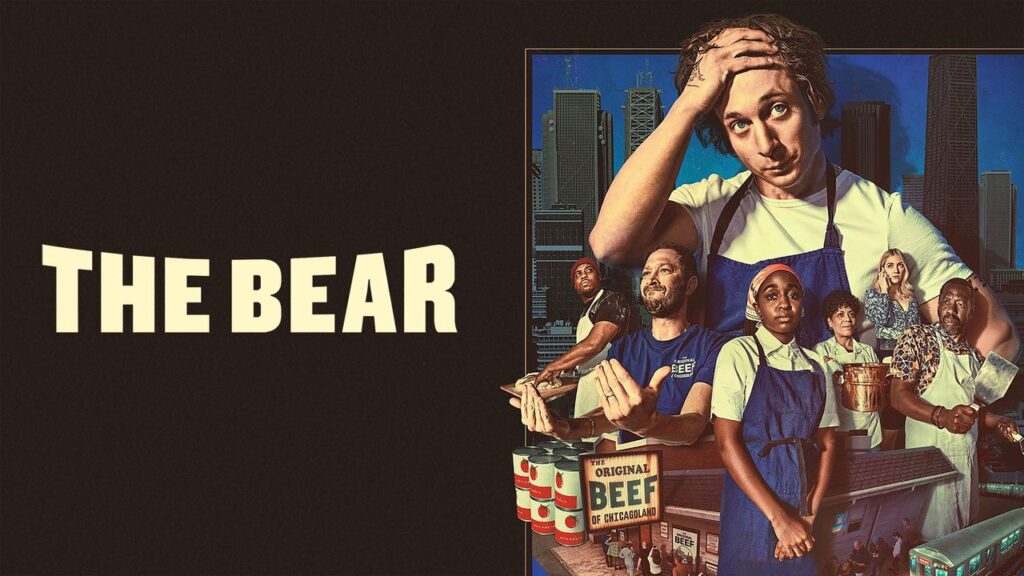 By Josh Terry
Memes can sometimes make a show a must-see event. When FX's The Bear debuted a few weeks ago, Twitter users posted a screencap of star Jeremy Allen White in character as Carmy Berzatto and posted jokes about the type of guy he embodies. He's got ample tattoos, a smoking habit, sunken and piercing eyes, and a tired look that many people related to in their exes. The jokes, which can be viewed here, aren't really appropriate to be published here, but you can get the idea.
It's been several weeks, and these online bits still populate the timeline and have even become interview fodder for GQ writers chatting with White about the show. "I don't have Twitter or anything like that, but we do have a group text for the show, and they are making me aware of it," White said in the interview. "They know me, and they know how embarrassing it is for me." When that profile ran, writer Delia Cai joked that White was "the working woman's Timothee Chalamet." As of press time, the tweet has over 117,000 faves.
While FX had a solid press campaign for The Bear, targeting Chicago media to boast about its local bonafides (it's a close but not quite accurate depiction of its setting). But nothing did quite as much for the show as these thirsty internet memes as it climbs from number nine to number two on the Reelgood Top 10. Since the show debuted every episode in June, this is quite the feat.
1. Stranger Things (Streaming now on Netflix)
Will the second batch of episodes from the fourth season of Stranger Things perform better on the Reelgood Top 10 than the first? It's too early to tell, but this season's conclusion has reclaimed the number one spot on our weekly ranking for the second consecutive week. Where Season 4a boasted a soundtrack with several prominent syncs of Kate Bush's "Running Up That Hill," a song that resonated so much it sent Bush's songs to the Billboard charts and streaming dominance, Season 4b has an equally potent sync in Metallica's "Master of Puppets." Now, Stranger Things fans are discovering the iconic thrash metal band, and new streams sent the song to the Billboard Hot 100 for the first time ever.
2. The Bear (Streaming now on Hulu)
FX's buzzy new kitchen drama and comedy The Bear keeps climbing up the Reelgood Top 10, saying "Yes, Chef" all the way from number nine to number two. In fact, today, the network announced a second season despite the fact that its first wrapped up almost every loose end imaginable. Starring Shameless mainstay Jeremy Allen White as Carmen Berzatto, a Noma and French Laundry alum who returns to run his family's Italian beef shop in Chicago after the passing of his brother, the series combines the clench-worthy frenetic filmmaking of the Safdie Brothers with a workplace drama about grief and making a good meal. Though the series arguably gets some details about its setting wrong, the show does get the dramatic heart of the story correct. Alongside White, there's a great cast in real-life chef Matty Matheson, Ebon Moss-Bachrach, Ayo Edebiri, Lionel Boyce, and Oliver Platt.
3. Doctor Strange in the Multiverse of Madness (Streaming now on Disney+)
Though Doctor Strange in the Multiverse of Madness is no longer the highest-grossing movie of 2022 worldwide after Top Gun: Maverick took its throne, it's still streaming pretty well. The Disney+ streaming premiere of this Marvel titan has hit the top three of the Reelgood Top 10 for a third consecutive week. With 28 total films in the Marvel Cinematic Universe so far, audiences will continue to flock to see Benedict Cumberbatch, Elizabeth Olsen, John Krasinski, Rachel McAdams, Benedict Wong, Chiwetel Ejiofor, and more in a big-budget superhero flick.
4. The Terminal List (Streaming now on Prime Video)
Prime Video's latest spy, espionage, and military thriller, The Terminal List, is scratching the itch that shows like Jack Reacher, Jack Ryan, and Hanna do. This Chris Pratt-starring series finds a Navy SEAL who discovers his entire squad ambushed and has to pick up the pieces. Alongside The Old Man, this show promises betrayal, revenge, and a whole lot of twists. Joining Pratt is a great cast including Constance Wu, Riley Keough, Taylor Kitsch, and Jeanne Tripplehorn.
5. The Old Man (Streaming now on Hulu)
Once a top dog for two weeks on the Reelgood Top 10, The Old Man drops another place from fourth to fifth. On its fifth episode, the limited series based on a 2017 novel by Thomas Perry has only two episodes left. Star Jeff Bridges has been excellent so far, not only for his resilient performance but also for overcoming a cancer diagnosis and chemotherapy during filming. Will showrunners end on a solid note and bump up its ranking? Or will its FX compatriot The Bear be the fresh new dish viewers salivate over?
6. The Bad Guys (Streaming now on Peacock Premium)
Is the Minions: The Rise of Gru bump a real thing? There's obviously a market for cartoon villains, and The Bad Guys, a 2022 film with a great cast of comedians turned voice actors, has been climbing up the Reelgood Top 10 from tenth place to sixth. The film follows a series of CGI bad animal guys who must become model citizens after a lifetime of crime. It did pretty well at the box office, grossing nearly $250 million. Now that it's on Peacock Premium and with a cast as notable as Sam Rockwell, Awkwafina, Marc Maron, Craig Robinson, Zazie Beetz, and Richard Ayoade, it might stay on the Top 10 for a couple more weeks.
7. Better Call Saul (Streaming now on AMC+)
When Vince Gilligan first announced Better Call Saul, the Bob Odenkirk-starring Breaking Bad spinoff, critics had little idea the showrunner would arguably one-up himself with his follow-up. Given how beloved Breaking Bad was during its run, this is an astounding feat. As Better Call Saul comes to a close, fans and critics are taking in a fabulous and immaculately-shot swan song for the beloved series. Alongside Odenkirk, the show features a cast Breaking Bad alums and new characters in Jonathan Banks, Michael Mando, Patrick Fabian, Rhea Seehorn, and Giancarlo Esposito.
8. Last Night in Soho (Streaming now on HBO Max)
Edgar Wright's horror film Last Night in Soho stays on the Reelgood Top 10 for another week. He has such a unique style as a filmmaker he's built up a sizable audience who follow him no matter what genre experiments he dives into. From his hilarious comedy trilogy with Simon Pegg in Shaun of the Dead, Hot Fuzz, and The World's End, to Baby Driver, Scott Pilgrim vs. the World, and his music documentary the Sparks Brothers, there's little this director can film with gleeful and slickly-edited abandon. His latest foray stars Anya Taylor-Joy, Thomasin McKenzie, and Matt Smith.
9. The Boys (Streaming now on Prime Video)
Amazon's The Boys keeps dropping on the Reelgood Top 10 but still holds on at nine. This week, showrunner Eric Kripke made headlines for lambasting the "10-hour movie" style of prestige television. "They're more comfortable with the idea that they could give you ten hours where nothing happens until the eighth hour," he told Vulture. "…Anyone who says, "Well, what I'm really making is a ten-hour movie." Fuck you! No, you're not! Make a TV show." Kripke's blunt style and action-packed series have truly resonated this year. The Boys is renewed for a fourth season and seems to be a corrective to slower-paced fare on streamers.
10. House of Gucci (Streaming now on Prime Video)
House of Gucci garnered much more of a conversation thanks to its star-powered cast than it did rave reviews. That said, sometimes all you need is to see Lady Gaga, Adam Driver, and Jared Leto made to look like Jeffrey Tambor playing Batman villain the Penguin to get people talking. It makes its Prime Video debut and its debut on the Reelgood Top 10 in the final spot. Let's see if it climbs from week to week, given its marquee cast.