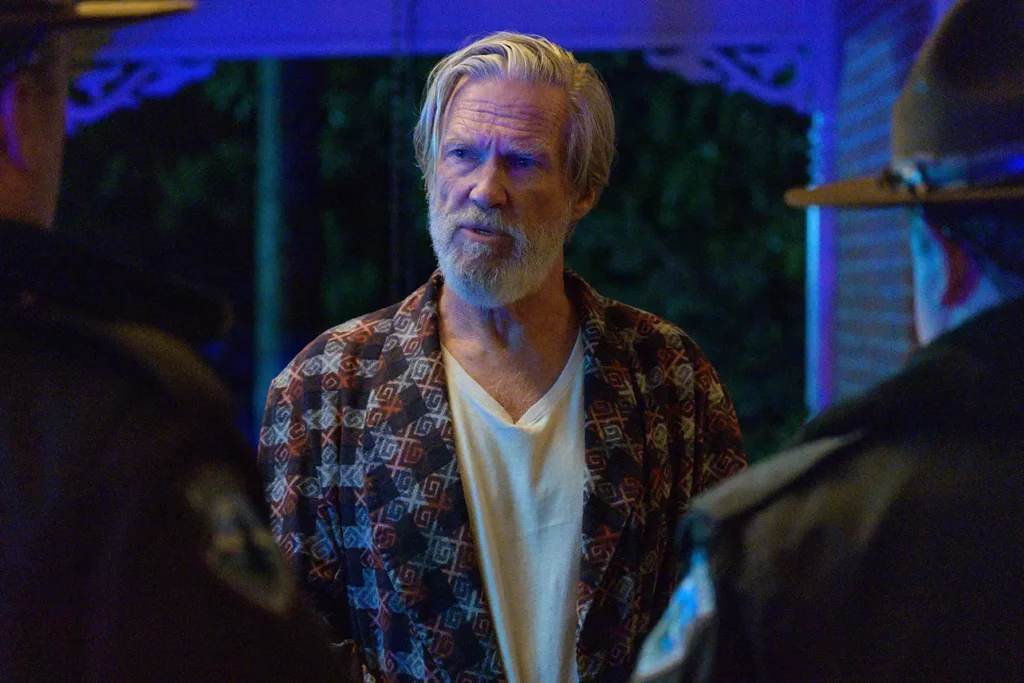 By Josh Terry
After several weeks of either Top Gun, Stranger Things, or Obi-Wan Kenobi taking either of the top two spots on the Reelgood Top 10, there's a surprise new champ: Hulu's latest gritty drama series, The Old Man. Starring Jeff Bridges and Jon Lithgow, the show boasts a lot of iconic talent and name recognition to have your parents on board already. Bridges plays Dan Chase, a former CIA operative who escaped the spy life for a quieter existence in Vermont, but because of his knowledge of government secrets and skill as a deadly assassin, he still has enemies. One of those enemies is FBI agent Harold Harper (John Lithgow), who tries to hunt Chase. It sounds like there will ultimately be a lot of twists, intrigue, and scandals that go all the way to the top of the government chain.

More than the show's premise, The Old Man is a triumph solely for Bridges' resilience (and the fact that it's the legendary actor's first TV role since he was a kid). Originally production began on the show pre-COVID and was halted in March 2020. Then, when filming resumed with three episodes to go, Bridges was diagnosed with cancer, and production halted again. "What makes me laugh, I'm doing this scene, all that fighting stuff, and I've got a 9-by-12 inch tumor in my body, taking those punches," the 72-year-old actor said in an interview with the New York Times. He caught COVID during chemotherapy and spent five months in the hospital. Miraculously, he survived, regained his health enough to complete the show, and is now in remission.

So far, critics really seem to like The Old Man. It boasts a whopping 94 percent on Rotten Tomatoes, and writers like RogerEbert.com's Nick Allen raving that it's "A bold, wise series, with a knockout performance from Bridges leading the way." So are Hulu and FX coming to claim the throne from Netflix and Disney+? With this and the highly-anticipated The Bear dropping this week, some of the most-buzzed-about shows are coming from those networks.
The Old Man (Streaming now on Hulu)
The Old Man premiered its first two episodes on June 16 and will air in weekly hourly installments every Thursday. While critics have been pretty positive about the new series, literally every critic, even the small few who aren't fans of the story, have raved about Jeff Bridges' performance. The show is based on a 2017 novel by Thomas Perry if you want to continue diving into this dense world of spy drama.
Spiderhead (Streaming now on Netflix)
Another surprise hitting the top spots of Reelgood Top 10 is Spiderhead, a feature-length adaptation of a George Saunders short story. Directed by Top Gun: Maverick helmer Joseph Kosinski, the film is fully loaded with an all-star cast in Miles Teller, Jurnee Smollett, and an excellent Chris Hemsworth. Considering the talent and the director involved, you'd expect to see more commercials and advertising for this film. That said, while it takes several liberties with the source material, it's an easily digestible if slightly disturbing sci-fi romp.
Obi-Wan Kenobi (Streaming now on Disney+)
The Ewan McGregor-starring miniseries Obi-Wan Kenobi is back towards the top of the Reelgood Top 10, jumping back to third from sixth. With its showdown finale and duel between Kenobi and Darth Vader, it's only natural that Star Wars fans are talking about such an iconic clash. While Obi-Wan Kenobi didn't match the stakes of A New Hope or even Revenge of the Sith, it's been a joy to see Ewan McGregor and Hayden Christensen reprise their roles.
Top Gun (Streaming now on Paramount+ and Prime Video)
The original Top Gun has now been on our Top 10 for seven consecutive weeks. One of the rare blockbusters that both audiences and critics can agree on, its sequel Top Gun: Maverick still boasts a 97 percent on Rotten Tomatoes with reviewers and has grossed over $907,844,957 worldwide. Top Gun: Maverick is now the second-highest-grossing movie of 2022 worldwide, closing in on Doctor Strange.
Good Luck To You, Leo Grande (Streaming now on Hulu)
Good Luck To You, Leo Grande has a particularly steamy premise: an elderly widow Nancy Stokes (Emma Thompson) hires a good-looking young sex worker named, you guessed it, Leo Grande (Darryl McCormick). The film documents their night together as Stokes tries to let loose away from a particularly repressed and joyless past. Thompson is as always a fantastic actress and McCormick lends some tangible charm to his role as well.
The Summer I Turned Pretty (Streaming now on Prime Video)
The Summer I Turned Pretty is a story that comes from Julia Han, writer of the To All The Boys I've Loved Before series. Where To All the Boys was adapted into a film franchise by Netflix, this book trilogy has been turned into a TV series on Prime Video. Lola Tung stars as Isabel Conklin, a young woman who eventually gets into a love triangle between two hunky brothers named Jeremiah and Conrad. It sounds like a capital-D Drama but I'm sure there will be many coming-of-age life lessons to be had by all the characters involved.
Stranger Things (Streaming now on Netflix)
The first batch of Season 4 episodes has done incredibly well on the Reelgood Top 10 so far but this week it drops all the way down to seventh. There hasn't been a new episode since May 27 so the fact that it's taken this long to drop below the top 3 is astounding. It also won't be surprising if it's still placing decent numbers as the next batch of new episodes comes this July. With the Kate Bush renaissance, and the endless charisma of stars like Millie Bobby Brown, Joe Keery, Maya Hawke, Sadie Sink, Finn Wolfhard, and Winona Ryder, Stranger Things has once again tapped into the zeitgeist.
Jurassic World: Fallen Kingdom (Streaming now on FuboTV)
Call this phenomenon the Top Gun: Maverick effect. On the heels of Jurassic World: Dominion hitting theaters it only makes sense that the last installment of the dinosaur franchise 2018's Jurassic World: Fallen Kingdom gets a streaming bump. With fans wanting to catch up on the Bryce Dallas Howard and Chris Pratt-starring reboots, the only thing surprising is that you would imagine a higher showing on the Reelgood Top 10. It stays near the bottom at eighth.
The Boys (Streaming now on Prime Video)
Amazon's The Boys is an anti-Marvel take on superheroes and it's still on the Reelgood Top 10, dropping from a top-three perch to ninth. It's a show brave enough to ask, "What if superheroes were bad?" Now in its third season, The Boys is a satirical, brutal, and confrontational middle finger to a ubiquitous genre and it's still getting solid reviews. Considering the show's positive momentum, Prime Video has already renewed the series for a fourth season.
Hustle (Streaming now on Netflix)
Critics and fans agree: Hustle is fantastic. It's a slam-dunk if you will. On Rotten Tomatoes, the Adam Sandler-starring Netflix Original Film has a 92 percent score with both critics and audiences. That's a tough thing to do since very rarely do movie critics and the general public wholeheartedly agrees on much. Along with Sandler, Hustle stars a mix of marquee actors and marquee NBA athletes and icons like Queen Latifah, Juancho Hernangómez, Anthony Edwards, Ben Foster, Boban Marjanovic, and Robert Duvall. It stays on the Reelgood Top 10 at tenth place.