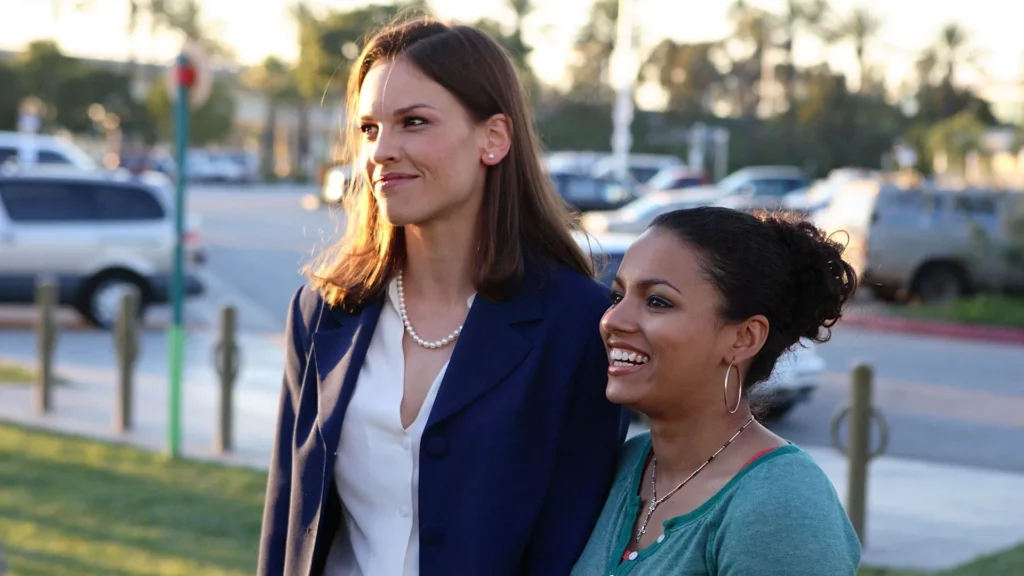 With a touch of grit and resilience, we venture into the throes of a must-watch film that provides a depiction of societal unrest through an educational lens, "Freedom Writers." The film, which championed the theaters on January 5, 2007, has since maintained its profound relevance, offering an insight into the transformative power of education in the face of adversity.
Freedom Writers is not streaming in your country?
Any of our picks not streaming in your country? ExpressVPN unlocks Reelgood and all of your streaming services, giving you access to all movies and TV shows from around the world. Stream them from anywhere with a 30-day money-back trial from ExpressVPN.
Unblock Streaming with ExpressVPN (3 months free for Reelgood users!)
Connect to a US or UK server via ExpressVPN.
Let ExpressVPN run in the background as you watch all of your movies and TV shows, securely and with no throttling or bandwidth limits.
"Freedom Writers," a compelling American drama based on real events, has a unique ability to tug on the heartstrings while simultaneously challenging our perceptions and understanding of society. Among such productions, where the pathos of real experiences translates into inspiring narratives, a recommendation to watch "Freedom Writers" is made with immense confidence.
Actor Credentials
The movie features a stellar cast contributing to its riveting texture. Their performance takes the film to a whole new level, with the inclusion of celebrated actress Hilary Swank, whose portrayal of Erin Gruwell is very compelling. It also stars Imelda Staunton, Patrick Dempsey, and several other promising actors who, despite experiencing the limelight for the first time, managed to pull off remarkable performances.
The Story that Inspires
The movie brilliantly showcases the true story of a first-time English teacher – Erin Gruwell, who, having been posted to a racially integrated high school, is confronted by students who have been marred by gang violence and societal tension. The show of diversity within the classroom setting is one laden with deep-rooted racial tension and resentment, which adds a layer of tangible conflict to the narrative.
Erin Gruwell's Courage
Swank plays a dedicated teacher who channels unconventional teaching methods to reach out to her disoriented and defiant students. Gruwell's character showcases immense grit and inner strength as she penetrates the hard shells of her students and inspires them to look beyond their gang-ridden and violence-stricken environments. The characters, hence, unlearn their prejudices and learn to view life from different perspectives, awarding the narrative a deep-rooted connection to its audience.
Elements of Surprise and Trivia
A fact worth noting that adds an extra layer of interest is that this film was based on "The Freedom Writers Diary," which is a compilation of diary entries by the real-life students of Gruwell. Adding to the rich tapestry of trivia, the film's title "Freedom Writers" plays upon the term "Freedom Riders," a name given to the civil rights activists who tested the U.S. Supreme Court decision ordering the desegregation of interstate buses in the sixties.
Cast-Teacher Interactions
Interestingly, the cast members who played the students were not professional actors; rather, they were selected from high school students who shared similar life experiences as the characters they portrayed. This adds an unfiltered realism to the film, making it widely appreciated, relatable, and compelling.
Release and Reception
Having been released in early 2007, "Freedom Writers" received a warm response from viewers, proving the effectiveness of transforming real experiences into inspiring narratives. It was touted as a movie that sheds light on the systemic issues in education, asserts the underlying power of resilience and determination, and the role of a teacher in molding the future of society.
Criticism and Controversy:
While "Freedom Writers" has enjoyed much acclaim for its inspiring narrative and compelling performances, it has not been immune to its fair share of criticisms and controversies.
Stereotypical Portrayal
Critics argue that "Freedom Writers" is yet another addition to the throng of "white savior" narratives common to the Hollywood scene. This trope refers to the centralization of the white protagonistic figure who brings about empowerment to the marginalized or discriminated communities, with the former seemingly transforming the lives of the latter single-handedly. 
These critics argue that such portrayals unintentionally minimize the agency of the marginalized students and place the credit of such transformation solely in the hands of the white teacher, thereby undermining the effort, struggle, and resilience of the students themselves.
Lack of Attention to Systemic Fix
A few critics voiced out that the film focuses heavily on the narrative of a single class and the adversities they overcome under the guidance of Ms. Gruwell, overlooking the broader issue of system-wide failures in education. Critics argue that the movie does not present a solution to the bigger and more pressing problem of the failing public education system.
Sensationalism
"Freedom Writers," despite being based on a true story, has faced criticism for indulging in dramatic license. Critics say that the film leans on sensationalism to draw the audience's empathy and interest, thus blurring the line between fact and fiction.
Despite such criticism, one cannot deny that "Freedom Writers" has struck a chord with many viewers, educators, and students alike. It brings to light the power of innovative teaching and the profound impact it can have on students living through violence and adversity. While keeping in mind the criticism, it is essential to watch "Freedom Writers" as a testament to the power of sheer determination, resilience, and compassion in the face of struggle. The criticism surrounding the movie provides another compelling reason to watch "Freedom Writers," engaging in a critical analysis of the systemic issues beyond the storyline.
The Cast of "Freedom Writers":
Hilary Swank as Erin Gruwell
A two-time Academy Award winner, Hilary Swank received significant acclaim for her performance in Freedom Writers. In her role as teacher Erin Gruwell, Swank navigates a broad emotional spectrum, transitioning from an optimistic and naive educator to a determined mentor who drives her students to achieve their fullest potential. Hilary Swank has earned her reputation as one of Hollywood's leading ladies, with notable roles in films like "Million Dollar Baby" and "Boys Don't Cry."
Patrick Dempsey as Scott Casey
Patrick Dempsey, famous for his role as Dr. Derek Shepherd in the long-running medical drama "Grey's Anatomy," played the part of Scott Casey in "Freedom Writers." Scott is Erin's supportive husband who initially shares in her enthusiasm for changing her students' lives but becomes increasingly frustrated as Erin's dedication to her job strains their relationship. Dempsey's overlapping roles in "Grey's Anatomy" and "Freedom Writers" show his convincing portrayal of loving and supportive, yet conflicted characters.
Imelda Staunton as Margaret Campbell
The film also stars Imelda Staunton, renowned for her role as Professor Dolores Umbridge in the Harry Potter series. She plays the character Margaret Campbell, the head of department at Wilson High School who clashes with Erin over her unconventional teaching methods and deviation from the school's curriculum. Staunton's performance in this role adds depth to the narrative and challenges the protagonist and viewers to consider the bureaucracy often present in educational systems.
April Lee Hernández as Eva Benitez
Perhaps one of the most notable performances in "Freedom Writers" comes from April Lee Hernández, who plays Eva Benitez – a Hispanic girl with gang affiliations. Her powerful portrayal of a troubled student stuck between loyalty to her gang and the aspiration for a better life showcases the circumstances many students in such situations face. April is a poet and actress and her work outside the film industry also includes being an advocate against domestic violence.
Jason Finn as Marcus
Jason Finn plays Marcus, one of the students who evolves the most during the film. His character grows from a quiet, reserved student to one who actively participates in classroom discussions and becomes an enthusiastic learner. His character showcases a transition from a tragic past life to one that holds hope and promise, thus amplifying the emotional depth of the film.
The Enthralling Trailer of "Freedom Writers": An Insightful Sneak Peek
Conclusion
"Freedom Writers" is more than a film. It's a reflection of society. A catalyst for change. It's a beacon of hope, not just for those who are a part of the education system, but for anyone with a dream to make the world a better place. The characters' evolution, the captivating storyline, and the impactful performances of the cast make watching "Freedom Writers" not just a visual treat, but an illuminating journey of perspective.
By taking the viewer into the heart of societal ripples, this film manages to perpetuate the discourse on race, resilience, and education. Each of its subtleties serves as a reminder and an inspiration, demonstrating both the challenges and the possibilities we face in an evolving society. Indeed, "Freedom Writers" continues to resonate in the minds of its audience even years after its release.
In essence, the movie teaches us life-affirming lessons about understanding, compassion, and the power of resilience. With its potent depiction of strength in adversity, "Freedom Writers" is a film that demands to be seen. The introduction to the review stated, watch "Freedom Writers," and as we end, we reiterate – give "Freedom Writers" a watch, not just as a cinematic piece but as a social mirror and catalyst for change.