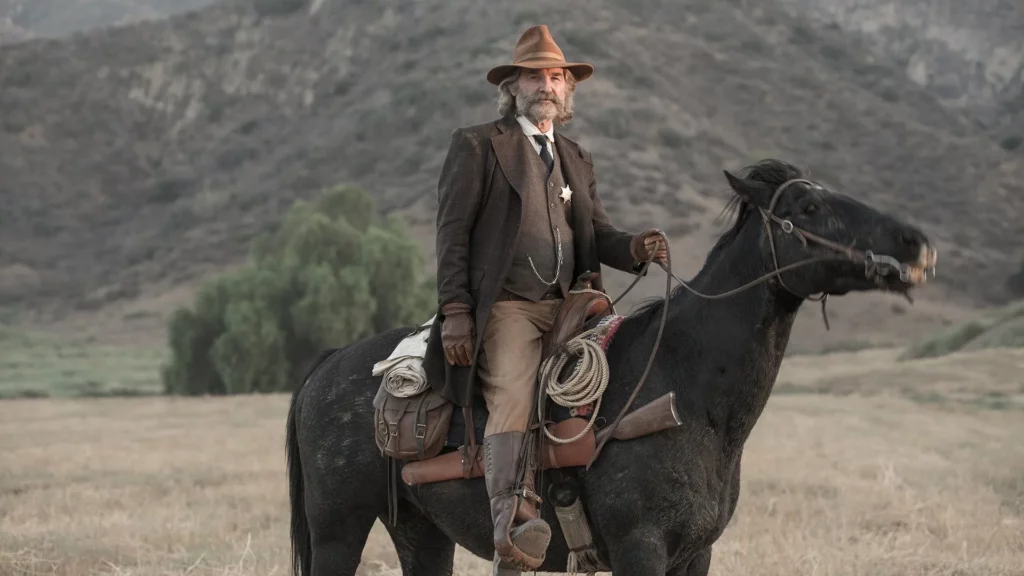 As a cinephile, venturing into the realm of cinema that fuses distinct genres such as Western and horror is genuinely a thrill like no other. There's one particular gem that stands out, and it is, without a doubt, impossible to forget once you've watched: S. Craig Zahler's "Bone Tomahawk." It is the perfect amalgamation of suspense, violence, and fear, a gritty, grinding ride through American Western landscapes infused with a shudderingly real mix of horror. To truly appreciate this rare blend of horror and western, watch Bone Tomahawk and prepare for an unforgettable ride. 
Bone Tomahawk is not streaming in your country?
Any of our picks not streaming in your country? ExpressVPN unlocks Reelgood and all of your streaming services, giving you access to all movies and TV shows from around the world. Stream them from anywhere with a 30-day money-back trial from ExpressVPN.
Unblock Streaming with ExpressVPN (3 months free for Reelgood users!)
Connect to a US or UK server via ExpressVPN.
Let ExpressVPN run in the background as you watch all of your movies and TV shows, securely and with no throttling or bandwidth limits.
Navigating Bone Tomahawk's Unique Plot
It all begins with an enigmatic drifter, Purvis (played by David Arquette), touching the sacred burial ground of the "Troglodytes," a group of brutal, cannibalistic cave dwellers. The story spins into motion when these horrifying creatures abduct the wife of a disabled rancher. The rancher, named Arthur (played by Patrick Wilson), despite his injured leg, insists on being part of the rescue party. Completing the party are the town's sheriff (Kurt Russell), his old deputy (Richard Jenkins), and a flashy gunslinger (Matthew Fox). 
The group embarks on a terrifying rescue mission highlighting the Wild West in a startlingly grotesque view – a horrifying and intriguing narrative in equal measure. The beauty of Bone Tomahawk lies in its impeccable blending of two different film genres that seem incompatible at first glance.
Bone Tomahawk's Conjuring of Western Nostalgia
Western elements flesh out the film in its first half. The setting, costume design, score, and character archetypes echo brilliant Western classics. Wide shots that capture desolate landscapes, gunfights, and horseback chases elicit nostalgia for legendary Western narratives. Zahler's writing shines through his depiction of Western authenticity, from the rugged camaraderie between the actors to the slow-burning tension derived from the looming horror.
Wilder Horrors in Bone Tomahawk
As the film reaches its second half, the narrative veers off from its well-trodden western path and launches viewers straight into a blood-curdling nightmare. The troglodytes are not humans but monstrous aberrations. Their grotesque appearance, grizzly violence, and the chilling noise that they produce send waves of horror through your spine. The climax features one of the most brutal scenes ever crafted in a horror film and manages to remain seared in your memory for a very long time.
The Powerhouse Cast
A discussion of Bone Tomahawk would only be complete by acknowledging the powerhouse performances of its leading actors. As a determined and stubborn Arthur, Patrick Wilson is painfully believable, struggling with his frailty yet refusing to surrender. As Sheriff Hunt, Kurt Russell embodies old-school honor and grit, and Matthew Fox impresses as the morally ambiguous and ruthless Brooder. Richard Jenkins deserves a special mention for his role, embodying an old-world charm, humor, and startling bravery.
An Unforgettable Ride: Who Should Watch Bone Tomahawk?
With a blend of genres, Bone Tomahawk offers something for viewers with different tastes. Those looking for a Western with complex characters, stunning landscape shots, and a raw narrative will enjoy this movie immensely. Moreover, horror enthusiasts who seek intense, violent, and scary movies will find this a refreshing departure from traditional horror.
Delving Deeper into the World of Bone Tomahawk
Bone Tomahawk effectively uses themes of isolation and survival in a ruthless world, adding profound depths to an already intricate movie. The film transports us to the late 1800s, tapping into deeply rooted fears of Western settlement experiences, where the threat of Native attack was genuine. The Troglodytes aren't presented as actual Native Americans but as a removed, monstrous tribe, building a breath-holding atmosphere where impending doom is palpable.
The scenes in Bright Hope, the town where our main characters start their journey, are beautifully shot, presenting a calm before the storm that builds up the suspense exquisitely. The film also engages viewers with its unexpected streaks of humor, often delivered by the character Chicory, played by Richard Jenkins. 
The dialogues are another praiseworthy aspect of Bone Tomahawk. S. Craig Zahler's background as a novelist comes to the fore as characters express their emotions, fears, and motivations in beautifully written dialogues that resonate with viewers, deepening our understanding of their struggles.
The Technical Brilliance in Bone Tomahawk
Bone Tomahawk also stands out for its technical superiority. From the terrifying design of the Troglodytes to the film's unforgettable soundtracks, every technical aspect of the film contributes to setting the stage for an intense Western horror journey. The grating sound the Troglodytes make adds another layer of terror to the narrative, while the cinematography beautifully captures the stark, haunting landscapes of the American West.
Exploring the Stellar Cast of Bone Tomahawk
Bone Tomahawk congregates an unmatched ensemble, each bringing their unique flare to the movie's atmospheric blend of Western and Horror. Despite its low budget, the film boasts an exceptional cast that brings depth and intensity to each character.
Sid Haig, recognized for his roles in Rob Zombie's horror classics, makes an impactful albeit brief appearance at the film's start. His character, Buddy, is short-lived but sets the inflationary sequence of terrifying events into motion. Haig's presence in the movie casts a shadow of foreboding that lays a fantastic groundwork for the horror yet to come.
David Arquette, as Purvis, brings a characteristically unreliable and nervy character. His portrayal of the paranoid wanderer and the doom he unwittingly brings upon the town leaves a lasting impression.
As Samantha O'Dwyer, the abducted wife and the town's doctor, Lili Simmons renders a robust performance. Her courage in facing the horrifying Troglodytes adds an element of resilience to the narrative.
Sean Young, famous for her role in "Blade Runner," is cast as Mrs. Porter, whose brief but impressive depiction of a woman lost amid the chaos adds another layer of depth to the town's panicked state.
The troglodyte tribe's actors deserve mention for their delivery of menace without dialogue, particularly the menacing Wolf, played by stunt veteran David Midthunder. Their performance amplifies the looming horror and impending danger our main characters face.
Seeing this phenomenal cast in action is reason enough to watch Bone Tomahawk. Their combined performances bring authenticity and a sense of raw fear to this hybrid-esque movie, proving that successful genre-blending is not just a director's game but can be considerably contributed by a powerful cast.
A Glimpse Into The Dreadful: The Trailer Of Bone Tomahawk
Why Watch Bone Tomahawk?
Despite the gore and violence, Bone Tomahawk is a film embedded with a deep understanding of human nature and the lengths individuals will go to protect their kin and community. Zahler plays with our expectations, constantly shifting between suspense, horror, and action in uniquely captivating ways. 
Bone Tomahawk is an exciting venture for viewers aiming to graduate from mainstream movie genres and experience something truly different. To fully grasp this film's emotional depth, gripping tension, and chilling terror, one must watch Bone Tomahawk and embrace the memorable journey into the darker side of the Western genre.
Conclusion
Bone Tomahawk thrives on its distinctive treatment of two genres and blurs the lines between them seamlessly. Zahler's skillful storytelling, commendable actor performances, and unforgettable plot shocks have crafted an unparalleled cinematic piece. An unforgettable spectacle of spine-chilling horror blended with rugged Western charm, this film is a must-watch for any movie enthusiast. So grab your popcorn, dim the lights, and watch Bone Tomahawk for an immersive cinematic experience of a unique blend of Western and horror.