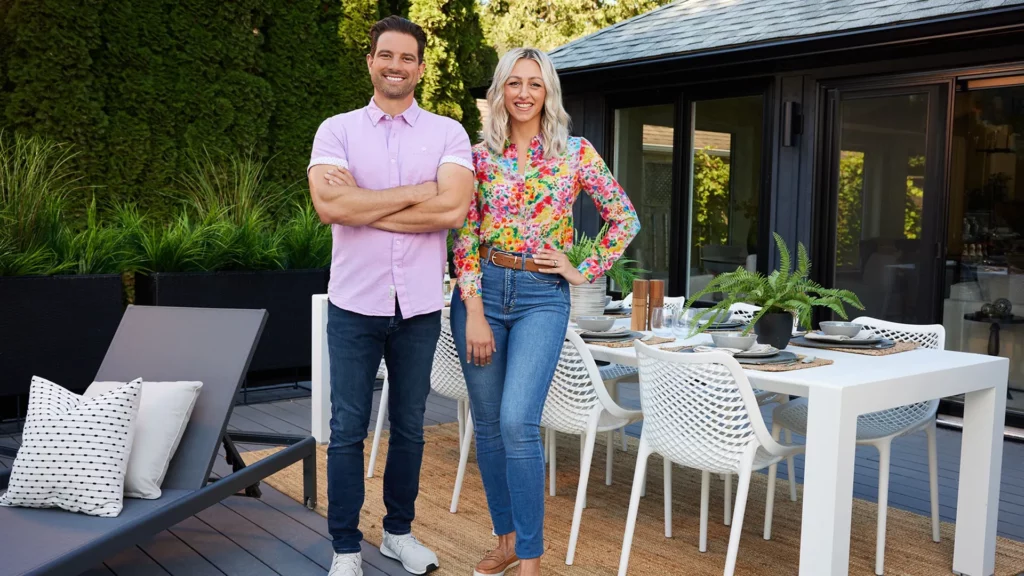 Get ready to embark on another thrilling season of Vacation House Rules! The hit home renovation series has captured the hearts of viewers with its captivating transformations and stunning designs. As we dive into Season 4, anticipation is at an all-time high, and fans can't wait to see what host Scott McGillivray has in store for us. In this article, we'll be unveiling the exciting details you've been waiting for, including the highly-anticipated release date, an exclusive look at the thrilling trailer, an introduction to the talented cast, and all the essential information you need to know about this season. So buckle up and get ready for a wild ride as we delve into the world of Vacation House Rules – Season 4!
Unlock Your Access: How to Watch Vacation House Rules – Season 4 from Any Country
Step-by-Step Guide: How to Watch Vacation House Rules – Season 4 from Any Country
HGTV: One of the primary platforms to watch Vacation House Rules – Season 4 is HGTV. If you have a cable or satellite TV subscription that includes HGTV, you can enjoy the show on this channel. Check with your local TV provider for availability.
DIRECTV STREAM: DIRECTV STREAM is a streaming service that offers HGTV in its channel lineup. Subscribe to DIRECTV STREAM and choose a package that includes HGTV to access Vacation House Rules – Season 4. Take advantage of its on-demand feature to watch episodes at your convenience.
fuboTV: fuboTV is a live TV streaming service that includes HGTV in its channel offerings. Sign up for a fuboTV subscription and select a plan that provides access to HGTV. With fuboTV, you can watch Vacation House Rules – Season 4 live as it airs or use their cloud DVR feature to record and watch later.
Philo: Philo is another streaming service that carries HGTV. Subscribe to Philo and gain access to HGTV's content, including Vacation House Rules – Season 4. Philo offers an affordable and ad-free streaming experience, making it an excellent choice for budget-conscious viewers.
Discovery+: Discovery+ is a dedicated streaming platform for Discovery-owned networks, including HGTV. By subscribing to Discovery+, you can watch Vacation House Rules – Season 4 and other HGTV shows on-demand, anytime you want. Explore their vast library of content and enjoy exclusive features.
MAX: MAX is another streaming service that provides access to HGTV's shows. Subscribe to MAX and gain entry to Vacation House Rules – Season 4. MAX offers a user-friendly interface and a wide range of programming options, making it a convenient choice for streaming enthusiasts.
Install a VPN: If you are located in a region where access to these streaming services is limited, installing a VPN (Virtual Private Network) is recommended. ExpressVPN is highly suggested for its reliability and ability to bypass geo-restrictions. With a VPN, you can connect to a server in a different country where the streaming service is available, allowing you to watch Vacation House Rules – Season 4 from anywhere in the world.
By following these steps, you can access and watch Vacation House Rules – Season 4 from any country, enjoying the captivating home makeovers and design transformations that the show has to offer. Choose the streaming service that suits your preferences and make the most of your viewing experience!
Unveiling the Charm of Vacation House Rules – Season 4: What Sets It Apart from Previous Seasons and Movies
In the thrilling fourth season of Vacation House Rules, host and design expert Scott McGillivray returns with a fresh array of stunning transformations. Set in picturesque vacation destinations, each episode follows Scott as he works his magic on tired properties, turning them into dreamy retreats. From beachside cottages to mountain chalets and everything in between, Season 4 promises a captivating journey filled with jaw-dropping renovations, creative design solutions, and heartwarming stories. With each episode, viewers can expect a mix of surprising challenges, innovative design concepts, and a renewed emphasis on creating memorable spaces that capture the essence of vacation living. Get ready to embark on a captivating adventure as Vacation House Rules – Season 4 takes renovation and relaxation to exhilarating new heights.
Revisiting the Renovation Extravaganza: A Quick Recap of Vacation House Rules – Season 3
In Vacation House Rules – Season 3, we witnessed a whirlwind of renovation adventures as host Scott McGillivray and his team transformed vacation properties into dream getaways. From stunning beachfront retreats to cozy mountain cabins, each episode brought new challenges and inspiring design solutions. Scott's expertise and creativity shone through as he tackled outdated layouts, weathered exteriors, and outdated decor. Along the way, we saw homeowners' visions come to life, their vacation dreams fulfilled, and lasting memories created. As we embark on Season 4, let's take a moment to recap the highlights and key moments from the previous season, setting the stage for the exciting journey that lies ahead.
Unveiling the Release Date and Analyzing the Thrilling Trailers of Vacation House Rules – Season 4
In the highly-anticipated Vacation House Rules – Season 4 trailer, we are treated to a tantalizing glimpse of the adventures that lie ahead. The trailer opens with breathtaking aerial shots of stunning beachfront properties, setting the stage for another season of awe-inspiring transformations. With the charismatic host, Scott McGillivray, leading the charge, we can expect nothing short of jaw-dropping makeovers and ingenious design solutions.
As the trailer unfolds, we catch glimpses of the challenges that await Scott and his team. From dilapidated cottages to outdated interiors, it's clear that this season will push the boundaries of creativity and resourcefulness. But fear not, for Scott is armed with his signature enthusiasm and expertise, promising to turn these neglected properties into dream vacation getaways.
Another exciting aspect teased in the trailer is the introduction of new design trends and innovative ideas. From open-concept living spaces to cutting-edge technology integration, Vacation House Rules – Season 4 promises to be a showcase of the latest design trends that will inspire viewers to reimagine their own spaces. With Scott's expert guidance, viewers can look forward to discovering fresh design concepts that will elevate their own vacation retreats.
As for the release date,The show was released last June 3, 2023 the much-anticipated return of Vacation House Rules – Season 4 is already out. The wait is finally over, and fans are already prepared to embark on a thrilling journey of transformation, inspiration, and jaw-dropping reveals.
Meet the Cast and Crew of Vacation House Rules – Season 4: New Faces and Familiar Favorites
Scott McGillivray (Host and Renovation Expert): As the host and renovation expert of Vacation House Rules, Scott McGillivray continues to impress with his vast knowledge and experience in real estate, design, and construction. With his passion for transforming vacation properties, Scott brings a fresh perspective to each project and guides homeowners towards creating their dream vacation homes.
New Homeowners: Season 4 introduces a new group of homeowners who are eager to renovate their vacation properties and make them more functional, stylish, and inviting. Each homeowner brings their unique vision and personal preferences, adding diversity and variety to the season's projects.
Design and Construction Team: Assisting Scott in bringing the homeowners' dreams to life is a talented team of designers, contractors, and tradespeople. Their skills and craftsmanship are crucial in executing the renovations, ensuring that every detail is carefully considered and executed with precision.
Guest Experts: Throughout the season, Vacation House Rules welcomes guest experts who specialize in specific areas of design and renovation. These experts offer their insights, advice, and expertise to help Scott and the homeowners achieve the best possible results.
While some familiar faces return to Season 4, the introduction of new homeowners and potential shifts in roles among the crew bring fresh energy and dynamics to the show. Viewers can anticipate engaging storylines, exciting transformations, and the collaborative efforts of the cast and crew to make each vacation house a true gem.
Unlocking the Charm: Top Reasons to Dive Into Vacation House Rules – Season 4
In Vacation House Rules – Season 4, fans can expect an exhilarating and captivating journey as they follow host Scott McGillivray and his expert team in transforming vacation properties into stunning dream escapes. The article highlighted the anticipation surrounding the upcoming season, and here are three compelling reasons why fans should not miss out on this exciting installment:
Fresh Challenges and Inspiring Transformations: Season 4 promises a new set of unique vacation properties, each with its own set of challenges and opportunities. From rustic cabins to beachfront getaways, viewers will witness remarkable transformations as Scott and his team unleash their creativity and expertise to turn these spaces into dream vacation homes. The transformations are bound to inspire and ignite viewers' imagination.
Engaging Storytelling and Expert Insights: Vacation House Rules not only showcases stunning home makeovers but also provides valuable insights into the world of real estate, design, and renovation. As Scott and his team share their expertise and behind-the-scenes knowledge, viewers can gain valuable tips and tricks for their own renovation projects or simply enjoy learning about the latest design trends and techniques.
Scott McGillivray's Charismatic Hosting: Scott McGillivray, the charismatic host of Vacation House Rules, has become a household name in the world of home renovation and real estate. His passion, expertise, and engaging on-screen presence make him a fan favorite. Season 4 offers an opportunity to witness Scott's infectious energy and unwavering dedication as he tackles new challenges and guides viewers through the renovation process.
Inspirational Destination Ideas: Along with the breathtaking transformations, Vacation House Rules – Season 4 takes viewers to stunning locations that serve as the backdrop for these incredible vacation properties. From tranquil lakeside retreats to picturesque coastal settings, viewers can indulge in the beauty of these destinations and gather inspiration for their own future travel plans.
Surprise Twists and Unexpected Surprises: The article hinted at exciting twists and surprises in Season 4, ensuring that viewers will be kept on the edge of their seats. Whether it's unexpected design choices, surprising discoveries during the renovation process, or delightful guest appearances, the upcoming season is set to deliver plenty of thrilling moments that will keep fans eagerly anticipating each episode.
Overall, Vacation House Rules – Season 4 promises an irresistible blend of stunning transformations, expert insights, and captivating storytelling. With fresh challenges, Scott's magnetic hosting, and the allure of inspirational destinations, this season is undoubtedly a must-watch for fans eager to witness the magic of turning vacation properties into extraordinary dream getaways.