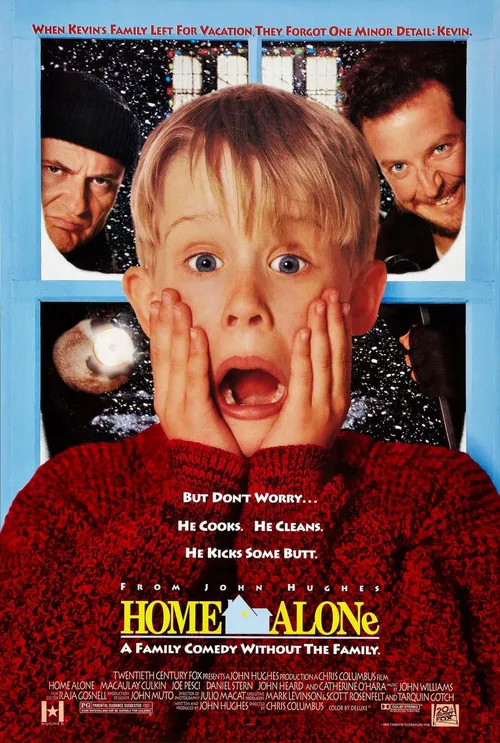 Ah, Christmas time! The most wonderful time of the year is here, bringing twinkling lights, festive decorations, and all of your favorite Christmas movies. And if you're looking for the best place to watch them, you've come to the right place. HBO-Max has you covered with its selection of heartwarming and jolly Christmas movies!
If you're looking for a classic Christmas movie to watch with your family, look no further than Home Alone. This iconic movie is perfect for all ages and will have you laughing and crying equally. It follows the mischievous Kevin McCallister as he defends his home from two bumbling burglars. It's a great reminder of the power of family and the joy of the Christmas spirit!
Home Alone Casts and Characters
Kevin McCallister – Macaulay CulkinHarry – Joe Pesci Marv – Daniel Stern Buzz – Devin Ratray Peter McCallister – John Heard Kate McCallister – Catherine O'Hara Marley – Roberts Blossom Uncle Frank – Gerry Bamman Aunt Leslie – Terrie Snell Old Man Marley – John Candy
For a more heartwarming Christmas movie, you can't go wrong with Elf. Starring Will Ferrell, this movie follows Buddy the Elf as he travels from the North Pole to New York City to find his real father. Along the way, he learns Christmas's true meaning and family's importance. It's sure to bring a smile and a warm feeling to your heart!
Buddy the Elf – Will Ferrell Walter Hobbs – James Caan Emily Hobbs – Mary Steenburgen Michael Hobbs – Daniel Tay Jovie – Zooey Deschanel Deb – Amy Sedaris Leon the Snowman – Leon Redbone Santa Claus – Edward Asner
If you're in the mood for a romantic Christmas movie, The Holiday is just the thing. This delightful movie stars Cameron Diaz and Kate Winslet as two women who swap homes for the holidays. They come to learn that love can be found in unexpected places. It's a great reminder that the holidays are a time to find joy in the little things.
The Holiday Casts and Characters
Amanda Woods – Cameron Diaz Iris Simpkins – Kate Winslet Miles – Jack Black Graham – Jude Law Arthur Abbott – Eli Wallach Maggie – Rufus Sewell
If you're looking for something a bit more light-hearted, The Nightmare Before Christmas is the perfect movie. This classic film follows Jack Skellington, the Pumpkin King of Halloween Town, as he attempts to bring Christmas to his town. It's a unique and charming movie that will have you laughing and singing along.
The Nightmare Before Christmas Casts and Characters
Jack Skellington – Chris Sarandon Sally – Catherine O'Hara Oogie Boogie – Ken Page Mayor of Halloween Town – Glenn Shadix Santa Claus – Edward Ivory Zero – Frank Welker
Finally, you can't go wrong with The Polar Express for a truly magical Christmas movie. This beautiful movie follows a young boy as he journeys on a mysterious train to the North Pole, where he learns the true meaning of Christmas. The stunning animation, thrilling soundtrack, and touching story make this a must-watch for any Christmas movie lover.
The Polar Express Casts and Characters
Hero Boy – Tom Hanks Hero Girl – Nona Gaye Conductor – Michael Jeter Hobo – Charles Fleischer Ghost of Christmas Past – Peter Scolari Santa Claus – Tom H
So, if you're looking for the perfect way to get into the holiday spirit, these Christmas movies on HBO Max are sure to do the trick. Whether you're looking for a classic, a heartwarming story, a romantic comedy, or a unique adventure, there's something for everyone on HBO-Max. So, grab some hot cocoa, snuggle up with your loved ones, and enjoy these joyful and jolly Christmas movies.