Since its debut in 2008, the television series "Sons of Anarchy" has captivated audiences with its gritty portrayal of life in the fictional town of Charming, California. With its memorable cast of characters, the show's gripping storylines, and compelling performances, "Sons of Anarchy" has become a fan-favorite and has earned its place in television history.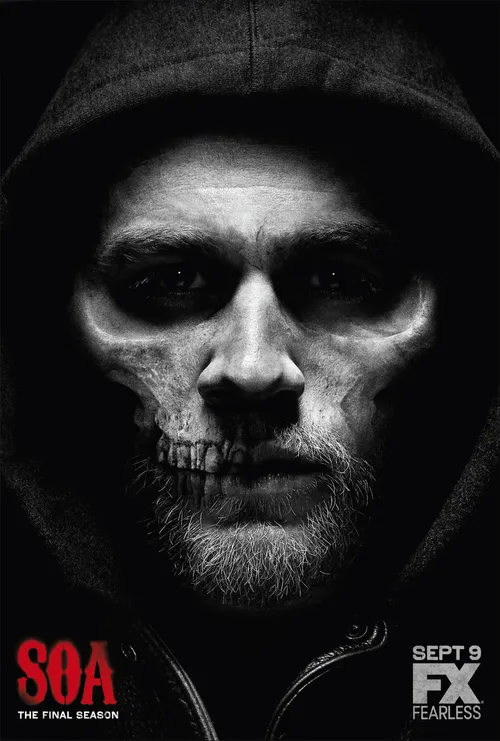 The series follows the adventures of Jax Teller, a former vice president of the motorcycle club SAMCRO (Sons of Anarchy Motorcycle Club Redwood Original). Jax, played by Charlie Hunnam, is the son of the founder of the club, John Teller, and is struggling to balance his responsibilities as a family man with his loyalty to the club. Throughout the series, viewers watch as Jax and the other members of SAMCRO take on various criminal organizations and deal with personal and professional issues.
Alongside Hunnam, the series' ensemble cast includes Katey Sagal as Gemma Teller, Jax's mother and SAMCRO's matriarch; Ron Perlman as Clay Morrow, Jax's stepfather and former President of SAMCRO; Mark Boone Junior as Bobby Munson, SAMCRO's loyal Sergeant-at-Arms; Tommy Flanagan as Chibs Telford, a Scottish former military man, and SAMCRO's current Vice President; Kim Coates as Tig Trager, SAMCRO's weapons specialist; Ryan Hurst as Opie Winston, Jax's best friend, and SAMCRO's road captain; and Maggie Siff as Tara Knowles, Jax's wife, and a doctor at Charming Hospital.
The show also features an impressive roster of guest stars, including the likes of Marilyn Manson, Jimmy Smits, Francesco Quinn, and Danny Trejo. The show has won numerous awards, including a Golden Globe for Sagal's performance as Gemma Teller and a Peabody Award for Outstanding Achievement in Television.
Though the series has ended, the legacy of "Sons of Anarchy" and its cast will live on. The show has become an iconic representation of the motorcycle lifestyle, and its characters have become beloved by fans. The show's strong ensemble cast has been praised for its powerful performances and has inspired a new generation of actors. The series' impact has been so significant that the cast members have become forever linked in the hearts and minds of viewers. The series has inspired many spin-off series and has gained a cult following of loyal fans.
The "Sons of Anarchy" cast will always be remembered for their hard work and dedication to the show's success. Their performances and characters will live on for generations to come, and their legacy is sure to endure for many years to come. As fans say goodbye to the series' beloved characters, the legacy of "Sons of Anarchy" is sure to live on.