"What if there was an app that both you and your partner have, where you both swipe right or left on movies that are on your streaming services and when you find a match it lets you know?"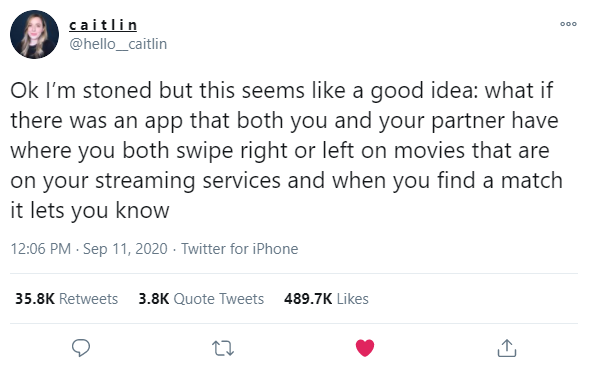 Over 489,000 likes later, we're excited to say: IT'S ALIVE!
With "Swipe with Friends," we're aiming to end the nightly household conflict around what to watch. Especially with many people getting more household time than ever.
Why we think it's great:
ONLY YOUR SERVICES: Reelgood's filters cover 150+ streaming services in the US & UK, so you'll only match with movies & shows you can stream.
EASY & FAST: No app to download, no account needed. Just share a url and you can be swiping with friends in seconds.
GOOD SUGGESTIONS: Reelgood's recommendations system combined with filters for IMDb score, genre, release year, and more will get you relevant titles to swipe thru, not just a random assortment.
Short of high-jacking the remote and going full dictator, we genuinely believe this is the fastest way to find something to watch with your partner, a group, a friend, or anyone you want to watch-party with.