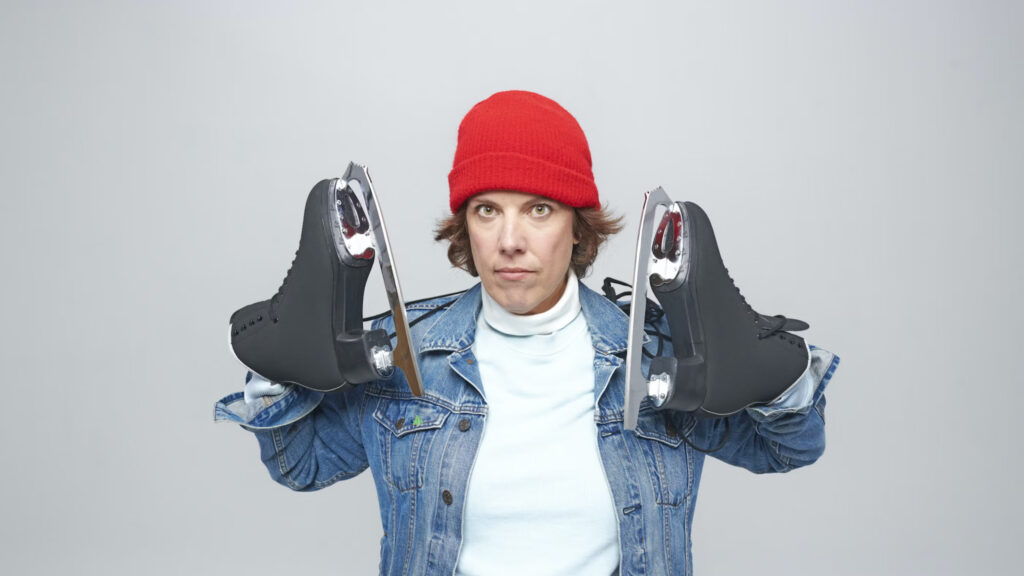 I Have Nothing takes you on a whimsical ride with Carolyn Taylor, the captivating Canadian comedian renowned for her Baroness Von Sketch Show stint. The docuseries promises laughs and surprises as it follows Carolyn's daring escapade: creating a pairs figure skating routine set to Whitney Houston's iconic hit. The kicker? Carolyn isn't a trained figure skater, adding a delicious layer of unpredictability to her journey.
If you're in the US and are wondering how to be part of this unique adventure, worry no more. I highly recommend ExpressVPN, a user-friendly tool that allows you to enjoy the series as if you're in Canada. Now you can revel in Carolyn Taylor's audacious quest, appreciating the blend of comedy and courage that makes this show a must-watch.
Step-by-Step: How to watch I Have Nothing in the US on Crave using a VPN
Select a VPN service that is optimized for streaming. We recommend ExpressVPN
Download the VPN and connect to the Canadian server.
Log in to Crave.
Find I Have Nothing and stream it no matter where you are!
I Have Nothing Synopsis
I Have Nothing serves as a comedic rollercoaster ride that trails Carolyn Taylor in her audacious attempt to craft a pairs figure skating routine, synchronized to Whitney Houston's legendary 1992 hit. Kicked off by her teenage fascination with the 1988 Calgary Olympics and her own coming-of-age journey, the series soon pivots into an earnest, high-stakes endeavor. What adds a pinch of intrigue is Carolyn's complete absence of formal figure skating skills, yet her unwavering resolve to make this imaginative project a reality.
As the series unfolds, Carolyn joins forces with an impressive lineup of figure skating greats, such as Sandra Bezic, David Pelletier, Ekaterina Gordeeva, and others. The crescendo of her quest comes to life in a self-choreographed routine, executed in front of a riveted live audience that includes figure skating aficionados, legendary skaters, and her own childhood heroes. This docuseries uniquely stitches together elements of humor, tenacity, and the chase of a seemingly unattainable dream.
I Have Nothing Cast
In I Have Nothing, comedian Carolyn Taylor steps into the spotlight as the series' daring protagonist, who takes on the herculean task of choreographing a pairs figure skating routine. She's not going it alone, though; she's flanked by a star-studded panel of figure skating luminaries like Sandra Bezic, David Pelletier, Ekaterina Gordeeva, Brian Orser, Kurt Browning, Paul Martini, and Barbara Underhill. Each brings their unique expertise to the table, assisting Carolyn in her audacious endeavor. Additionally, Mae Martin, a celebrated comedian, actor, and writer, injects a significant layer of depth into the series.
Not to be left out, the show also features guest stars such as Jully Black, Sabrina Jalees, and Elvira Kurt. Their appearances infuse the series with extra flair, rounding out a compelling cast that weaves together humor, skilled figure skating, and a light-hearted but determined quest for excellence.
When does I Have Nothing premiere?
I Have Nothing is slated for its grand debut on Saturday, September 23, 2023, at 9 PM ET on Crave.
How many episodes does I Have Nothing have?
I Have Nothing offers a binge-worthy experience with a total of 6 episodes, all available from day one of the series premiere. This lets you dive into Carolyn's unique figure-skating adventure without pause.
Episode 1: Package for the Bird
Carolyn kicks off her dream to choreograph a unique figure skating routine by beginning her search for the perfect skating pair.
Episode 2: Do You Know About the Cold War
Carolyn gets a reality check from Olympic medalists but strikes a chord with a social media star.
Episode 3: Love is Pain
Carolyn turns to skating legends from the 1988 Olympics to prep for her first-ever rehearsal.
Episode 4: No Longer a Joke
Carolyn faces an uphill battle to win over her Olympic-level skaters during the initial rehearsal.
Episode 5: Today is Wednesday
With the clock ticking and only two days left for choreography, Carolyn brings an Olympic-level twist to the table, creating a tense atmosphere as departure day nears for the skaters.
Episode 6: Buffoon Makes Good
As the final performance looms, Carolyn and her skaters find themselves at the intersection of dreams and reality, making last-minute preparations before the curtain rises.
I Have Nothing Trailer
Check out the trailer here.
Start Watching I Have Nothing Now
If you're ready for a rollercoaster ride through the world of figure skating and comedy, I Have Nothing is your must-watch show this season. Dive into Carolyn Taylor's audacious adventure as she attempts to choreograph a figure skating routine despite having zero professional experience. With six episodes available right from the premiere date, it's the perfect binge-worthy pick for an engrossing weekend.
For viewers outside of Canada, don't worry; you don't have to miss out on this intriguing journey. I highly recommend using ExpressVPN, which allows you to stream the show on Crave as if you were in Canada. With its reliable service, you won't have to wait to be a part of Carolyn's dream-turned-reality story.