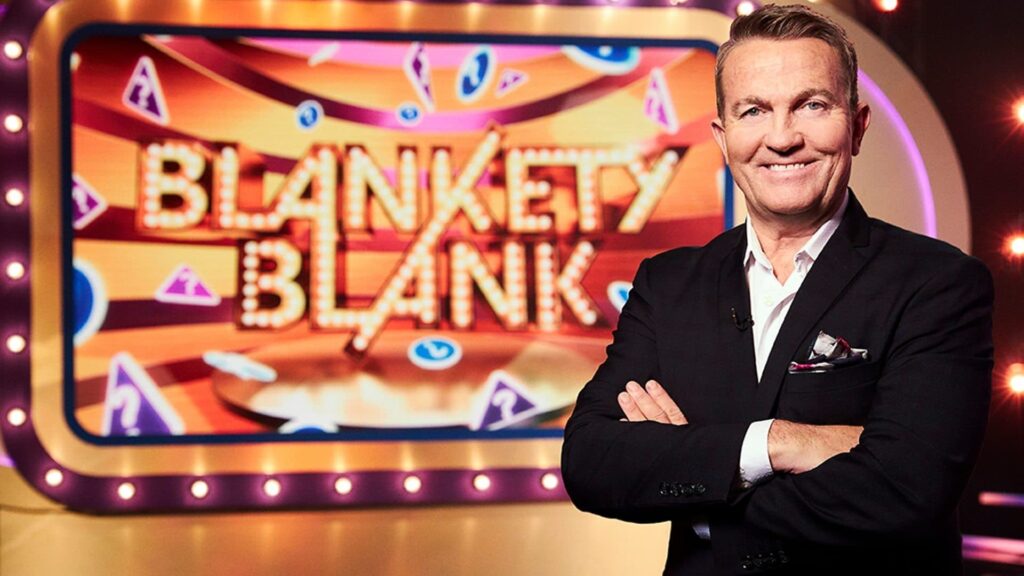 Prepare for a trip down memory lane with a modern twist. The iconic game show Blankety Blank 2023 has returned, featuring the charismatic Bradley Walsh as host. Six celebrities join the fun, helping contestants solve the game's missing blanks. After a successful reboot last year that garnered almost 6 million viewers, the show is back for a 10-episode run, sealing its grand comeback after nearly two decades off the air.
For those of you in the US, who might be struggling with geo-restrictions, there's good news. I highly recommend using ExpressVPN to unlock access and stream the show seamlessly. With its excellent security and ease of use, ExpressVPN ensures you won't miss a single laugh or blank-filled moment of this renewed classic.
Step-by-Step: How to watch Blankety Blank 2023 in the US on BBC iPlayer for free using a VPN
Select a VPN service that is optimized for streaming. We recommend ExpressVPN
Download the VPN and connect to the UK server.
Log in to BBC iPlayer.
Find Blankety Blank 2023 and stream it no matter where you are!
Blankety Blank 2023 Synopsis
Blankety Blank 2023 is a captivating comedy quiz show that makes its triumphant return with Bradley Walsh at the helm. On this show, contestants team up with a panel of six stellar celebrities to fill in the blanks and compete for fantastic prizes. Although the series could technically be considered Season 20, the BBC is marketing it as Season 3, signaling a fresh start.
Bradley Walsh once again masterfully guides both celebrities and contestants through a series of exhilarating rounds, all while competing for an array of exceptional prizes. The reboot pays homage to its roots by preserving the cherished theme music and the show's hallmark reward: the Blankety Blank chequebook and pen.
Blankety Blank 2023 Cast
Main cast members of Blankety Blank 2023 includes:
In the premiere episode of this fresh series, Bradley Walsh shares the stage with an illustrious guest panel featuring Rylan Clark, Emma Willis, Desiree Burch, Sue Perkins, Anita Rani, and Iain Stirling.
Host
Bradley Walsh, now the show's sixth emcee, follows in the celebrated lineage of Vernon Kay and David Walliams, who took the hosting reins for special episodes in 2007 and 2016, respectively. Walsh makes a welcome return as the guiding force, expertly steering both celebrity panelists and contestants through multiple rounds of competition for one-of-a-kind prizes. He expresses enthusiasm for the show's format, lauding the comedic talent of the panel while shining the spotlight on the contestants as the true heroes of the show. Eagerly awaiting his return to the studio, Walsh is visibly thrilled about the upcoming filming.
When does Blankety Blank 2023 premiere?
The 2023 season of Blankety Blank is slated to make its grand debut on Monday, September 23, 2023, at 9:30 pm, exclusively on BBC iPlayer in the UK.
How many episodes does Blankety Blank 2023 have?
Blankety Blank returns for a captivating 10-episode run, each episode clocking in at 35 minutes. The previous series, the first in nearly two decades, pulled in an impressive average of nearly 6 million viewers. Below is your must-see episode guide.
Season 3 Episode 1 (September 23, 2023)
Bradley Walsh takes center stage as host, joined by an ensemble of celebrity panelists like Rylan Clark, Emma Willis, Desiree Burch, Sue Perkins, Anita Rani, and Iain Stirling. Together, they assist contestants in completing missing phrases, all while battling for exceptional prizes.
Season 3 Episode 2 (September 30, 2023)
Bradley Walsh continues his role as the charismatic host, this time alongside celebrity panelists Jason Watkins, Layton Williams, Anthea Turner, Rob Beckett, Nadia Jae, and Jill Scott. Contestants vie for top-tier prizes by filling in missing phrases, ensuring an entertaining show.
Season 3 Episode 3 (October 7, 2023)
Season 3 Episode 4 (October 14, 2023)
Season 3 Episode 5 (October 21, 2023)
Season 3 Episode 6 (October 28, 2023)
Season 3 Episode 7 (November 4, 2023)
Season 3 Episode 8 (November 11, 2023)
Season 3 Episode 9 (November 18, 2023)
Season 3 Episode 10 (November 25, 2023)
Blankety Blank 2023 Trailer
Start Watching Blankety Blank 2023 Now
Prepare to get hooked as Blankety Blank 2023 hits your screens with more laughs, celebrity appearances, and enthralling episodes. Bradley Walsh returns as the charismatic host, leading a panel of celebrity experts in assisting contestants to fill in the blanks for a chance at extraordinary prizes. If you're a fan of quiz shows with a comedic twist, this is one you don't want to miss.
For those outside the UK, there's no reason to feel left out. I highly recommend using ExpressVPN, an easy-to-use service that lets you change your location to the UK, giving you full access to BBC iPlayer. Now, you can catch all the hilarious antics and twists that Blankety Blank 2023 has to offer, no matter where you are in the world.