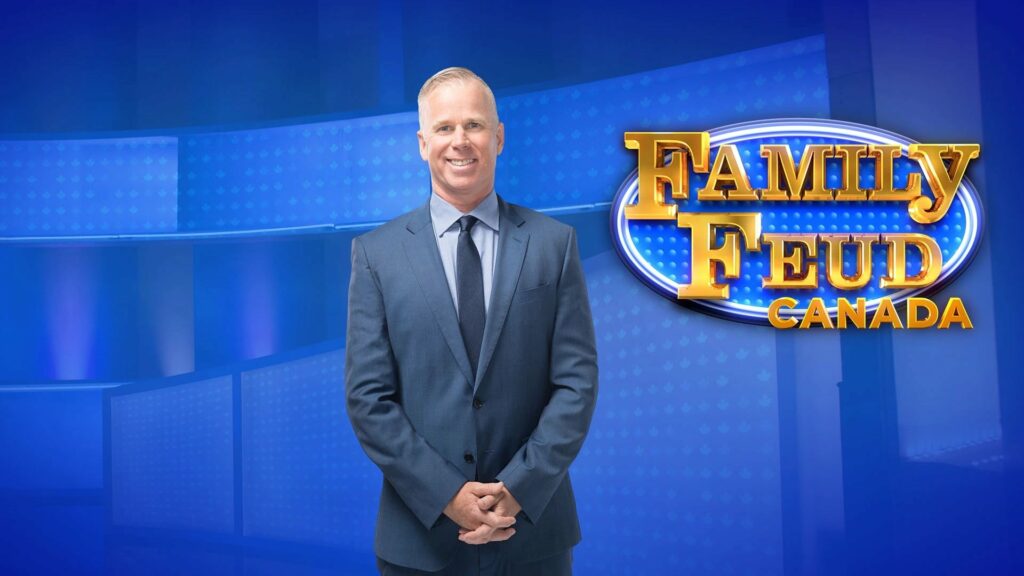 Family Feud Canada is upping the ante this season with a riveting special: Teachers' Week. Hosted by the charismatic Gerry Dee, it promises a delightful blend of competition and camaraderie as eight top-notch Canadian schools and their dedicated educators battle it out, all with a noble cause – enriching the lives of their students. It's a refreshing twist on the classic show, marrying fervor with feel-good moments that viewers won't want to miss.
For those in Australia itching to get a piece of this heartwarming action, fret not. To ensure you don't miss out, We'd suggest using ExpressVPN to stream every electrifying moment. Dive into this special week, and cheer on these educators as they play for more than just bragging rights!
Step-by-Step: How to watch Family Feud Canada Season 5 in Australia on CBC for free using a VPN
Select a VPN service that is optimized for streaming. We recommend ExpressVPN
Download the VPN and connect to the Canadian server.
Log in to CBC.
Find Family Feud Canada Season 5 and stream it no matter where you are!
Family Feud Canada Season 5 Synopsis
Family Feud Canada takes the essence of the globally-acclaimed game show and gives it a Canadian twist. Families from diverse corners of Canada challenge each other, aiming to guess top survey answers and clinch a whopping $30,000 prize.
This season, the excitement reaches new heights with Family Feud Canada Teachers' Week. Spearheaded by the dynamic Gerry Dee, eight esteemed Canadian schools and their educators lock horns, not just for bragging rights, but for a generous $10,000. This prize, earmarked for vital school equipment and resources, adds an emotional layer to the contest, blending nail-biting rivalry with heartfelt moments.
Originating in 1976, Family Feud has stood the test of time. Today, it's a household name in over 71 countries, including powerhouses like the US, UK, Canada, Australia, and India, maintaining its spot as a global TV favorite.
Family Feud Canada Season 5 Cast
Family Feud Canada Season 5: Participants
From Queen Elizabeth Secondary School, meet the spirited educators: Mr. Bowie, Ms. Calbick, Mrs. Muirhead, Mr. Badwal, and Mr. Klein.
École Westlock Elementary School boasts a dynamic team with Mrs. Roberts, Ms. Biberdorf, Mlle. Thompson, Mrs. Evans, and Ms. Johnston.
Oceanview Education Centre presents a strong lineup: Mrs. Bradbury, Mrs. Roach, Mrs. Tracey, Mr. Sidney, and Mrs. MacNeil.
At Cedarbrae Collegiate Institute, the torchbearers are Ms. Richards-Sauer, Ms. McLeod, Ms. Hall, Ms. Young, and Mr. Reznicki.
J.V. Clark School steps forward with its passionate faculty: Mr. Stauffer, Mr. Reid, Ms. Caroline, Ms. McCauley, and Ms. Amy.
Salisbury Composite High School showcases its stellar staff: Mr. Latte, Mrs. Tomkow, Mr. Van Drunen, Mr. Brown, and Ms. Khunkhun.
Representing Avon View High School are the dedicated Ms. Campbell, Mr. Earley, Ms. Clairmont, Mr. Davies, and Ms. Pollard.
Finally, Bernice MacNaughton High School introduces its vibrant teaching brigade: Mrs. Moore, Mrs. Touchie, Mr. Cormier, Mrs. Dominie, and Mr. Matheson.
When does Family Feud Canada Season 5 premiere?
Family Feud Canada Season 5 is gearing up for a grand premiere on September 18th. Tune in at 7:30 PM local time to catch the live action. Starting 9 AM ET on Monday, September 18, 2023, the fun continues till Thursday, September 21, 2023.
How many episodes does Family Feud Canada Season 5 have?
Family Feud Canada Season 5 Episode Guide:
Season 5 Episode 1: 11 Sept 2023
Season 5 Episode 2: 12 Sept 2023
Season 5 Episode 3: 13 Sept 2023
Season 5 Episode 4: 14 Sept 2023
Season 5 Episode 5: 25 Sept 2023
Season 5 Episode 6: 26 Sept 2023
More episodes to be announced soon. Stay tuned!
Family Feud Canada Season 5 Trailer
CBC is keeping the excitement brewing, as the trailer for Family Feud Canada Season 5 is yet to drop. Stay on the lookout for updates and gear up for the forthcoming season!
Start Watching Family Feud Canada Season 5 Now
As the anticipation builds, fans worldwide are gearing up for the premiere of Family Feud Canada Season 5. With a fresh batch of episodes and the exciting introduction of the first-ever Teachers' Week, this season promises to be more thrilling than ever. While CBC is yet to unveil the official trailer, the buzz is undeniable, and you wouldn't want to miss a moment of this iconic game show.
For those outside of Canada eager to jump on the Family Feud bandwagon, there might be geographical restrictions. But worry not! We've got a solution. We recommend ExpressVPN to seamlessly stream the show. Not only does it ensure a smooth viewing experience, but it also lets you be among the first to catch all the fun, laughs, and intense competition of this beloved Canadian game show. Happy watching!