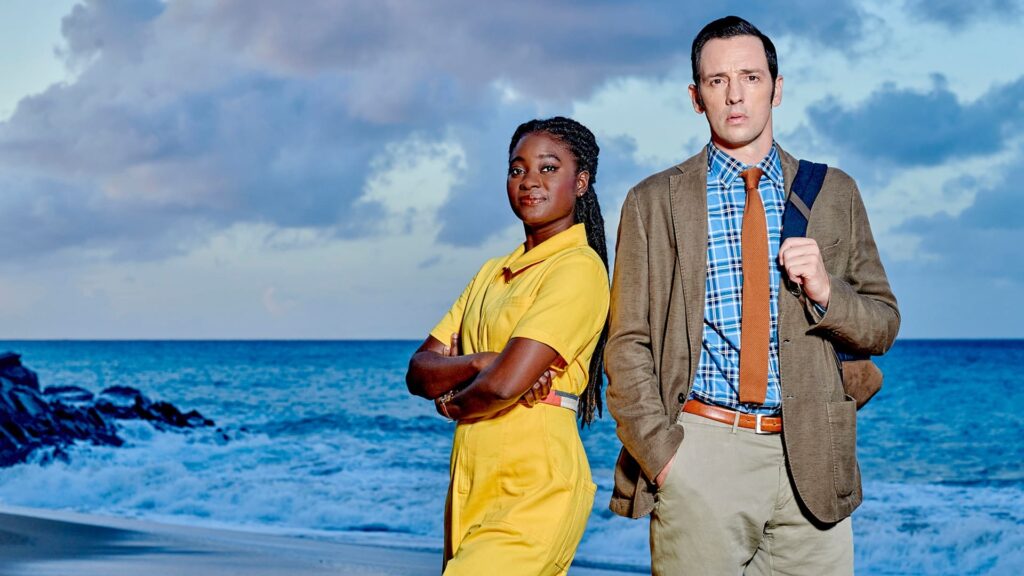 Death in Paradise has done it again! After the roaring success of its 2021 Christmas special, the hit TV show just wrapped up its second festive episode, drawing in a whopping eight million viewers. The vibrant island of Saint Marie in the Caribbean awaits as fans eagerly anticipate the launch of Season 12. Here, detective Parker will dive deep into a series of enthralling murder mysteries.
For those in the US who don't want to miss out on these captivating island escapades, I've got good news. There's a solution for easy viewing access: I'd recommend ExpressVPN. This tool ensures you're right there on Saint Marie, following every twist and turn Detective Parker takes. Dive in and savor every suspense-filled moment.
Step-by-Step: How to Watch Death in Paradise in the US for Free on BBC iPlayer using a VPN
Select a VPN service that is optimized for streaming. We recommend ExpressVPN
Download the VPN and connect to the UK server.
Log in to BBC iPlayer.
Find Death in Paradise Season 12 and stream it no matter where you are!
Death in Paradise Synopsis
The new series kicks off with the enigmatic demise of a renowned astronomer, paired with Darlene's intriguing career pivot. Meanwhile, the drama intensifies as the team stumbles upon a band of apocalypse preppers on Saint Marie's hillside—where a twist awaits. The investigative ride doesn't stop there; they're summoned to unravel a chilling murder on a boat and a home-based crime that unravels to be deeper than first impressions suggest. Throughout these mysteries, Neville faces some of his most daunting challenges yet.
Death in Paradise Cast
Cast of Death in Paradise Season 12:
Ralf Little as DI Neville Parker
Elizabeth Bourgine as Catherine Bordey
Don Warrington as Commissioner Selwyn Patterson
Tahj Miles as Officer Marlon Pryce
Shantol Jackson as DS Naomi Thomas
Ginny Holder as Darlene Curtis
Chelsea Edge as Sophie
Jo Hartley
Barney Walsh
Okorie Chukwu
When does Death in Paradise premiere?
Death in Paradise Season 12 made its captivating debut on January 6, 2023, in the UK.
How many episodes does Death in Paradise have?
Death in Paradise Episode Guide:
Episode 1 (Murder in the Stars – January 6, 2023)
The squad delves into the enigmatic death of an astronomer who tumbles off a cliff amidst a rare celestial event. Parallelly, are sparks flying for Neville?
Episode 2 (The Communal Death – January 13, 2023)
Intrigue unfurls at a preppers commune when a member succumbs to poisoning within a sealed bunker. On the side, Neville's dates with Sophie turn out to be quite the escapade.
Episode 3 (Murder on the High Seas – January 20, 2023)
A real estate agent's murder, just before the potential sale of the picturesque St Agatha's Cove, puts the team on high alert. Marlon undertakes a counterfeit goods case, aiming to win the Commissioner's acclaim, while Neville's heart skips a beat after a surprise rendezvous.
Episode 4 (An Unpleasant Homecoming – January 27, 2023)
A murder at a wedding in Saint Barnabas draws the team and Naomi together. Concurrently, Marlon's sergeant exam prep faces hurdles of distraction.
Episode 5 (On the Sanctity of Children – February 3, 2023)
Once again, the squad collaborates with Naomi in Saint Barnabas following a tragic wedding murder. As this unfolds, Marlon's sergeant exam studies encounter distractions aplenty.
Episode 6 (A Murder Forewarned (1) – February 10, 2023)
The investigation into a water taxi driver's murder coincides with Neville receiving a cryptic letter signaling an impending murder.
Episode 7 (Sins of the Detective (2) – February 17, 2023)
With Professor Cartwright's murder casting shadows of doubt over Neville, the team races against time to clear his name. Stepping in is DI Karen Flitcroft from the Department of Policing Standards. The trail of clues directs Naomi and Selwyn towards Justin West at the preppers commune.
Episode 8 (A Calypso Caramba – February 24, 2023)
The murder of a famed calypso singer's spouse sets the stage for investigation. Amidst this, Neville grapples with Sophie's revelations, pondering his destiny in Saint Marie.
Death in Paradise Trailer
Check out the premiere episode!
Start Watching Death in Paradise Now
Engage in the thrilling episodes of Death in Paradise Season 12, a season chock-full of enigmas, suspense, and the beautiful backdrop of Saint Marie. Each narrative, whether it's the mystifying demise of an astronomer or the tension-filled events at Saint Barnabas, promises to captivate your senses and leave you yearning for more.
For fans outside the primary broadcast regions, there's no need to fret about missing out. To ensure you catch every episode seamlessly, we highly recommend ExpressVPN. With its reliable and speedy connection, you can delve deep into the adventures of Detective Neville and the team, all while enjoying a secure online experience. Don't let geography limit your entertainment!