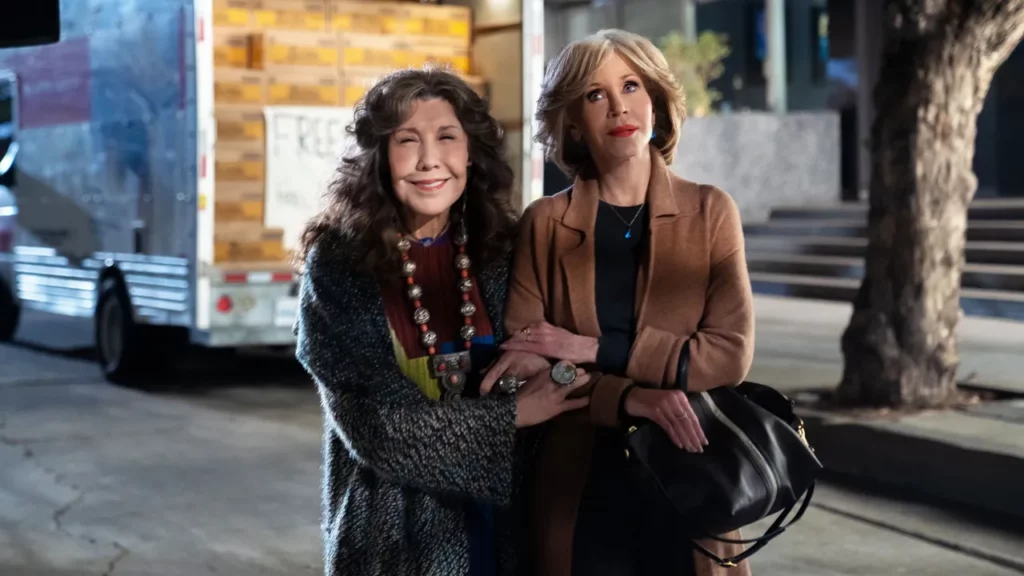 Welcome to the world of Grace and Frankie, where age is just a number and life is full of unexpected twists and turns. In this beloved Netflix series, we've witnessed the hilarious and heartwarming journey of two women, Grace and Frankie, as they navigate the challenges and joys of their golden years together. Now, as we eagerly anticipate Grace and Frankie Season 7, it's time to dive back into their lives and discover what new adventures and life lessons await. With its stellar cast, clever writing, and relatable characters, Season 7 promises to deliver another delightful dose of laughter, love, and friendship. So, grab your favorite blanket, settle into your comfiest chair, and get ready to join Grace and Frankie in their next chapter that will leave you laughing, crying, and cherishing the power of true friendship.
Grace and Frankie is not streaming in your country?
Any of our picks not streaming in your country? ExpressVPN unlocks Reelgood and all of your streaming services, giving you access to all movies and TV shows from around the world. Stream them from anywhere with a 30-day money-back trial from ExpressVPN.
Unblock Streaming with ExpressVPN (3 months free for Reelgood users!)
Connect to a US or UK server via ExpressVPN.
Let ExpressVPN run in the background as you watch all of your movies and TV shows, securely and with no throttling or bandwidth limits.
Grace and Frankie Season 7: A Unique Chapter in the Franchise
In Grace and Frankie Season 7, the story continues to follow the lives of the dynamic duo, Grace and Frankie, as they navigate the ups and downs of their unconventional friendship. Set in the vibrant backdrop of La Jolla, California, this season explores the challenges of aging, personal growth, and the evolving dynamics within their families and relationships.
While avoiding major spoilers, Season 7 brings new adventures and developments for Grace and Frankie. As they navigate the next chapter of their lives, they face fresh obstacles and embrace opportunities for personal reinvention. The season introduces new characters, further explores the complexities of their families, and delves deeper into the theme of resilience in the face of change.
Compared to earlier seasons, Season 7 showcases the characters' continued growth and self-discovery. It delves into more profound emotional territories, offering a mix of laughter and poignant moments that have become a hallmark of the series. Grace and Frankie's journey in this season reflects the realities of aging and highlights the power of friendship and adaptability in the face of life's challenges.
Quick Recap of Grace and Frankie Season 6: Refresh Your Memory Before Diving into Season 7
In Grace and Frankie Season 6, our favorite dynamic duo faced new challenges and continued their journey of self-discovery. After successfully launching their business venture, Vybrant, Grace and Frankie found themselves navigating the intricacies of the business world while maintaining their strong friendship. Meanwhile, their relationships with their ex-husbands, Robert and Sol, and their families experienced ups and downs as they all navigated the complexities of life. The season explored themes of love, friendship, and personal growth as Grace and Frankie continued to find their voices and embrace life's unexpected twists. Without revealing major spoilers, Season 6 left viewers with intriguing developments that set the stage for new adventures and emotional journeys in the upcoming season.
Grace and Frankie Season 7: Release Date and In-Depth Trailer Analysis
Release Date: April 29, 2022
Evolving Friendships: The trailer hints at the continued growth and evolution of the friendship between Grace and Frankie. We witness their unwavering bond and the unwritten support they provide for each other, even in the face of new challenges.
New Ventures and Challenges: Season 7 appears to introduce fresh ventures and obstacles for Grace and Frankie. The trailer showcases their determination to face these challenges head-on, highlighting their resilience and ability to adapt to new situations.
Family Dynamics: We catch glimpses of the ever-evolving dynamics within their families. From Robert and Sol to their adult children, the trailer hints at intriguing developments and potential conflicts that will shape their relationships throughout the season.
Hilarity and Heartwarming Moments: As expected, the trailer teases a delightful blend of laughter and heartwarming moments that have become synonymous with the series. Grace and Frankie's wit, charisma, and unique perspectives on life continue to shine through, promising plenty of memorable and quotable lines.
Themes of Aging and Self-Discovery: Building on the foundation of previous seasons, Season 7 appears to delve deeper into the realities of aging and the journey of self-discovery. It explores the characters' resilience, personal growth, and the pursuit of happiness in the later stages of life.
The Cast and Crew of Grace and Frankie Season 7: Familiar Faces and Exciting Newcomers
Jane Fonda as Grace Hanson: Jane Fonda continues to portray the sophisticated and independent Grace Hanson, whose journey of self-discovery has been a central focus of the series. Fonda's nuanced performance brings depth and authenticity to the character, captivating audiences with her wit and charm.
Lily Tomlin as Frankie Bergstein: Lily Tomlin shines as the eccentric and free-spirited Frankie Bergstein. Her portrayal of Frankie's unique perspective on life and unwavering loyalty to her friendship with Grace has garnered critical acclaim. Tomlin's comedic timing and heartfelt performances contribute to the show's success.
Sam Waterston as Sol Bergstein: Sam Waterston returns as Sol Bergstein, Frankie's ex-husband, and Robert's partner. Waterston's portrayal of Sol brings a balance of vulnerability and strength, adding depth to the character's complex journey of self-acceptance and navigating relationships.
Martin Sheen as Robert Hanson: Martin Sheen portrays Robert Hanson, Grace's ex-husband, and Sol's partner. Sheen's performance captures the emotional nuances of Robert's journey as he strives to balance personal growth with maintaining his relationships. His chemistry with the cast members adds an extra layer of authenticity to the show.
June Diane Raphael as Brianna Hanson: June Diane Raphael portrays Grace's no-nonsense and ambitious daughter, Brianna Hanson. Her sharp wit and business savvy contribute to the show's comedic moments and add depth to the family dynamics.
Baron Vaughn as Nwabudike "Bud" Bergstein: Baron Vaughn impresses as Frankie and Sol's adopted son, Bud Bergstein. His warm-hearted portrayal of Bud showcases his struggles with personal and professional challenges, bringing a relatable dimension to the character.
Top Reasons Why Grace and Frankie Season 7 is a Must-Watch for Fans
Compelling Reasons to Watch Grace and Frankie Season 7:
Closure to the Beloved Series: Season 7 serves as the final chapter of Grace and Frankie, providing a much-anticipated resolution to the characters' journeys. Fans can expect closure and satisfaction as they witness the culmination of the remarkable storytelling that has made the series a hit.
Character Growth and Development: Grace and Frankie Season 7 promises a further exploration of the character's personal growth, relationships, and self-discovery. The journey of Grace, Frankie, and their loved ones continues to evolve, offering compelling narratives that touch upon the complexities of life, love, and aging.
Stellar Cast Performances: The ensemble cast, led by the incomparable Jane Fonda and Lily Tomlin, delivers exceptional performances once again. Their chemistry, comedic timing, and emotional depth bring authenticity and relatability to the characters, creating memorable moments that will resonate with fans.
Heartwarming and Hilarious Moments: Grace and Frankie has excelled in balancing heartfelt moments with laugh-out-loud comedy throughout its run. Season 7 is expected to continue this winning formula, providing a delightful blend of heartwarming and hilarious scenes that will leave viewers both touched and entertained.
Themes of Friendship and Resilience: At its core, Grace, and Frankie celebrates the power of friendship and resilience. Season 7 explores these themes further, reminding viewers of the enduring bond between Grace and Frankie and the strength they find in each other. It serves as a reminder of the importance of connection, support, and the ability to adapt to life's challenges.
How to Watch Grace and Frankie Season 7 from Any Country: Essential Viewing Information
Step-by-Step Guide: How to Watch Grace and Frankie Season 7 from Any Country
Choose a Reliable VPN Service: To access Grace and Frankie Season 7 from any country, you'll need a reliable Virtual Private Network (VPN) service. One highly recommended option is ExpressVPN, known for its robust security measures, fast speeds, and wide server network.
Install and Set Up Your VPN: Visit the ExpressVPN website and sign up for an account. Follow the instructions provided to download and install the appropriate VPN software for your device.
Connect to a Server: Open the VPN software and log in using your credentials. From the list of available server locations, select a server in a country where Grace and Frankie Season 7 is accessible. For example, if you're trying to access it from a country where it's not available, you might choose a server in the United States.
Verify Your Connection: Once you've connected to the desired server, your VPN software should indicate that you are now connected securely. This means your IP address has been masked, and your online activity is encrypted, ensuring your privacy.
Access Netflix: Launch your web browser or open the Netflix app on your device. Sign in to your Netflix account or create a new one if you don't have an existing account.
Search for Grace and Frankie Season 7: Once you're logged in to Netflix, use the search bar to look for "Grace and Frankie Season 7." Select the relevant search result to access the show's page.
Start Streaming: With the show's page loaded, you can now start streaming Grace and Frankie Season 7! Click on the play button to begin enjoying the latest episodes of this beloved series.
Benefits of Different Streaming Services:
Netflix: Netflix is the exclusive streaming platform for Grace and Frankie Season 7. It offers a vast library of TV shows and movies, including original content. With its user-friendly interface, customizable profiles, and multiple subscription options, Netflix is a popular choice for streaming entertainment.
ExpressVPN: While not a streaming service itself, ExpressVPN is a VPN service that allows you to bypass geo-restrictions and access content from around the world. Its fast and reliable servers, along with strong security features, make it an excellent choice for streaming Grace and Frankie Season 7 or other geo-blocked content.