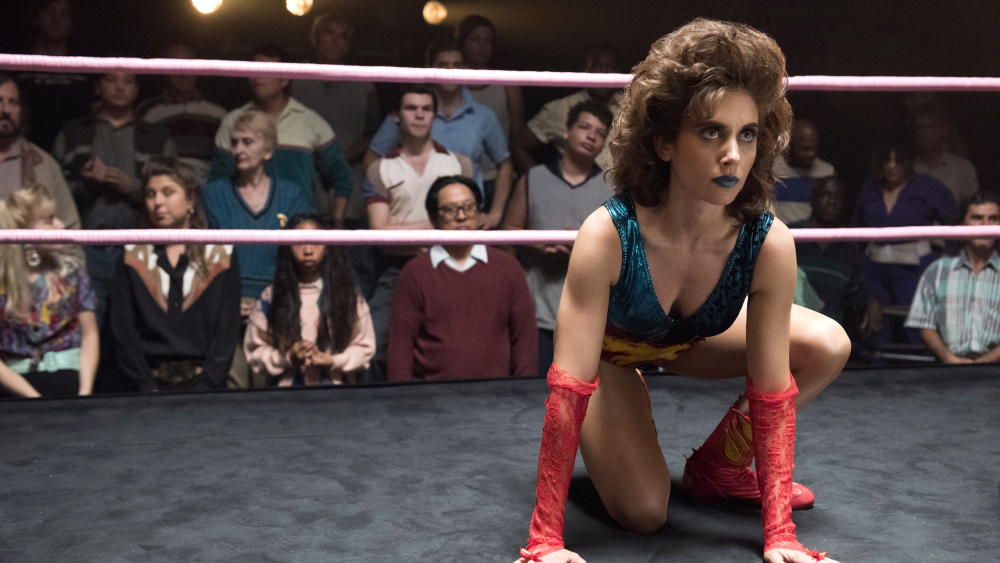 We know we've already talked about Women's History Month and our love of important and influential ladies, but we have so many recommendations up our sleeve that we haven't mentioned that it's worth going over this important celebration twice. (Or three times? Don't tempt us!)
So with no further introduction, here are a handful of lady-centric movies, shows, and documentaries that may have flown under your radar. 
Big Eyes
Type: Crime, Biography
Release Date: 2014
Director: Tim Burton
Starring: Amy Adams, Christoph Waltz, Krysten Ritter
Rating: 72% RT, 7/10 IMDb
For your "based on a true story" queue, we bring you Big Eyes, the story of a talented painter by the name of Margaret Keane whose husband took credit for all of her hard work while she quietly stood in the shadows.  
GLOW
Type: Drama, Comedy
Release Date: 2017
Starring: Allison Brie, Betty Gilpin, Marc Maron
Rating: 95% RT, 8.1/10 IMDb
If you had told us a few years ago that a Netflix series about the Gorgeous Ladies of Wrestling would be a major hit with audiences, we probably would have rolled our eyes and said, 'yeah, right'. Little did we know that's exactly what was going to happen, and that it would be SO glorious.   
Princess Cyd
Type: Fantasy, Science Fiction, Action & Adventure
Release Date: 2017
Director: Stephen Cone
Starring: Jessie Pinnick, Rebecca Spence, Malic White
Rating: 94%, 6.7/10 IMDb
This remarkable little indie tells the tale of a sixteen-year-old girl visiting her aunt for the summer and discovering first love. While it may be a bit unknown, this film is a celebration of women and the power we have to choose our own destinies.
Seeing Allred
Type: Documentary
Release Date: 2018
Director: Roberta Grossman & Sophie Sartain
Starring: Gloria Allred
Rating: 100% RT, 6.7/10 IMDb
If you've seen RBG, the next film on your watchlist should probably be Seeing Allred, an eye-opening documentary that chronicles civil rights attorney Gloria Allred's long career in fighting for what is right for women everywhere.
Roxanne Roxanne
Type: Drama
Release Date: 2017
Director: Michael Larnell
Starring: Chanté Adams, Mahershala Ali, Nia Long
Rating: 73% RT, 6.2/10 IMDb
One true story that you may not be familiar with was brought to life in the 2017 Netflix film, Roxanne Roxanne. The story is of a 14-year-old girl who finds herself dominating the hip hop scene in 1980s New York.
Nine to Five
Type: Comedy
Release Date: 1980
Director: Colin Higgins
Starring: Jane Fonda, Lily Tomlin, Dolly Parton
Rating: 82% RT, 6.8/10 IMDb
Toppling the patriarchy is what it's all about these days, and it's possible we wouldn't be quite where we are if it weren't for movies like Nine to Five. This film managed to bring important issues to light by using a comedic slant and putting a talented and recognizable cast at its center.
Grace and Frankie
Type: Comedy
Release Date: 2015
Starring: Jane Fonda, Lily Tomlin, Martin Sheen
Rating: 89% RT, 8.3/10 IMDb
Reuniting two Nine to Five co-stars, this 2015 Netflix series pairs Jane Fonda and Lily Tomlin together as rivals who find themselves sharing common ground when they discover that their husbands are having an affair with each other.
Hanna (TV)
Type: Action & Adventure, Drama
Release Date: 2019
Starring: Esme Creed-Miles, Mireille Enos, Joel Kinnaman
Rating: 7.8/10 IMDb
https://www.youtube.com/watch?v=v75RmNuZgTs
If you missed the sneak peek of this new Amazon series, you're in luck because the entire show will be released today. The tale of a teenage girl with unparalleled skills being hunted by a relentless CIA agent is sure to be high stakes fun.