The battle between HBO and Prime Video's marquee fantasy series is heating up.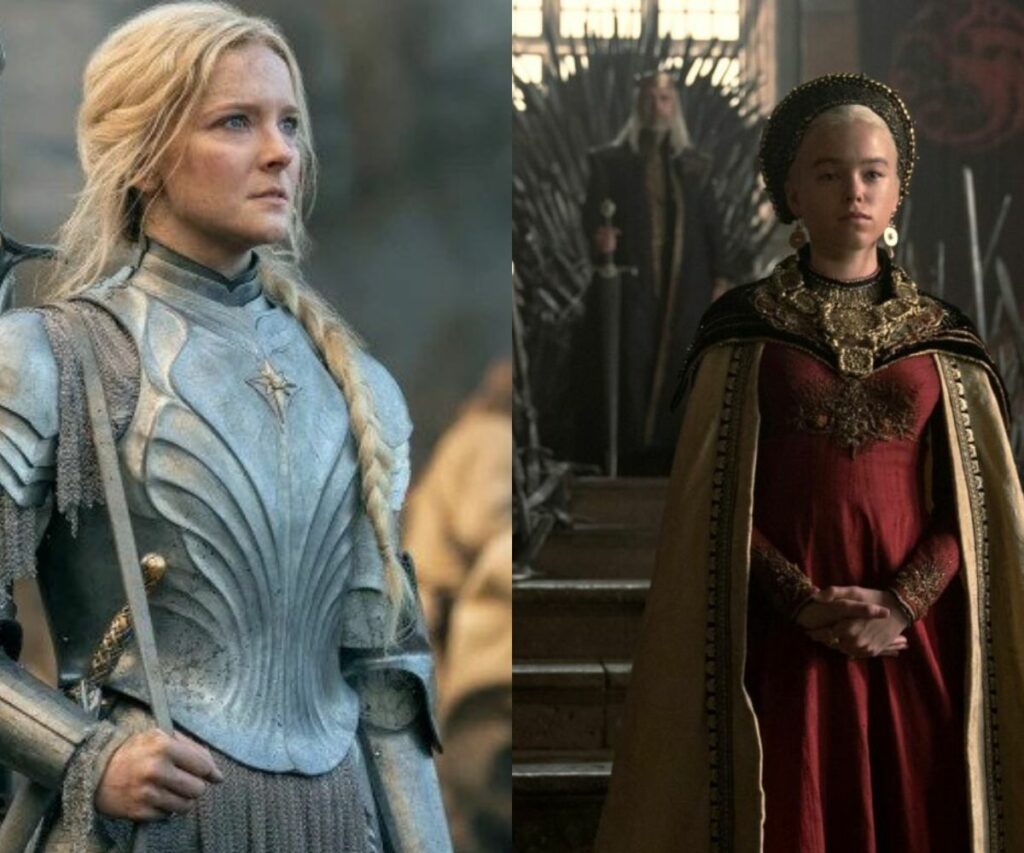 In January, Prime Video announced that they would premiere The Rings of Power, their massively ambitious Lord of the Rings prequel series, on September 2. HBO unveiled their massively ambitious Game of Thrones prequel series House of the Dragon in March, which would premiere on August 21. As a preemptive measure when The Rings of Power officially debuted, Amazon dropped the first two episodes of the series so it could remain in lockstep with its HBO competitor for the entire first run. The two have been battling it out for streaming audiences, rave reviews, and network prestige. So who's on top?
When the two shows premiered, they earned similar record-setting numbers. The Rings of Power won over 25 million viewers across the globe in its first 24 hours, according to Amazon, which is the largest total yet for a Prime Video show. House of the Dragon, meanwhile, broke a debut record for HBO and seems to be gaining more viewers each week, now averaging around 29 million per episode. For reference, Game of Thrones averaged around 44 million viewers per episode in its eighth and final season. The two shows have been neck and neck, but it's easy to argue that House of the Dragon had somewhat of a head start. Compared to The Lord of the Rings film trilogy, which debuted and ended pre-TV Twitter in 2003, Game of Thrones is a much more recent property ending its HBO run in 2019.
As far as reviews go, the numbers diverge a little bit for some nefarious reasons: House of the Dragon holds a consistent 86 percent critic score and 84 percent audience on Rotten Tomatoes, while Rings of Power holds an 84 percent critic score and a ghastly 38 percent audience score. The audience score for Rings of Power, which is even more glaring on sites like IMDB, is a product of review-bombing where internet trolls angry about the diverse casting in this Prime Video show team up to negatively review the series. The initial backlash was so severe and hateful that the cast had to release a joint statement condemning racism and standing in solidarity with their colleagues who received death threats and abuse. (Though not as severe, House of the Dragon cast members dealt with similar harassment).
According to a report on Business Insider, The Rings of Power is losing the edge against House of the Dragon in online buzz. They write, "Google Trends shows that searches related to House of the Dragon spike with impressive consistency weekly after each episode, showing sustained interest. However, searches related to The Rings of Power peaked after its debut." Even pirates love House of the Dragon more than its Prime Video competitor: the piracy analytics company Muso says the HBO property was illegally downloaded 45 percent more than Rings of Power and 127 percent more in its second week. However, with Reelgood users, The Rings of Power has consistently outperformed House of the Dragon since its premiere. It has topped the Reelgood Top 10 for three consecutive weeks this month (Andor took the throne this past week).
While there might be more internet buzz surrounding House of the Dragon thanks to its violent, salacious, and steamy plot surrounding the Targaryan family, The Rings of Power is more of a slow burn. Amazon knows this, which is why it's in it for the long haul. They've already planned five seasons of the show, which will likely cost in excess of $1 billion, and Amazon CEO Jeff Bezos knows that in order to compete with Game of Thrones, you have to spend a ton of money and be patient. Game of Thrones didn't become the ubiquitous pop culture force it ended up as in one season. Amazon has the budget and the long-term vision to win out even if the Twitter timeline and TV critics seem more enthralled with its competitor at HBO.
As these shows reach their halfway mark, we expect the battle to continue until the finale. But elsewhere in streaming shows like Andor, a Star Wars spinoff on Disney+ threaten to be a surprise usurper to these two fantasy giants.