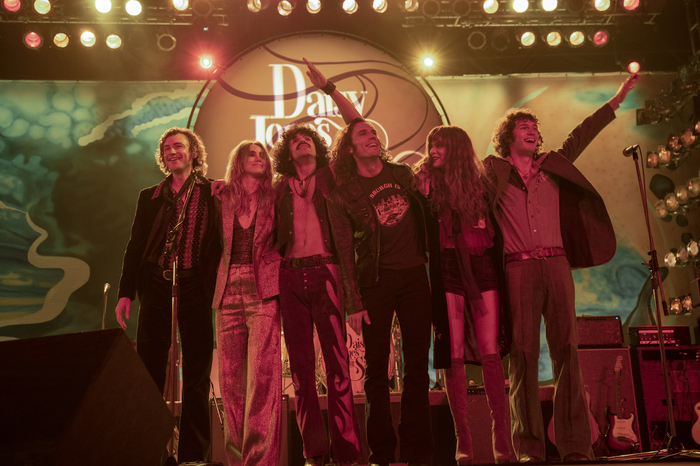 If you like Fleetwood Mac, if you follow the Instagram account @lostcanyonsla, if there's something about 1970's Los Angeles that makes you wish you had a time machine, then Amazon Prime Videos' limited 10-episode series adaption of Taylor Jenkins Reid's novel Daisy Jones & The Six is for you.
Using a documentary style to frame the story of a band cresting worldwide fame in 1970s LA, we meet Daisy Jones & The Six 20 years after their break-up live and on-stage at the height of their success.
The story kicks off between set-ups for interviews. We're given "archival" footage of Daisy, a cross between Stevie Nicks and Florence Welch, twirling across the stage, the band deplaning private jets, crowded pressers, painstaking practices, and of course, guitar smashing, cocaine-snorting, heavy drinking, and band in-fighting until it all comes to an abrupt halt one night on stage.
No one in the band has spoken a word about that night…until now.
Told in flashbacks, we're quickly offered a glimpse into the two leads – Daisy Jones and Billy Dunn.
Daisy Jones, whose real name is Margaret, is the neglected, emotionally abused daughter of LA socialites. With her father's money and her mother's beauty, we watch as a barely teen-aged Daisy begins to navigate young adulthood on her own on the Sunset Strip. She learns early to distrust men and rightly so – she's often taken advantage of in particularly heartbreaking ways in her formative years.
Billy Dunn, Pittsburgh's overly serious neighborhood teenage heartthrob who takes over his brother's band. Billy tells us straightaway that won't be working at the local mill or joining the war — he dreams of something different, he dreams of superstardom/rock-n-roll fame.
These two main characters played by Riley Keogh and Sam Claflin have just enough chemistry to keep us hooked even though we fully know this story does not end well. After all, this isn't a love story. This is a passion-fueled break-up story and we are but curious time-traveling, rock 'n roll-loving voyeurs ready to take this ride.
Wanna get the band back together? Missing the music? Check out our other favorite movies about the highs and lows of pursuing superstardom:
Top 10 Movies About Bands on the Brink