The charming and lovable Chris Pratt has been in dozens of films over his career, entertaining audiences across a wide range of genres. From action-packed blockbusters to rom-coms and more, here is a listicle featuring some of the actor's most popular movies.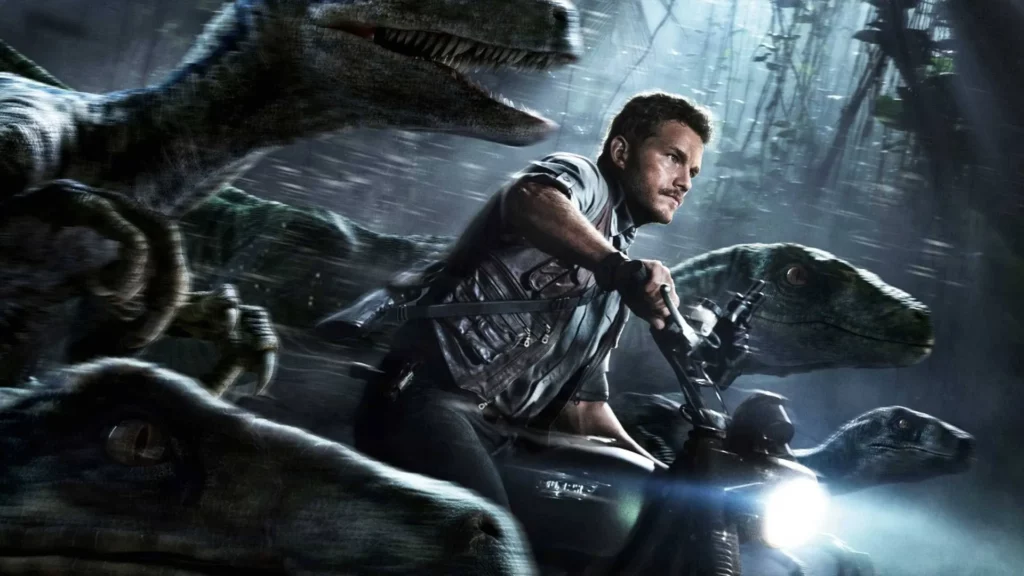 This sports drama, starring Brad Pitt and Jonah Hill alongside Chris Pratt, follows the story of Oakland Athletics' general manager Billy Beane as he endeavors to put together a winning baseball team despite financial constraints. The movie was nominated for six Academy Awards and won Best Motion Picture at the 2011 Critics' Choice Awards. Pratt plays Scott Hatteberg, a journeyman catcher brought in to bolster the team's roster.
This Marvel Cinematic Universe blockbuster stars Chris Pratt as Peter Quill/Star-Lord and follows his adventures as he leads a band of misfits across the galaxy to prevent an alien race from wiping out all life on Earth. Guardians of the Galaxy was well-received by critics and was nominated for two Oscars, winning Best Visual Effects in 2015.
Chris Pratt returns to reprise his role as Owen Grady in this long-awaited fourth installment of the Jurassic Park franchise. Grady is a velociraptor trainer and researcher who must work to save the day when a genetically modified hybrid dinosaur escapes from its enclosure and goes on a rampage. The movie was a commercial success, grossing more than $1.6 billion at the worldwide box office and becoming the fourth highest-grossing film of all time at that time.
In this science fiction romance drama, Pratt stars alongside Jennifer Lawrence as Jim Preston, an engineer who wakes up prematurely from suspended animation ninety years before his spaceship reaches its destination. As he navigates his newfound solitude, he meets Aurora (Lawrence), with whom he falls in love. This movie marked Chris Pratt's first foray into romantic comedy after years of primarily starring in more action-packed films.
This animated adventure follows the story of Emmet (Pratt), an ordinary LEGO mini-figure mistaken as "The Special" by a group of rebels trying to save their world from Lord Business. Pratt lends his voice to the character and does a great job of making him both likable and relatable, despite his apparent lack of skills or special abilities. The movie was a box office success, grossing more than $469 million worldwide.
Chris Pratt returns for this Marvel sequel as Peter Quill/Star-Lord alongside an incredible cast of characters as they join forces to take on Thanos and prevent him from using the Infinity Stones for evil. This movie was a fan favorite and became the fourth highest-grossing film of all time at that time, with more than $2 billion in global ticket sales.
Another remake in the list, this Antoine Fuqua-directed western stars Pratt alongside Denzel Washington, Ethan Hawke, Vincent D'Onofrio, and others. It follows a group of seven outlaws who come together to protect a small town from an impending threat posed by robber baron Bartholomew Bogue. The movie received positive reviews upon its release and was commercially successful, grossing more than $162 million worldwide.
This dramatic thriller, directed by Kathryn Bigelow, explores the US government's decade-long search for Osama bin Laden after the 9/11 attacks. Chris Pratt plays a small but pivotal role as Justin, a Navy SEAL and part of the team who finally tracks down and kills bin Laden in May 2011. The movie was nominated for five Oscars at the 85th Academy Awards, winning Best Achievement in Sound Editing and Best Achievement in Sound Mixing.
This comedy-drama stars Vince Vaughn as David Wozniak, a man who learns he is the father of 533 children from sperm donations he made years ago. Chris Pratt plays Brett, one of the children who reach out to Wozniak after learning the truth about his paternity. Although this movie was not a massive hit at the box office, it did receive generally positive reviews from critics.
In this action-packed thriller directed by Timur Bekmambetov, Chris Pratt stars as a disgruntled accountant recruited into a secret society of assassins and trained to become an unstoppable killing machine. Despite mixed reviews from critics, Wanted was a commercial success and grossed more than $340 million worldwide against its budget of $75 million.
Conclusion
Chris Pratt has had an impressive career in Hollywood, starring in action-packed blockbusters and smaller indie films. From Guardians of the Galaxy to Passengers and Zero Dark Thirty, his range as an actor is evident in the variety of genres he has tried over the years. Although he continues to appear primarily in blockbuster movies today, it is clear that Pratt can handle virtually any role thrown at him. His talent and likability have earned him a devoted fan base worldwide, ensuring that his star will continue to rise for many years.