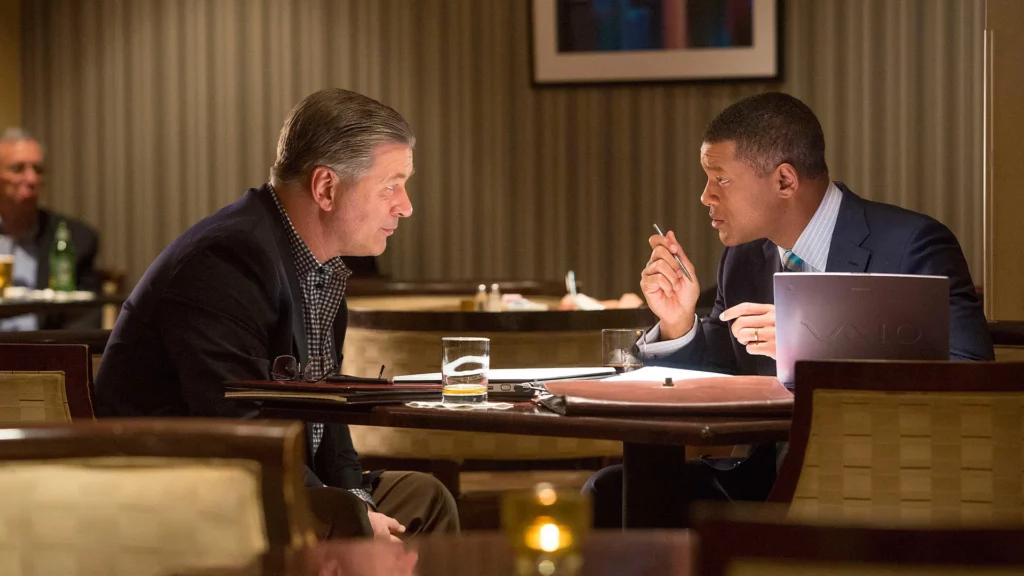 For decades, actor and rapper Will Smith has been a dominant force in the entertainment industry. With an array of blockbuster films, Smith has proven himself to be one of Hollywood's most versatile and beloved stars. Here, we're looking at his ten best films to date.
These Best Will Smith movies are not streaming in your country?
Any of our picks not streaming in your country? ExpressVPN unlocks Reelgood and all of your streaming services, giving you access to all movies and TV shows from around the world. Stream them from anywhere with a 30-day money-back trial from ExpressVPN.
Unblock Streaming with ExpressVPN (3 months free for Reelgood users!)
Connect to a US or UK server via ExpressVPN.
Let ExpressVPN run in the background as you watch all of your movies and TV shows, securely and with no throttling or bandwidth limits.
The Pursuit of Happyness
Smith's 2006 drama The Pursuit of Happyness is heartwarming and inspiring about perseverance in adversity. Smith stars as Chris Gardner, a struggling salesman who takes on an unpaid internship at a stock brokerage firm to make ends meet for his family. Through sheer determination and dedication, Gardner rises to become a successful stockbroker.
Men in Black
In 1997, Smith and Tommy Lee Jones teamed up to star in the sci-fi comedy Men in Black. Smith plays Agent Jay, a rookie agent of the titular organization tasked with protecting Earth from aliens.
Bad Boys
Smith and Martin Lawrence star in this 1995 action-comedy about two Miami detectives investigating the theft of drugs from police evidence lockers. Smith plays Mike Lowery, a wisecracking smart-aleck cop who is unafraid to break the rules to get the job done.
I Am Legend
Smith stars as Robert Neville, the sole survivor of a virus that has wiped out humanity in this 2007 post-apocalyptic drama. Neville spends his days alone trying to find a cure for the virus while fighting off zombie-like creatures at night.
Independence Day
In 1996's Independence Day, Smith stars as Captain Steven Hiller, an ace pilot and Marine who fights off an alien invasion of Earth. Hiller leads a ragtag group of pilots in a daring mission to save the planet.
Ali
Smith stars as Muhammad Ali in this 2001 biopic about the legendary boxer's rise to fame and his struggles with racism and religion. Smith trained extensively for the role, learning how to box and studying Ali's life story.
Hitch
In 2005's Hitch, Smith stars as Alex "Hitch" Hitchens, a professional dating coach who helps men woo women. Hitch is a charming rom-com that features Smith in one of his most charismatic roles.
The Fresh Prince of Bel-Air
Smith's breakout role was as the titular character of The Fresh Prince of Bel-Air, a sitcom about a streetwise teen from Philadelphia sent to live with his wealthy relatives in Los Angeles.
Shark Tale
In 2004's Shark Tale, Smith lends his voice to Oscar, an ambitious but unlucky fish which lies his way into becoming a local hero. Shark Tale is an animated comedy featuring an all-star cast that includes Robert De Niro and Renée Zellweger.
Concussion
In 2015's Concussion, Smith stars as Dr. Bennet Omalu, a forensic pathologist who discovers the link between football-related head trauma and chronic traumatic encephalopathy (CTE).
Conclusion
Will Smith has been a Hollywood mainstay for decades, starring in some of the most beloved films ever. From heartwarming dramas to action-packed comedies, Smith has proved to be one of the industry's most talented and reliable actors. These are his ten best films to date.