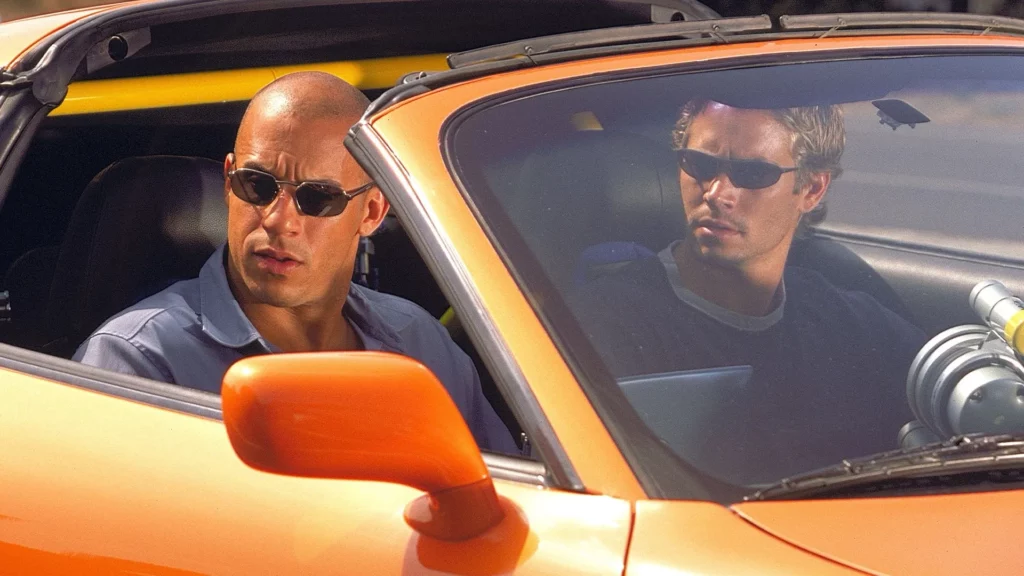 A look at the best films of 2001 explores that year's celebrated and classic films. In a distant era, the technology at the time was primitive, yet the content and stories conveyed by this era of films made them widely known and admired even today.
These Best Time Travel movies are not streaming in your country?
Any of our picks not streaming in your country? ExpressVPN unlocks Reelgood and all of your streaming services, giving you access to all movies and TV shows from around the world. Stream them from anywhere with a 30-day money-back trial from ExpressVPN.
Unblock Streaming with ExpressVPN (3 months free for Reelgood users!)
Connect to a US or UK server via ExpressVPN.
Let ExpressVPN run in the background as you watch all of your movies and TV shows, securely and with no throttling or bandwidth limits.
The foundational films of the 2000s emerged in 2001 following the hustle and bustle of the millennium –years prior. The collective films of that year set the benchmark of what films were expected to become. From award-winning performances to timeless stories, 2001 was a stellar year.
To begin, Best Picture winner, A Beautiful Mind, based on a true story, focused on John Nash, a mathematically inclined individual who struggles with delusions and schizophrenia. Directed and written by Ron Howard, Russell Crowe, and Jennifer Connelly, performances earned many awards, including four for the 73rd Academy Awards. Stylistically, the film stayed true to its source material, making it a powerful, almost documentary-like experience.
A second notable film, Monsters, Inc., was the fourth feature-length animation created by Pixar, reuniting Monsters, Inc. stars Billy Crystal and John Goodman, as well as an array of new characters. Reflecting upon the themes of fear and friendship, this film teaches us there is no greater gift than friendship, no matter how foreign or "creepy" the feared creature may be.
The first film adaptation of J.K. Harry Potter and the Philosopher's Stone was Rowling's book. The third-placed book series was Rowling's. Chris Columbus is directing the feature film, which stars Rowling. While being made with young teens in mind, this family movie has evolved into one of the most adored movies ever. The movie has everything, including endearing characters and a vast magical universe. The authors invested much time and energy into producing a genre masterpiece.
Another unquestionable classic of the year, The renowned J.R.R. Tolkien classic, The Lord of the Rings: The Fellowship of the Ring, was adapted into a film by Peter Jackson. The special effects and cinematography from The Lord of the Rings are still praised as some of the greatest in the industry. This film was a huge undertaking that combined the talents of well-known actors like Ian McKellen and Viggo Mortensen with knowledge of incredibly dense source material to create a gripping story.
The popular animated family film Shrek primarily focuses on a loveable Ogre forced to save a princess. This selfish yet deeply loveable character helps set the tone for a new type of fairy tale in one way or another, upending the tropes of past fairy tales while creating a story that is accessible and admired, setting the stage for the Shrek franchise.
2001 also featured action films such as Pearl Harbor and The Fast and The Furious, which still inspire and fuel the genre. Pearl Harbor brought the events of the disastrous attack to life, using effects to make this historically accurate film feel true to life. While a bit more cheesy in its storytelling, The Fast and The Furious provided a good deal of car stunts and action, which to this day are still imitated from time to time.
Lastly, Vanilla Sky, a psychological mystery-thriller directed by Cameron Crowe. Vanilla Sky follows a wealthy playboy (played by Tom Cruise) who slowly unravels during a series of events. The film has been often compared to Stanley Kubrick's masterpiece "Eyes Wide Shut" due to its complex story and remarkable visuals.
2001 highlighted a certain type of individualistic storytelling, creating an era of originality and classic films. Each film has its unique quality, yet quality stories and performances were abundant among the films of that year. Though technology has advanced beyond our imagination, the artistry of films and stories remains etched into our hearts, and the films of 2001 will forever stand as some of the greatest films in cinema.
From heartwarming family films like Monsters, Inc. to suspenseful, complex dramas like Vanilla Sky, 2001 had it all. It is undeniable that these classics have influenced the industry over the years. Whether long forgotten or still adored, no one can deny that they helped shape this artistic medium into what it is today.
From award-winning performances to groundbreaking storytelling techniques and emotions, these revolutionary works of art help embrace what we know about film today. So next time you're looking for some classic films to re-watch, consider the films of 2001.