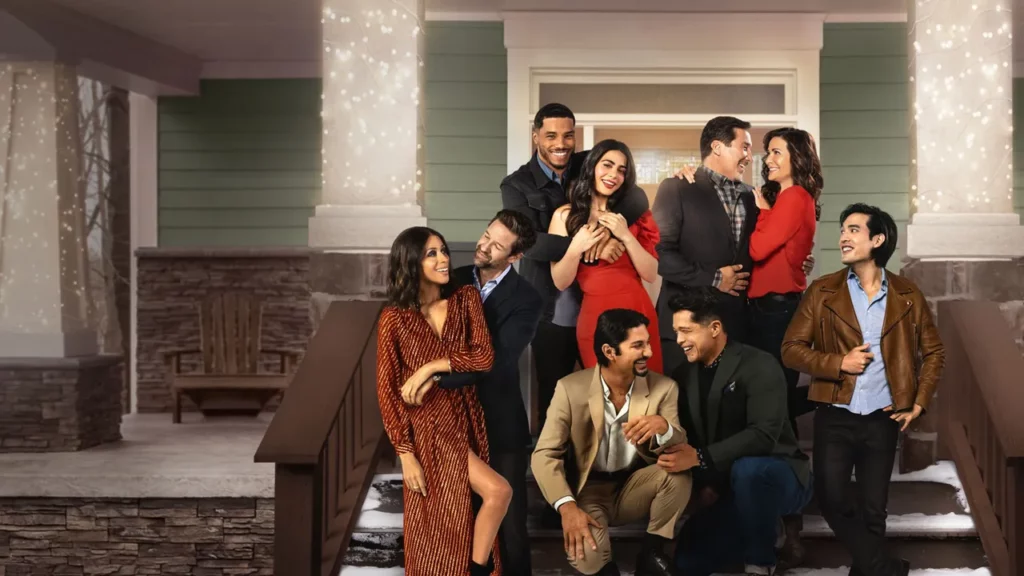 Love is in the air once again as With Love – Season 2 returns to captivate viewers with its heartwarming tales of romance, connection, and second chances. The first season of this beloved series captured the hearts of audiences worldwide, and now, the anticipation for its highly anticipated second season is at an all-time high. In this article, we delve into the exciting details that fans have been eagerly awaiting. Get ready to immerse yourself in the world of With Love as we share a tantalizing glimpse of the trailer, introduce the talented cast members, and provide you with all the important information you need to know about this eagerly anticipated season. Brace yourself for a journey filled with love, laughter, and emotional twists as we explore everything that With Love – Season 2 has in store.
How to Watch With Love – Season 2 from Any Country: Ensuring Global Access to Love's Journey
Step-by-Step Guide: How to Watch With Love – Season 2 from Any Country
Choose a Reliable Streaming Platform: With Love – Season 2 can be exclusively watched on Amazon Prime Video. Ensure that you have an active subscription to Amazon Prime Video to access this highly anticipated season.
Check Availability: Visit the Amazon Prime Video website or app to verify if the streaming service is available in your country. Amazon Prime Video has a wide global presence, but it's always recommended to double-check availability in your specific region.
Install and Activate a VPN: If you are in a geo-restricted area where access to Amazon Prime Video or With Love – Season 2 is limited, installing a VPN (Virtual Private Network) can help bypass these restrictions. A VPN allows you to connect to a server located in a different country, granting you access to region-specific content.
Choose a Reliable VPN Service: For a seamless streaming experience, we highly recommend using ExpressVPN. With its fast and secure servers across various countries, ExpressVPN enables you to access Amazon Prime Video from anywhere in the world, ensuring a smooth and uninterrupted viewing experience.
Install the VPN App: Download and install the ExpressVPN app on your preferred device, such as a computer, smartphone, or tablet. ExpressVPN supports a wide range of platforms, including Windows, macOS, iOS, Android, and more.
Connect to a Server: Launch the ExpressVPN app and choose a server location where Amazon Prime Video is available. For example, if Amazon Prime Video is accessible in the United States, select a U.S.-based server.
Connect to the VPN: Click the "Connect" button in the ExpressVPN app to establish a secure connection to the selected server. Once connected, your IP address will appear as if you are browsing from the server's location.
Access Amazon Prime Video: With the VPN connection active, visit the Amazon Prime Video website or open the app on your device. Log in with your Amazon Prime Video account credentials to access the vast library of content, including With Love – Season 2.
Start Watching With Love – Season 2: Search for "With Love" in the Amazon Prime Video search bar or browse the TV show section to locate With Love – Season 2. Click on the season to start streaming and immerse yourself in the heartwarming world of love, romance, and second chances.
By following these step-by-step instructions, viewers from any country can enjoy With Love – Season 2 on Amazon Prime Video. Remember to keep your VPN activated while streaming to ensure uninterrupted access and an enhanced viewing experience. Happy watching!
With Love – Season 2: Embracing New Depths of Romance and Uniqueness
With Love – Season 2 continues to explore the enchanting world of love, relationships, and second chances. Set against the backdrop of a vibrant city, the season delves into the lives of new characters while also revisiting beloved ones from the previous installment. The plot revolves around the intertwining stories of diverse individuals, each facing their own unique challenges and seeking love in various forms. With Love – Season 2 brings fresh perspectives and deeper character development, allowing viewers to witness the growth and transformation of familiar faces. As the season unfolds, significant changes and developments emerge, presenting unforeseen obstacles and opportunities for personal discovery. With its heartfelt themes, authentic portrayals of human connection, and captivating storytelling, With Love – Season 2 promises to leave audiences longing for more while reinforcing the power of love in our lives.
With Love – Season 1 Recap: Reminders of Love's Journey
In Season 1 of With Love, we witnessed a tapestry of interconnected love stories set in a bustling city. The plot introduced us to a diverse cast of characters, each on their own journey of self-discovery and connection. We followed their heartfelt encounters, navigating the complexities of relationships, second chances, and the pursuit of happiness. From the blossoming romance between two strangers to the rekindling of an old flame, the season explored themes of vulnerability, forgiveness, and the transformative power of love. Along the way, we witnessed characters grow, learn from their past, and overcome personal obstacles. With Love – Season 1 left us yearning for more as it captured the essence of love's beauty and the intricacies of the human heart. As we embark on Season 2, let us reflect on the poignant moments and character developments that have shaped this remarkable series.
With Love – Season 2: Release Date and Intriguing Trailer Analysis
The much-anticipated With Love – Season 2 trailer has arrived, igniting a surge of excitement among fans worldwide. Let's embark on a detailed breakdown of the trailer, uncovering its key takeaways, intriguing theories, and the confirmed release date that sets our hearts aflutter.
Evocative Visuals: The trailer mesmerizes us with its stunning cinematography, capturing the essence of the city and its diverse inhabitants. From bustling streets to intimate moments, the visuals promise a visually enchanting and immersive experience.
New Faces, New Stories: Season 2 introduces fresh characters who bring their own compelling narratives to the tapestry of love. As glimpsed in the trailer, their paths intertwine, offering glimpses of potential romances, unexpected connections, and personal growth.
Deepened Relationships: The trailer hints at the continuation of existing character arcs, showcasing the evolution of relationships we grew fond of in the previous season. We witness characters grappling with complex emotions, past traumas, and the pursuit of finding genuine connections.
Intriguing Plot Twists: The trailer skillfully teases us with hints of intriguing plot developments and twists. Moments of intense emotions, unexpected encounters, and unforeseen obstacles leave us craving answers and eagerly anticipating how these storylines will unfold.
Themes of Resilience and Growth: Love's transformative power takes center stage in the trailer. We catch glimpses of characters facing personal challenges, discovering inner strength, and embracing the courage to pursue their desires. Themes of resilience, self-discovery, and second chances continue to resonate.
The Confirmed Release Date: With Love – Season 2 premiered on June 2, 2023. The wait is over, and fans can look forward to immersing themselves in the joy, heartache, and exhilaration of this highly anticipated season.
As the With Love – Season 2 trailer concludes, we are left with a mix of anticipation, curiosity, and a yearning for the emotional rollercoaster that awaits us. The promising glimpses and tantalizing moments captured in the trailer suggest a season filled with profound storytelling, nuanced performances, and the exploration of love's many facets. Brace yourselves for a captivating journey as With Love – Season 2 unveils its chapters of romance, connection, and the boundless pursuit of love.
Meet the Cast and Crew of With Love – Season 2: Familiar Faces and Exciting Newcomers
As With Love – Season 2 unfolds its mesmerizing tales of romance, a remarkable ensemble of talented individuals takes the stage, combining the familiar faces we fell in love with in the previous season and the exciting newcomers who bring new dimensions to the series. Let's meet the key cast and crew members who shape the essence of With Love – Season 2:
Emeraude Toubia (Returning): As Lily Diaz, Emeraude continues to captivate audiences with their heartfelt portrayal. Their nuanced performance brings depth and authenticity to the character, anchoring the emotional core of the series.
Rome Flynn (Returning): With their remarkable talent, Rome reprising the role of Santiago Zayas further enriches the tapestry of With Love – Season 2. Their chemistry and dynamic with the ensemble cast continue to draw us into the intricate web of relationships.
Mark Indelicato (Newcomer): Joining the With Love family, Mark steps into the series with their undeniable talent and charisma. Their character,Jorge Diaz Jr, introduces a fresh perspective and promises to add intriguing dynamics to the storyline.
Isis King (Returning): In a major shift, Isis takes on a new role in With Love – Season 2. Previously known for their portrayal of [Character Name], their transition to Sol Perez brings an exciting twist, showcasing their versatility and allowing for intriguing character development.
Crew
Gloria Calderón Kellett(Director): Under the skillful direction of [Name], the episodes of With Love – Season 2 come to life, capturing the essence of love's complexities through compelling visuals and evocative storytelling.
5 Compelling Reasons to Dive into With Love – Season 2: A Must-Watch for Fans
As we conclude our exploration of With Love – Season 2, several key takeaways emerge, igniting a sense of anticipation among fans:
Release Date and Trailer Analysis: We've delved into the confirmed release date, offering a tangible countdown to mark on your calendar. Additionally, our in-depth analysis of the trailer has provided intriguing glimpses into the season's themes, plot developments, and emotional arcs, leaving fans eager for more.
Familiar Faces and Newcomers: With Love – Season 2 introduces a perfect blend of familiar faces and exciting newcomers. Returning cast members reprise their roles with depth and authenticity, while fresh talents inject new energy and dynamics into the series, promising captivating performances and fresh character dynamics.
Continuation of Engaging Storylines: The plot of With Love – Season 2 takes us deeper into the intricacies of love, exploring the complexities, joys, and challenges of human connections. From the evolution of existing relationships to the introduction of new narratives, the season promises to keep fans engrossed in the emotional journeys of the characters they have come to love.
Stunning Visuals and Cinematic Experience: Prepare to be visually enthralled as With Love – Season 2 brings exquisite cinematography and evocative visuals to the screen. The cityscape serves as a breathtaking backdrop, immersing viewers in the enchanting world of the series and heightening the emotional impact of the storytelling.
Themes of Resonance and Relatability: With Love – Season 2 explores universal themes of love, resilience, personal growth, and the pursuit of happiness. Through its relatable and authentic portrayals, the series invites viewers to reflect on their own experiences, fostering a deep emotional connection and resonance.
With Love – Season 2 is poised to deliver an unforgettable viewing experience, brimming with heartfelt moments, captivating storytelling, and exceptional performances. As the release date approaches, fans can eagerly anticipate immersing themselves in the world of love, connection, and self-discovery. Don't miss out on this must-watch season that promises to capture hearts and leave a lasting impression.