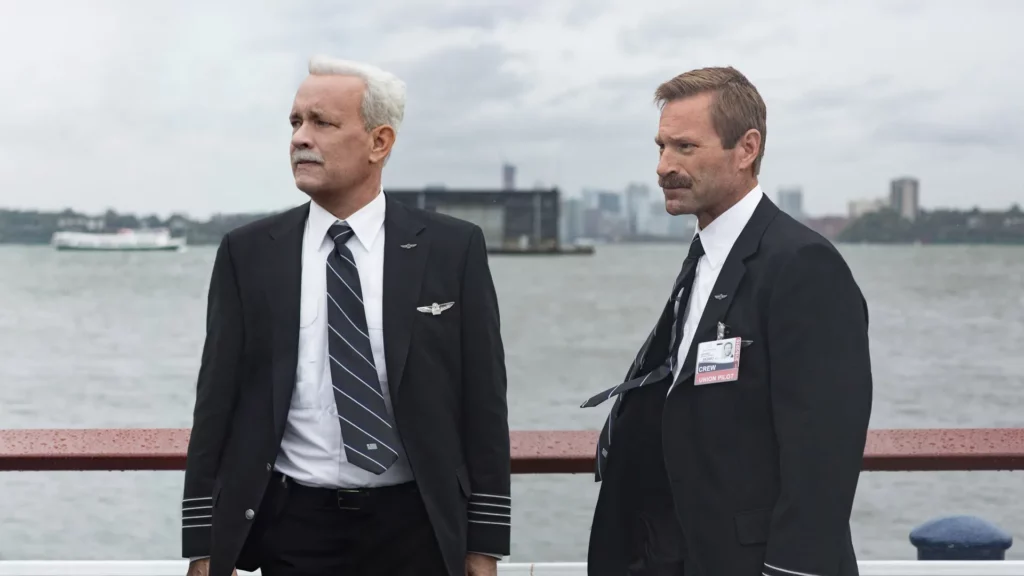 "Sully" is a gem in the sphere of biographical drama films. Directed by Clint Eastwood, this intriguing imputation of Captain Chesley Sullenberger's successful emergency landing on the Hudson River in 2009 provides an intimate portrayal of heroism and resilience. The compelling narrative, stunning performances, and meticulous attention to detail make it a must-put-in-your-watchlist movie. If you happened to watch "The Pianist" and were mesmerized by its engaging story and performance, you would also find yourself captivated by "Sully."
Watch Sully is not streaming in your country?
Any of our picks not streaming in your country? ExpressVPN unlocks Reelgood and all of your streaming services, giving you access to all movies and TV shows from around the world. Stream them from anywhere with a 30-day money-back trial from ExpressVPN.
Unblock Streaming with ExpressVPN (3 months free for Reelgood users!)
Connect to a US or UK server via ExpressVPN.
Let ExpressVPN run in the background as you watch all of your movies and TV shows, securely and with no throttling or bandwidth limits.
A Dive into the Storyline
"Sully" is a beautiful blend of meticulous detailing and riveting storytelling. It perfectly captures Captain Sullenberger's tale, a commercial aircraft pilot who saved all 155 passengers and crew on board US Airways Flight 1549 by landing on the Hudson River in an extraordinary display of courage and presence of mind. The plot unveils an incredible dichotomy: A story of utmost heroism faced with the relentless scrutiny of media and investigators. Visually stunning sequences synchronize beautifully with the unfolding storyline, keeping you on your toes throughout the film, a sentiment experienced by viewers who watch "The Pianist."
Portrayal of Characters
Tom Hanks dons the hat of Captain Sullenberger brilliantly, adding empathetic depth to the iconic real-life character. His performance is a marrow-deep portrayal of an emotionally hung Sully, tested to his psychological limits in the aftermath of the forced water landing. Hanks' brilliance complements Aaron Eckhart (playing co-pilot Jeff Skiles), who accentuates the narrative with his solid performance. Their on-screen synergy reflects the resilience and camaraderie that defined the crew's successful crisis navigation.
Directorial Brilliance and Cinematic Excellence
Clint Eastwood's mastery shines in "Sully." His knack for capturing the complexity of the human spirit in extraordinary situations is commendable. The movie encapsulates the event and its aftermath, pinpointing the investigation that questioned Sully's decision. Eastwood impressively pieces together the fragments of the inner turmoil and societal interrogation Sully endured, making it a larger-than-life tribute to an ordinary man's extraordinary courage.
The movie also boasts a realistic display of aviation's technological and procedural systems. The synchronicity between the ground crew and cockpit, the emergency evacuation procedures, and the investigation process all require a thorough exploration, making the depiction appear intensely real and informative.
Comparative Analysis: Sully & The Pianist
To truly appreciate the immersion one could experience with "Sully," one could draw parallels with another biographical film. When you watch "The Pianist," a biographical drama film about a Polish Jewish musician struggling to survive the destruction of the Warsaw ghetto during World War II, you get a glimpse of an individual's triumph over adversity. Similarly, "Sully" delivers an exhilarating experience of anguish, despair, hope, and triumph.
Engendering Real-life Drama
"Sully" further pushes the boundaries of its genre by injecting an emotional undercurrent into its character dynamics. Captain Sullenberger, albeit being hailed as a national hero, grapples with self-doubt, PTSD, and a public reputation hanging by the thread of an investigation outcome. His turbulent internal struggle echoes his hardship, compelling the narrative's layering.
Screenplay and Cinematic Aspects
The screenplay by Todd Komarnicki is another crown in "Sully's" jewel. The non-linear narrative brilliantly juggles between the past and the present, unfolding layers of the gripping chronicle. The movie brilliantly uses flashbacks and dream sequences to illustrate Sully's psychological state, enhancing its emotional impact.
Technically, the film is a marvel. The cinematography deserves a special mention. The plane's landing sequence, shot with IMAX cameras, is visually grand and provides an adrenaline-pumping cinematic experience.
Another striking feature is the film's seamless visual effects, making the Hudson River landing so real that it leaves viewers with a heart in their mouth. The commendable editing and top-notch sound design further heighten the viewing experience.
The Ultimate Verdict and Where to Watch
"Sully" leaves an irrefutable mark on its audience, riveting them through the journey of an ordinary man rising to extraordinary challenges. The riveting plot and seamless performances make it worth every minute spent watching the film.
Therefore, for those asking "where to watch Sully," it can be easily streamed on various online platforms like Netflix, Amazon Prime Video, and Hulu, making this cinematic masterpiece available at your fingertips.
Cultural Impact and Legacy
"Sully" is more than just a biographical film; it is a cultural phenomenon. It reverberates the spirit of resilience and the 'never give up' attitude that resonates deeply within the American psyche. Captain Sullenberger's story, as depicted in "Sully," serves as a beacon of hope and resilience, conveying that even in the face of dire adversity, the human spirit can triumph. In other words, "Sully" is not just a film; it's an emotion, an experience one should not miss to witness.
The Ensemble That Bolsters "Sully"
While Tom Hanks and Aaron Eckhart are the heroic crew duo, several noteworthy performances accentuate the film's artistic depth.
Laura Linney, as Lorraine Sullenberger, the caring but worried wife of Sully, contributes to the film with her exceptional skill of portraying heartfelt emotion under pressure. It adds a profound layer to the narrative, showing the event's impact on the family. Linney's performance is equally outstanding as she beautifully encapsulates the fears and concerns of a spouse during such an intense situation.
The movie also boasts fine performances from the actors, personifying the passengers and crew. The bewildered expressions, frantic help-seeking, and relief upon being rescued – Every actor delivers a convincing portrayal, adding more authenticity to the incident's chaotic backdrop.
The characters of the National Transportation Safety Board (NTSB) investigators pose as antagonistic characters, creating a critical tension essential for the story's development. The performances by Mike O'Malley, Anna Gunn, and Jamey Sheridan as these investigators heighten the drama and make you root for Sully even more.
Cast performances aside, Clint Eastwood's remarkable decision to use some of the actual passengers, crew members, and first responders in the movie's water evacuation scenes adds a layer of realism that takes "Sully" to another level.
Impression of the Trailer: A Glimpse into The Realm of 'Sully'
Where to watch Sully and Its Stellar Cast
"Sully" has piqued the interest of cinephiles and aviation enthusiasts alike. If this compelling drama is on your radar, and you're wondering where to watch "Sully," you can find it readily available on major streaming platforms such as Netflix, Amazon Prime Video, and Hulu.
This impressive ensemble of talent, together with the leading duo, Clint Eastwood's excellent direction and a riveting plot, has woven a reality-based cinematic experience unlike any other. Having meticulously crafted every aspect of the film, "Sully" certainly stands as an unforgettable biographical drama film to embrace.
Conclusion: A Must-Watch
"Sully" sets the right tone for a biography drama film that tests the human spirit in extreme situations. It doesn't just chronicle an event; it humanizes it, highlighting the heroism hidden in split-second decisions and their long-lasting aftermath. It resonates with the feel you get when you watch "The Pianist" – a thorough performance that's passionate and immersive. In essence, "Sully" is an emotionally gripping, compelling, brilliantly executed biographical drama deserving of its place in the annals of cinematic history. It offers an experience worth relishing for all fans of drama films – a tribute, a celebration, and a triumphant story of human courage and resilience.